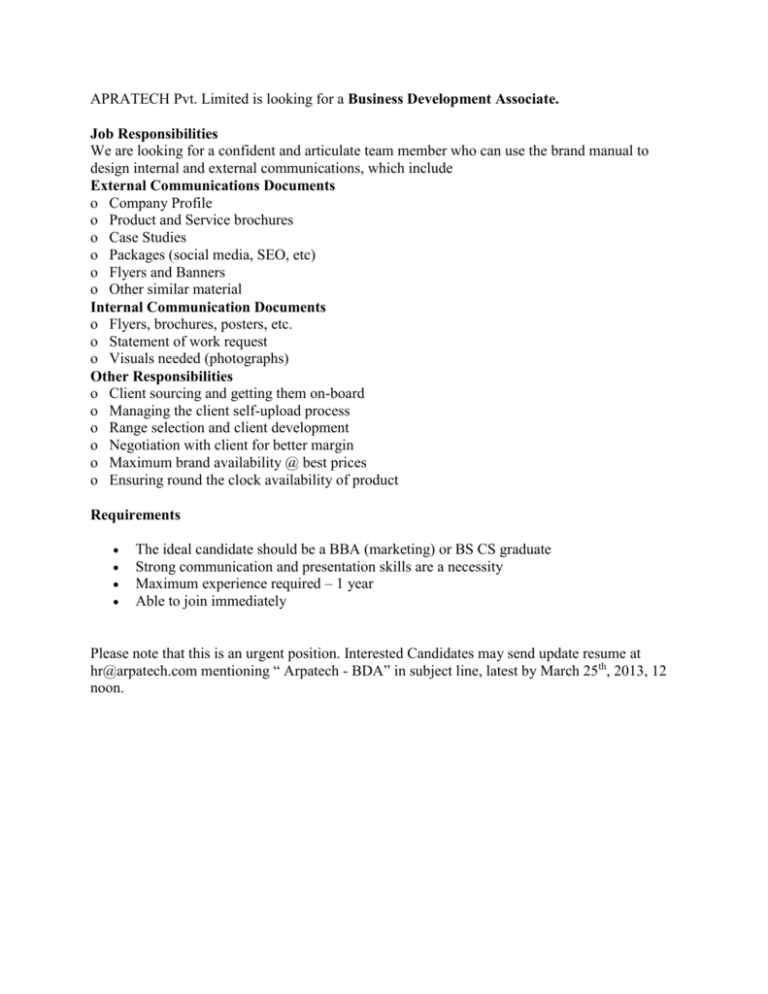 APRATECH Pvt. Limited is looking for a Business Development Associate.
Job Responsibilities
We are looking for a confident and articulate team member who can use the brand manual to
design internal and external communications, which include
External Communications Documents
o Company Profile
o Product and Service brochures
o Case Studies
o Packages (social media, SEO, etc)
o Flyers and Banners
o Other similar material
Internal Communication Documents
o Flyers, brochures, posters, etc.
o Statement of work request
o Visuals needed (photographs)
Other Responsibilities
o Client sourcing and getting them on-board
o Managing the client self-upload process
o Range selection and client development
o Negotiation with client for better margin
o Maximum brand availability @ best prices
o Ensuring round the clock availability of product
Requirements




The ideal candidate should be a BBA (marketing) or BS CS graduate
Strong communication and presentation skills are a necessity
Maximum experience required – 1 year
Able to join immediately
Please note that this is an urgent position. Interested Candidates may send update resume at
[email protected] mentioning " Arpatech - BDA" in subject line, latest by March 25th, 2013, 12
noon.