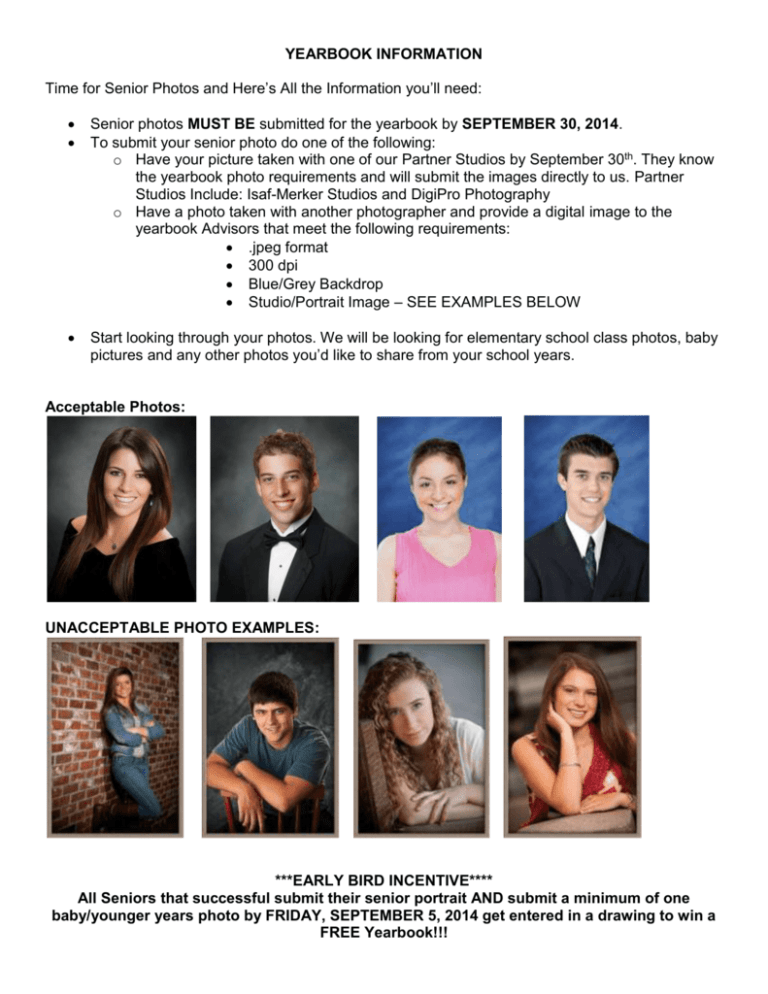 YEARBOOK INFORMATION
Time for Senior Photos and Here's All the Information you'll need:


Senior photos MUST BE submitted for the yearbook by SEPTEMBER 30, 2014.
To submit your senior photo do one of the following:
o Have your picture taken with one of our Partner Studios by September 30th. They know
the yearbook photo requirements and will submit the images directly to us. Partner
Studios Include: Isaf-Merker Studios and DigiPro Photography
o Have a photo taken with another photographer and provide a digital image to the
yearbook Advisors that meet the following requirements:
 .jpeg format
 300 dpi
 Blue/Grey Backdrop
 Studio/Portrait Image – SEE EXAMPLES BELOW

Start looking through your photos. We will be looking for elementary school class photos, baby
pictures and any other photos you'd like to share from your school years.
Acceptable Photos:
UNACCEPTABLE PHOTO EXAMPLES:
***EARLY BIRD INCENTIVE****
All Seniors that successful submit their senior portrait AND submit a minimum of one
baby/younger years photo by FRIDAY, SEPTEMBER 5, 2014 get entered in a drawing to win a
FREE Yearbook!!!