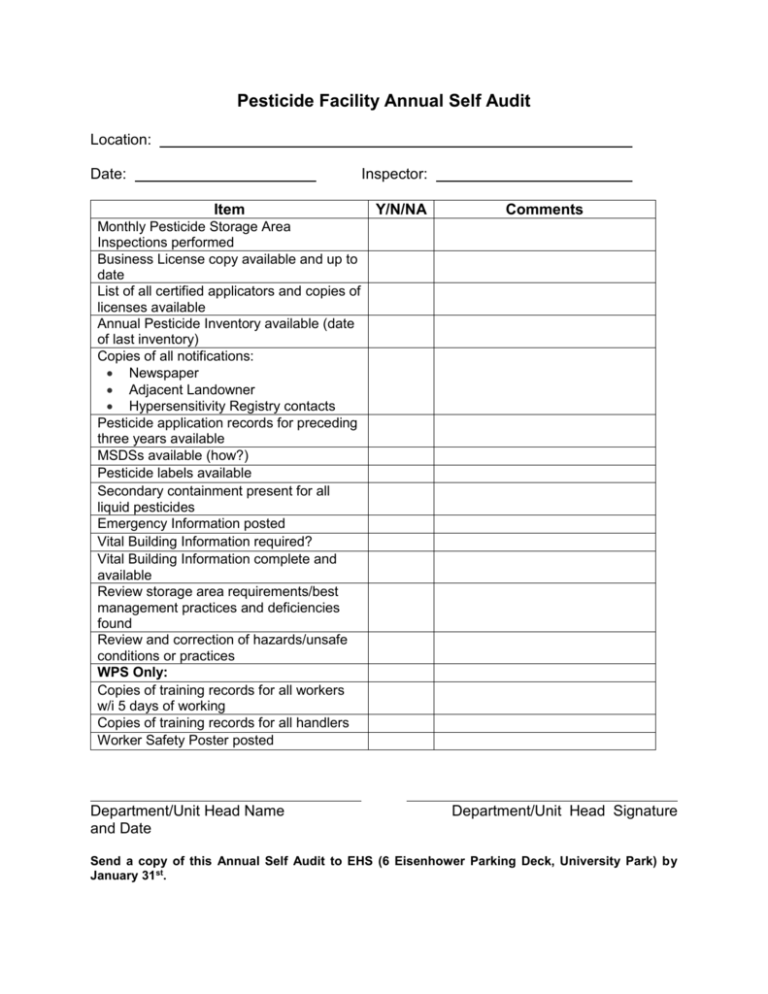 Pesticide Facility Annual Self Audit
Location:
Date:
Inspector:
Item
Y/N/NA
Comments
Monthly Pesticide Storage Area
Inspections performed
Business License copy available and up to
date
List of all certified applicators and copies of
licenses available
Annual Pesticide Inventory available (date
of last inventory)
Copies of all notifications:
 Newspaper
 Adjacent Landowner
 Hypersensitivity Registry contacts
Pesticide application records for preceding
three years available
MSDSs available (how?)
Pesticide labels available
Secondary containment present for all
liquid pesticides
Emergency Information posted
Vital Building Information required?
Vital Building Information complete and
available
Review storage area requirements/best
management practices and deficiencies
found
Review and correction of hazards/unsafe
conditions or practices
WPS Only:
Copies of training records for all workers
w/i 5 days of working
Copies of training records for all handlers
Worker Safety Poster posted
Department/Unit Head Name
and Date
Department/Unit Head Signature
Send a copy of this Annual Self Audit to EHS (6 Eisenhower Parking Deck, University Park) by
January 31st.