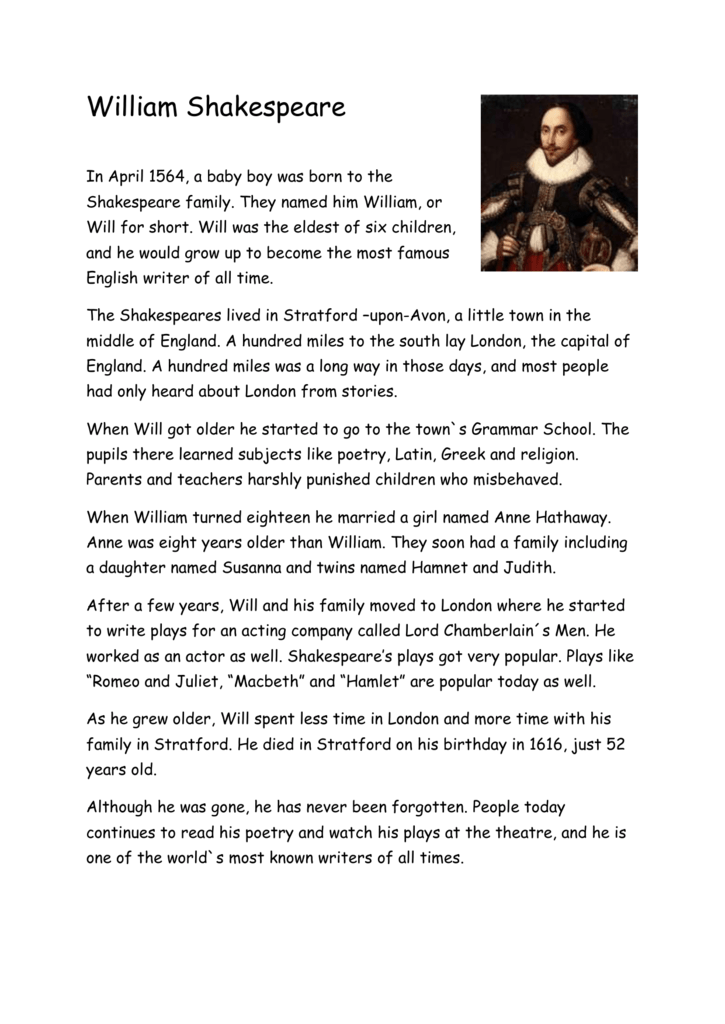 William Shakespeare
In April 1564, a baby boy was born to the
Shakespeare family. They named him William, or
Will for short. Will was the eldest of six children,
and he would grow up to become the most famous
English writer of all time.
The Shakespeares lived in Stratford –upon-Avon, a little town in the
middle of England. A hundred miles to the south lay London, the capital of
England. A hundred miles was a long way in those days, and most people
had only heard about London from stories.
When Will got older he started to go to the town`s Grammar School. The
pupils there learned subjects like poetry, Latin, Greek and religion.
Parents and teachers harshly punished children who misbehaved.
When William turned eighteen he married a girl named Anne Hathaway.
Anne was eight years older than William. They soon had a family including
a daughter named Susanna and twins named Hamnet and Judith.
After a few years, Will and his family moved to London where he started
to write plays for an acting company called Lord Chamberlain´s Men. He
worked as an actor as well. Shakespeare's plays got very popular. Plays like
"Romeo and Juliet, "Macbeth" and "Hamlet" are popular today as well.
As he grew older, Will spent less time in London and more time with his
family in Stratford. He died in Stratford on his birthday in 1616, just 52
years old.
Although he was gone, he has never been forgotten. People today
continues to read his poetry and watch his plays at the theatre, and he is
one of the world`s most known writers of all times.