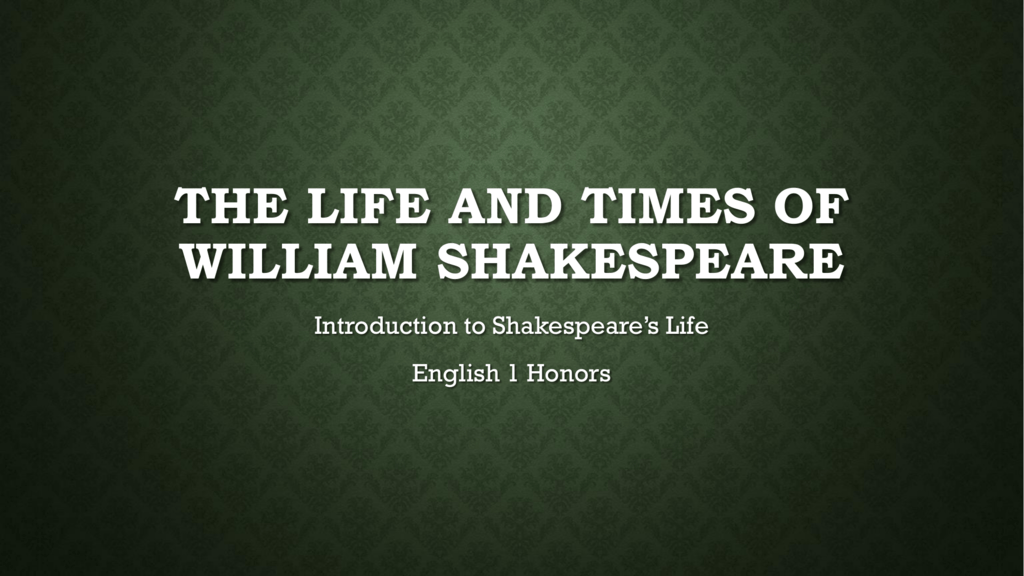 THE LIFE AND TIMES OF
WILLIAM SHAKESPEARE
Introduction to Shakespeare's Life
English 1 Honors
SHAKESPEARE?
REAL SHAKESPEARE (UNFORTUNATELY…)
CHILDHOOD
• William Shakespeare was born as the third oldest of eight children on
April 23, 1564.
• Hometown: Stratford-Upon-Avon, England.
• Father was a shopkeeper, but had many other jobs:
• Justice of the Peace
• Mayor of the town
SHAKESPEARE'S HOUSE (THEN)
SHAKESPEARE'S HOUSE (NOW)
EDUCATION
• Grammar School
• Studied Latin grammar,
Literature and rhetoric
• Definition: Rhetoric
• No formal education other
than grammar school.
LOVE
• Married at age 18 to Anne
Hathaway, age 26.
• Anne and William had three
Children
• Susanna
• Hamnet (Died at a young age) and
Judith (twins).
ACTOR AND AUTHOR
• Most popular form of entertainment, Baird (storyteller), plays, and books.
• Books were not in wide circulation like they are today.
• Expensive
• Most people could not read. Only aristocracy were able to read.
• Shakespeare decided to become an actor in order for his work to be shown to even
the lowest of peasants.
• Joined several acting troops before becoming the head actor and writer of plays for
the Lord Chamberlain's Men (later known as The King's Men).
TIME TO RETIRE
• Retired from acting in 1612.
• Due to his popularity, he was able to buy the second biggest home in all of Stratford.
• FUN FACT
• Shakespeares Will
• Susanna – The property
• Judith – 300 pounds
• Anne - ………………. Second best bed.
DEATH
• Died on April 23, 1616
• Buried at Trinity
Church in Stratford
FINAL WORKS
• He wrote
• 37 plays
• 154 sonnets
• 2 long poems
• None of his works were published in his life time. Published
four years after.
• Controversy and Debate?????