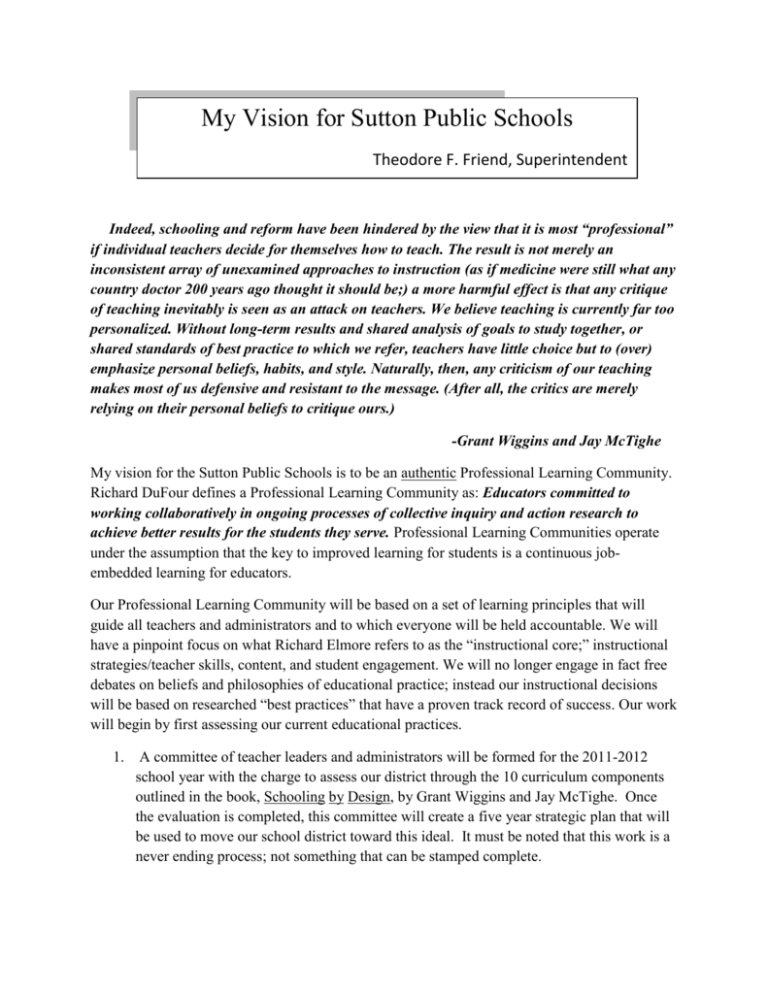 My Vision for Sutton Public Schools
Theodore F. Friend, Superintendent
Indeed, schooling and reform have been hindered by the view that it is most "professional"
if individual teachers decide for themselves how to teach. The result is not merely an
inconsistent array of unexamined approaches to instruction (as if medicine were still what any
country doctor 200 years ago thought it should be;) a more harmful effect is that any critique
of teaching inevitably is seen as an attack on teachers. We believe teaching is currently far too
personalized. Without long-term results and shared analysis of goals to study together, or
shared standards of best practice to which we refer, teachers have little choice but to (over)
emphasize personal beliefs, habits, and style. Naturally, then, any criticism of our teaching
makes most of us defensive and resistant to the message. (After all, the critics are merely
relying on their personal beliefs to critique ours.)
-Grant Wiggins and Jay McTighe
My vision for the Sutton Public Schools is to be an authentic Professional Learning Community.
Richard DuFour defines a Professional Learning Community as: Educators committed to
working collaboratively in ongoing processes of collective inquiry and action research to
achieve better results for the students they serve. Professional Learning Communities operate
under the assumption that the key to improved learning for students is a continuous jobembedded learning for educators.
Our Professional Learning Community will be based on a set of learning principles that will
guide all teachers and administrators and to which everyone will be held accountable. We will
have a pinpoint focus on what Richard Elmore refers to as the "instructional core;" instructional
strategies/teacher skills, content, and student engagement. We will no longer engage in fact free
debates on beliefs and philosophies of educational practice; instead our instructional decisions
will be based on researched "best practices" that have a proven track record of success. Our work
will begin by first assessing our current educational practices.
1. A committee of teacher leaders and administrators will be formed for the 2011-2012
school year with the charge to assess our district through the 10 curriculum components
outlined in the book, Schooling by Design, by Grant Wiggins and Jay McTighe. Once
the evaluation is completed, this committee will create a five year strategic plan that will
be used to move our school district toward this ideal. It must be noted that this work is a
never ending process; not something that can be stamped complete.
2. The district will not remain idle during this first year, Professional Learning
Communities will be established and norms of behavior developed.
3. In order for a Professional Learning Community to be effective, time must be provided
for teachers and administrators. This means that the Sutton community and school
committee must be informed of the value of a Professional Learning Community model
and a change in calendar will be needed for success. In addition, the teachers' union
must embrace the Professional Learning Community model.
4. The District Learning Team (DLT) which is made up of administrators, school
committee, teachers, support staff, parents, and community members will play an
important role in moving the school district toward this ideal. The DLT is responsible for
developing a new District Mission and Vision Statement. Once completed, we must all be
committed to it. All future decisions will be made through the lens of the Mission and
Vision of Sutton Public Schools.
5. Finally, all stakeholders must have patience and perseverance. If done correctly, this
shift to an authentic Professional Learning Community will reshape how education is
delivered in the town of Sutton and our children will be the beneficiaries.
My vision is an open invitation to all who desire to improve the lives of the children we serve.
All decisions will be made in the best interest of the children in our district.