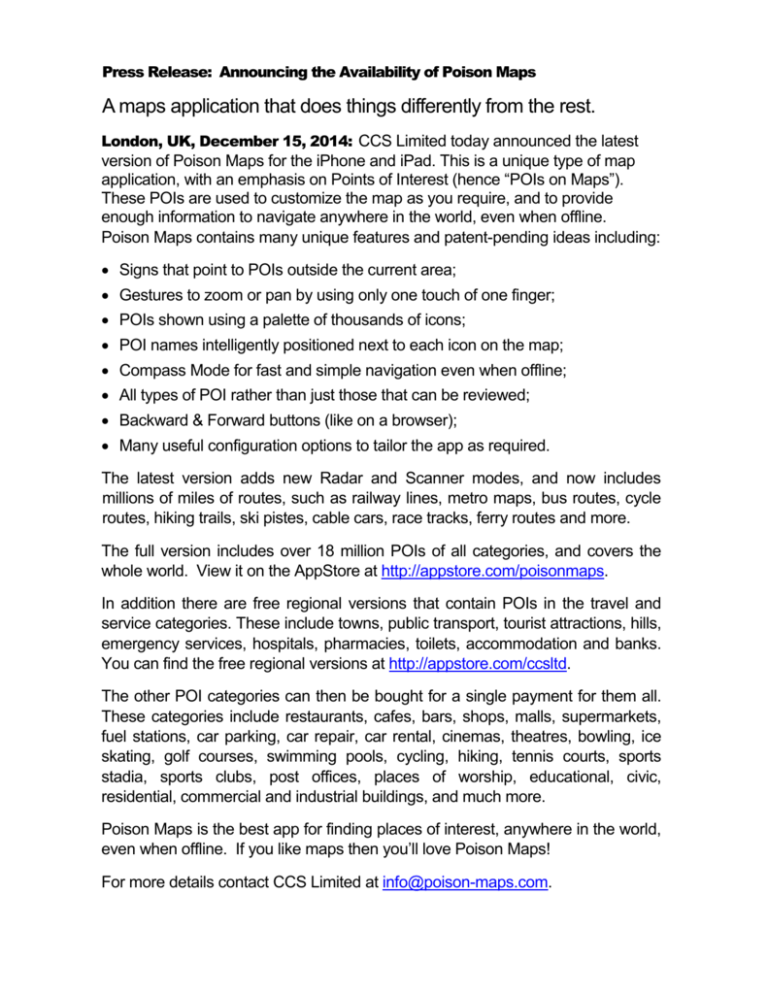 Press Release: Announcing the Availability of Poison Maps
A maps application that does things differently from the rest.
London, UK, December 15, 2014: CCS Limited today announced the latest
version of Poison Maps for the iPhone and iPad. This is a unique type of map
application, with an emphasis on Points of Interest (hence "POIs on Maps").
These POIs are used to customize the map as you require, and to provide
enough information to navigate anywhere in the world, even when offline.
Poison Maps contains many unique features and patent-pending ideas including:
 Signs that point to POIs outside the current area;
 Gestures to zoom or pan by using only one touch of one finger;
 POIs shown using a palette of thousands of icons;
 POI names intelligently positioned next to each icon on the map;
 Compass Mode for fast and simple navigation even when offline;
 All types of POI rather than just those that can be reviewed;
 Backward & Forward buttons (like on a browser);
 Many useful configuration options to tailor the app as required.
The latest version adds new Radar and Scanner modes, and now includes
millions of miles of routes, such as railway lines, metro maps, bus routes, cycle
routes, hiking trails, ski pistes, cable cars, race tracks, ferry routes and more.
The full version includes over 18 million POIs of all categories, and covers the
whole world. View it on the AppStore at http://appstore.com/poisonmaps.
In addition there are free regional versions that contain POIs in the travel and
service categories. These include towns, public transport, tourist attractions, hills,
emergency services, hospitals, pharmacies, toilets, accommodation and banks.
You can find the free regional versions at http://appstore.com/ccsltd.
The other POI categories can then be bought for a single payment for them all.
These categories include restaurants, cafes, bars, shops, malls, supermarkets,
fuel stations, car parking, car repair, car rental, cinemas, theatres, bowling, ice
skating, golf courses, swimming pools, cycling, hiking, tennis courts, sports
stadia, sports clubs, post offices, places of worship, educational, civic,
residential, commercial and industrial buildings, and much more.
Poison Maps is the best app for finding places of interest, anywhere in the world,
even when offline. If you like maps then you'll love Poison Maps!
For more details contact CCS Limited at info@poison-maps.com.