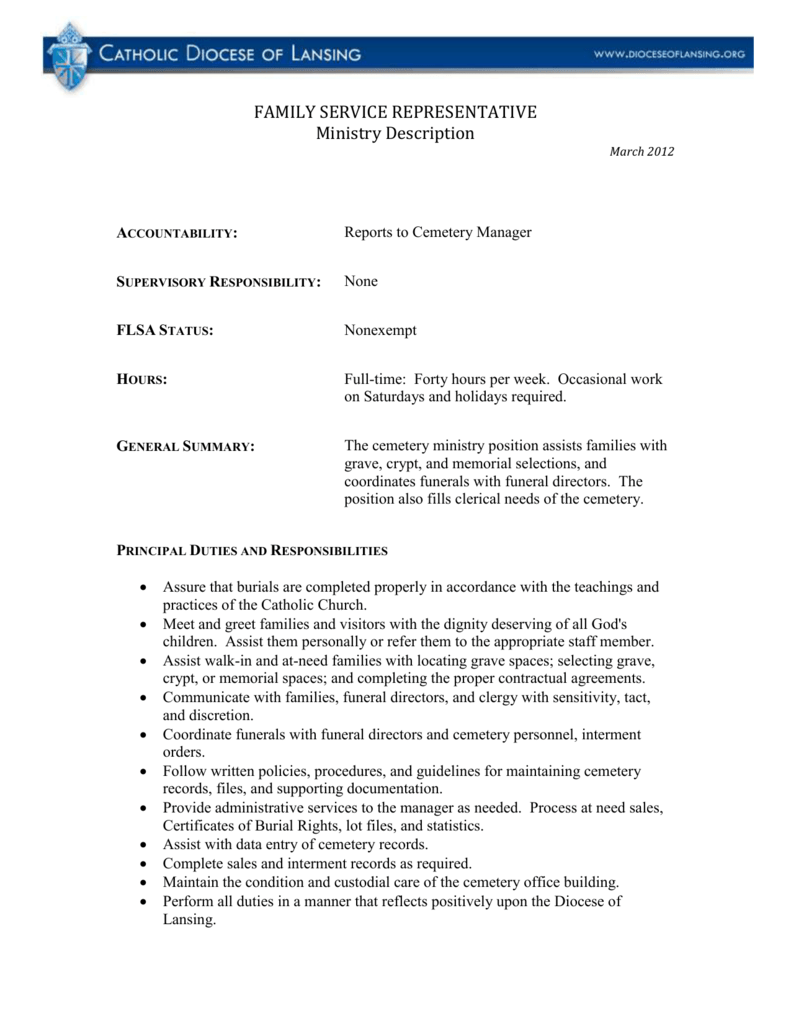 FAMILY SERVICE REPRESENTATIVE
Ministry Description
March 2012
ACCOUNTABILITY:
Reports to Cemetery Manager
SUPERVISORY RESPONSIBILITY:
None
FLSA STATUS:
Nonexempt
HOURS:
Full-time: Forty hours per week. Occasional work
on Saturdays and holidays required.
GENERAL SUMMARY:
The cemetery ministry position assists families with
grave, crypt, and memorial selections, and
coordinates funerals with funeral directors. The
position also fills clerical needs of the cemetery.
PRINCIPAL DUTIES AND RESPONSIBILITIES











Assure that burials are completed properly in accordance with the teachings and
practices of the Catholic Church.
Meet and greet families and visitors with the dignity deserving of all God's
children. Assist them personally or refer them to the appropriate staff member.
Assist walk-in and at-need families with locating grave spaces; selecting grave,
crypt, or memorial spaces; and completing the proper contractual agreements.
Communicate with families, funeral directors, and clergy with sensitivity, tact,
and discretion.
Coordinate funerals with funeral directors and cemetery personnel, interment
orders.
Follow written policies, procedures, and guidelines for maintaining cemetery
records, files, and supporting documentation.
Provide administrative services to the manager as needed. Process at need sales,
Certificates of Burial Rights, lot files, and statistics.
Assist with data entry of cemetery records.
Complete sales and interment records as required.
Maintain the condition and custodial care of the cemetery office building.
Perform all duties in a manner that reflects positively upon the Diocese of
Lansing.
KNOWLEDGE, SKILLS, AND ABILITIES
Education:
High school diploma or equivalent is required.
Experience:
Must be a practicing Catholic and have demonstrable
experience with and knowledge of Catholic burial traditions.
Require:
Ability to use word processing and spreadsheet software with
accuracy. Must be a self-starter and detail oriented.
Physical Demands:
While performing duties, employee has to sit for long periods of
time, use hands in repetitive motion tasks, and answer telephone
calls. The position also requires some standing, stooping, and
bending while filing. Employee is expected to work onsite,
Monday through Friday, with minimal travel. Some work on
Saturdays is required as needed. Memorial Day is a mandatory
work day. Must be able to safely lift 50 lbs.
The above statements describe the general nature and level of work of the position. They
are not an exhaustive list of all responsibilities, duties, and skills.