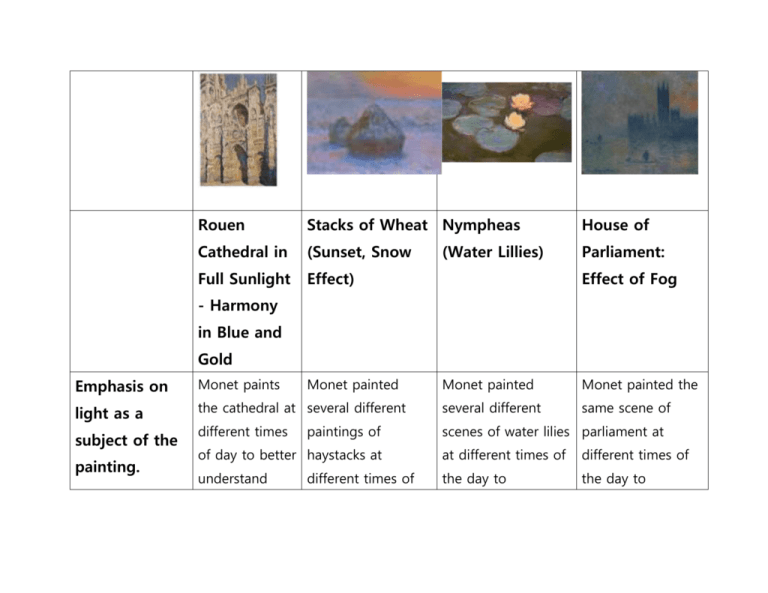 Rouen
Stacks of Wheat Nympheas
House of
Cathedral in
(Sunset, Snow
Parliament:
Full Sunlight
Effect)
(Water Lillies)
Effect of Fog
- Harmony
in Blue and
Gold
Emphasis on
Monet paints
light as a
subject of the
painting.
Monet painted
Monet painted
Monet painted the
the cathedral at several different
several different
same scene of
different times
scenes of water lilies parliament at
paintings of
of day to better haystacks at
at different times of
different times of
understand
the day to
the day to
different times of
how light
the day to
emphasize the
emphasize the
affects the
emphasize the
influence of light.
influence of light.
surroundings.
influence of
outlier
Heavy atmospheric
light. The sunset
creates interesting
effects on the
snow.
Atmospheric
Can tell what
The snow in this
Qualities
time of day it is painting creates a
qualities create an
due to the
blurry atmospheric
eerie, blurry feel in
atmospheric
effect.
this painting. The
qualities.
sunlight is shines
through the fog.
Impressionism
Uses loose
Uses loose brush
Monet uses loose
Monet uses brush
brush strokes
strokes to give the
brush strokes to
strokes to give the
to create the
impression of
give the impression
impression of a
impression of
haystacks in a
of water and water
man in a boat and
the cathedral.
field.
lilies.
of buildings in the
background.
Soft, Dull
All scenes use
Haystack painting
Dull blues and
Dull blues and
Colors are
dull colors in
uses dull colors.
greens consistently
pinks consistently
used.
used.
consistently
used.
Consistently
each cathedral
painting.
Paints a
paints outdoor cathedral
scenes
outside.
Paints multiple
Paints several scenes Paints a water
haystacks in a field.
of water and water
scene with
lilies.
buildings in the
background.