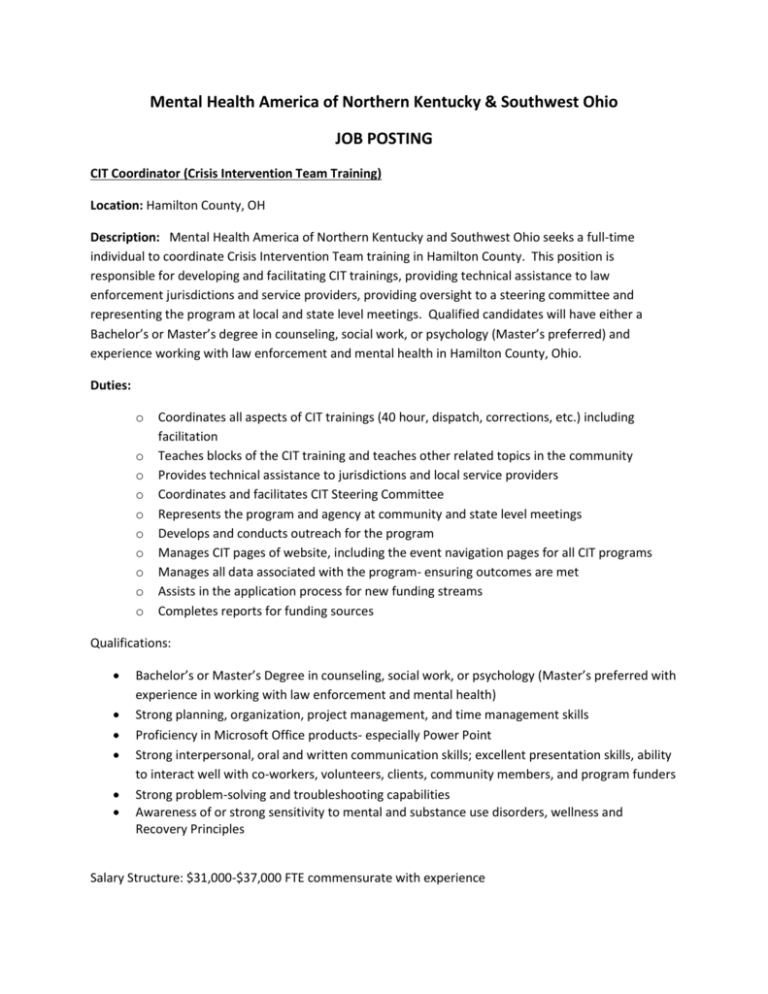 Mental Health America of Northern Kentucky & Southwest Ohio
JOB POSTING
CIT Coordinator (Crisis Intervention Team Training)
Location: Hamilton County, OH
Description: Mental Health America of Northern Kentucky and Southwest Ohio seeks a full-time
individual to coordinate Crisis Intervention Team training in Hamilton County. This position is
responsible for developing and facilitating CIT trainings, providing technical assistance to law
enforcement jurisdictions and service providers, providing oversight to a steering committee and
representing the program at local and state level meetings. Qualified candidates will have either a
Bachelor's or Master's degree in counseling, social work, or psychology (Master's preferred) and
experience working with law enforcement and mental health in Hamilton County, Ohio.
Duties:
o
o
o
o
o
o
o
o
o
o
Coordinates all aspects of CIT trainings (40 hour, dispatch, corrections, etc.) including
facilitation
Teaches blocks of the CIT training and teaches other related topics in the community
Provides technical assistance to jurisdictions and local service providers
Coordinates and facilitates CIT Steering Committee
Represents the program and agency at community and state level meetings
Develops and conducts outreach for the program
Manages CIT pages of website, including the event navigation pages for all CIT programs
Manages all data associated with the program- ensuring outcomes are met
Assists in the application process for new funding streams
Completes reports for funding sources
Qualifications:






Bachelor's or Master's Degree in counseling, social work, or psychology (Master's preferred with
experience in working with law enforcement and mental health)
Strong planning, organization, project management, and time management skills
Proficiency in Microsoft Office products- especially Power Point
Strong interpersonal, oral and written communication skills; excellent presentation skills, ability
to interact well with co-workers, volunteers, clients, community members, and program funders
Strong problem-solving and troubleshooting capabilities
Awareness of or strong sensitivity to mental and substance use disorders, wellness and
Recovery Principles
Salary Structure: $31,000-$37,000 FTE commensurate with experience
Equal Opportunity Employer
Line of Authority
This position will report directly to the MHA-NKY & SWOH Chief Operating Officer.
Summary of Function
The CIT Coordinator is a representative of Mental Health America of Northern Kentucky & Southwest
Ohio. They shall promote the agencies and programs in a professional manner in and outside of work.
Cooperative relationships will be maintained with all staff, organizations, businesses and the
community-at-large. This position requires a clear criminal background check, a good driving record,
maintain auto insurance, and reliable transportation (mileage paid). All people working on behalf of
Mental Health America are subject to drug screens.
To apply, submit resume to:
eatwell@mhankyswoh.org or mail to MHA, 2400 Reading Rd., Suite 139, Cincinnati, OH 45202
No phone calls please.