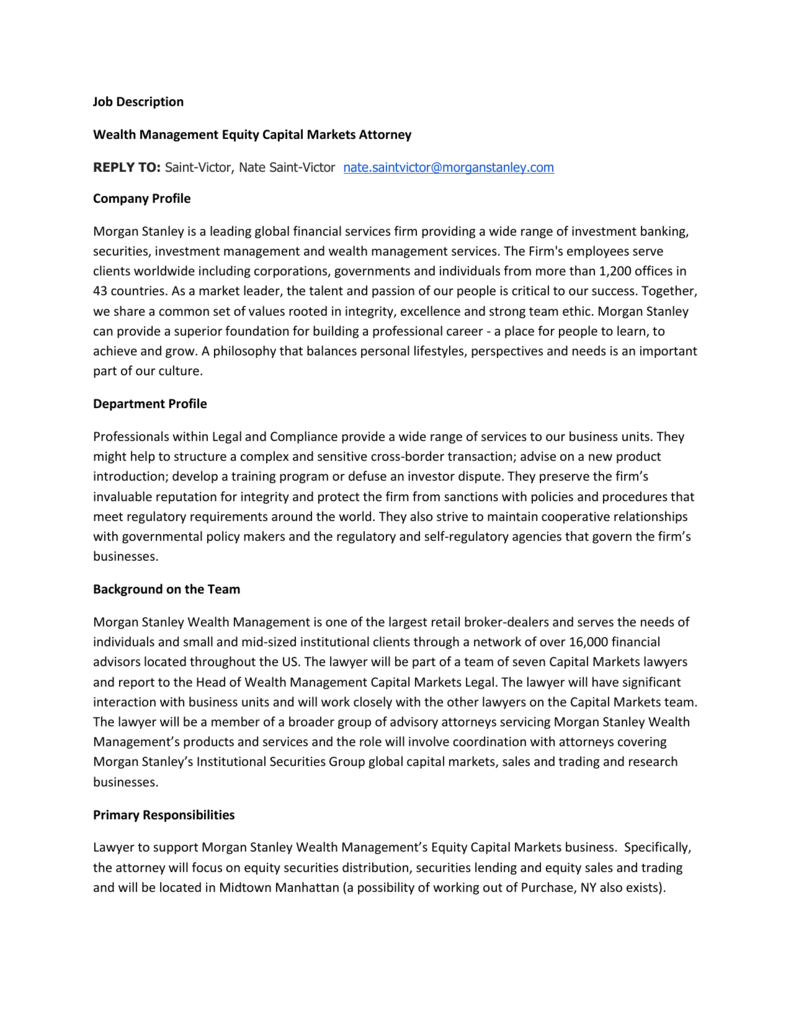 Job Description
Wealth Management Equity Capital Markets Attorney
REPLY TO: Saint-Victor, Nate Saint-Victor [email protected]
Company Profile
Morgan Stanley is a leading global financial services firm providing a wide range of investment banking,
securities, investment management and wealth management services. The Firm's employees serve
clients worldwide including corporations, governments and individuals from more than 1,200 offices in
43 countries. As a market leader, the talent and passion of our people is critical to our success. Together,
we share a common set of values rooted in integrity, excellence and strong team ethic. Morgan Stanley
can provide a superior foundation for building a professional career - a place for people to learn, to
achieve and grow. A philosophy that balances personal lifestyles, perspectives and needs is an important
part of our culture.
Department Profile
Professionals within Legal and Compliance provide a wide range of services to our business units. They
might help to structure a complex and sensitive cross-border transaction; advise on a new product
introduction; develop a training program or defuse an investor dispute. They preserve the firm's
invaluable reputation for integrity and protect the firm from sanctions with policies and procedures that
meet regulatory requirements around the world. They also strive to maintain cooperative relationships
with governmental policy makers and the regulatory and self-regulatory agencies that govern the firm's
businesses.
Background on the Team
Morgan Stanley Wealth Management is one of the largest retail broker-dealers and serves the needs of
individuals and small and mid-sized institutional clients through a network of over 16,000 financial
advisors located throughout the US. The lawyer will be part of a team of seven Capital Markets lawyers
and report to the Head of Wealth Management Capital Markets Legal. The lawyer will have significant
interaction with business units and will work closely with the other lawyers on the Capital Markets team.
The lawyer will be a member of a broader group of advisory attorneys servicing Morgan Stanley Wealth
Management's products and services and the role will involve coordination with attorneys covering
Morgan Stanley's Institutional Securities Group global capital markets, sales and trading and research
businesses.
Primary Responsibilities
Lawyer to support Morgan Stanley Wealth Management's Equity Capital Markets business. Specifically,
the attorney will focus on equity securities distribution, securities lending and equity sales and trading
and will be located in Midtown Manhattan (a possibility of working out of Purchase, NY also exists).
In particular, the position is expected to involve: working closely with the equity syndicate team on new
issue distributions (IPOs, follow-on offerings and block trades); advising on secondary trading issues;
covering sales and marketing professionals; advising the business units on developments in applicable
regulations; coordinating with the business units regarding new products, strategies and services;
working with Compliance, Risk and the business units to implement new regulatory initiatives and
respond to regulatory inquiries; coordinating with Operations and IT personnel and other coverage
attorneys to address business enhancement needs and regulatory changes; and identifying legal and
other risks. The attorney may also be called on to work on projects or issues for the Capital Markets'
Fixed Income, Research and Corporate Equities Solutions businesses.
Qualifications
Skills required (essential)
A minimum of 5 years (ideally 5-8 years) relevant experience with a top quality major law firm and/or
bank or broker-dealer. The candidate should have experience with U.S. securities laws related to equity
distribution and trading, in particular, the Securities Act of 1933, the Securities Exchange Act of 1934,
and applicable FINRA/SRO rules. Experience with other regulations and rules applicable to IPO
participation, securities lending,communication and/or research is helpful but not required.
The lawyer should possess the following skills and qualities:
-Professional maturity, confidence, and initiative;
-Excellent judgment and analytical skills;
-Excellent oral and written communication skills;
- Strong interpersonal skills
- Position open to Vice President / Executive Director level. Level commensurate with experience.