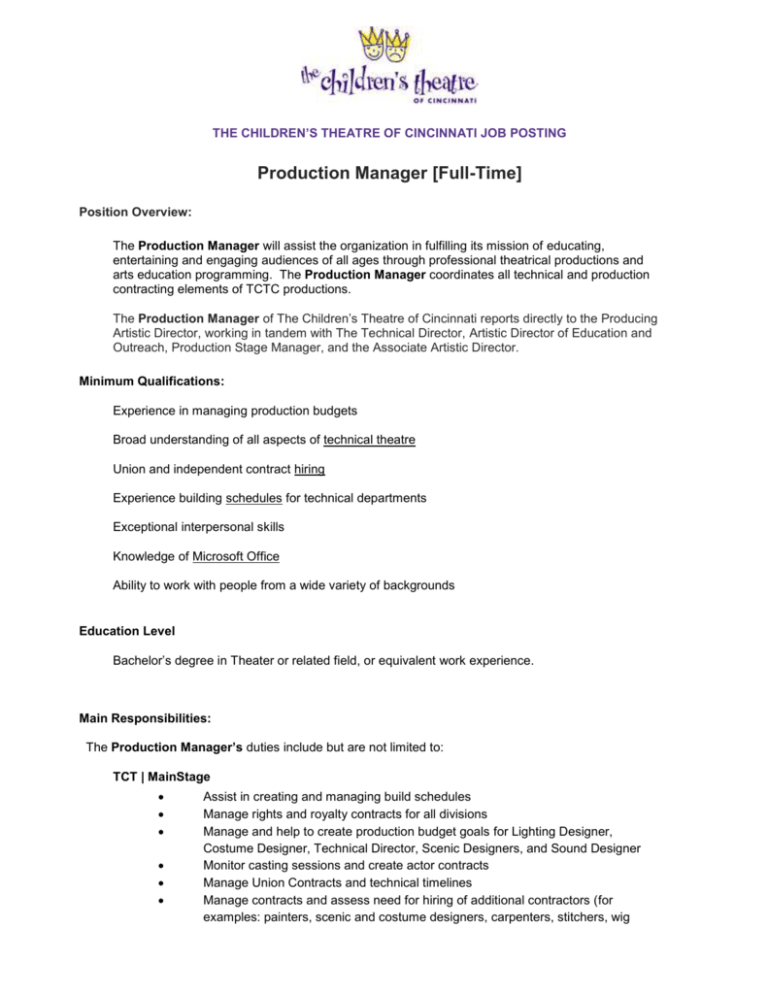 THE CHILDREN'S THEATRE OF CINCINNATI JOB POSTING
Production Manager [Full-Time]
Position Overview:
The Production Manager will assist the organization in fulfilling its mission of educating,
entertaining and engaging audiences of all ages through professional theatrical productions and
arts education programming. The Production Manager coordinates all technical and production
contracting elements of TCTC productions.
The Production Manager of The Children's Theatre of Cincinnati reports directly to the Producing
Artistic Director, working in tandem with The Technical Director, Artistic Director of Education and
Outreach, Production Stage Manager, and the Associate Artistic Director.
Minimum Qualifications:
Experience in managing production budgets
Broad understanding of all aspects of technical theatre
Union and independent contract hiring
Experience building schedules for technical departments
Exceptional interpersonal skills
Knowledge of Microsoft Office
Ability to work with people from a wide variety of backgrounds
Education Level
Bachelor's degree in Theater or related field, or equivalent work experience.
Main Responsibilities:
The Production Manager's duties include but are not limited to:
TCT | MainStage






Assist in creating and managing build schedules
Manage rights and royalty contracts for all divisions
Manage and help to create production budget goals for Lighting Designer,
Costume Designer, Technical Director, Scenic Designers, and Sound Designer
Monitor casting sessions and create actor contracts
Manage Union Contracts and technical timelines
Manage contracts and assess need for hiring of additional contractors (for
examples: painters, scenic and costume designers, carpenters, stitchers, wig

masters, hair and make-up artists, sound and lighting designers, musicians, crew,
stage combat instructors, puppet engineers, prop masters, masters electricians)
Schedule budget check-in meetings
Education and Outreach




Creates over-hire contracts as needed for final performances.
Organizes and executes technical needs for the Associate Stage Manager for the final
performances of TCT | Academy classes.
Manages build schedule for TCT | On Tour during the summer.
Managing the summer programming for technical departments. (Outreach and
STAR)
Casting




Monitor all auditions and callbacks
Distribute Callback Material
Manage the Active Network for all auditions
Create contracts for actors for the Associate Artistic Director
Technical Theatre Coordination







Benefits:




How to Apply:



Manage tech schedule for the Mainstage and Studio Series, and coordinate pickup, rented, or borrowed items
Monitor unloading the truck after load out from the theatres
Monitor unloading costumes after load out from the theatres
Coordinate the return of rented or borrowed items
Manage strike of all TCT On Tour productions
Coordinate studio theatre booking schedule
Manage Mainstage union schedules
Health, vision and dental benefits available, partially subsidized by employer
contributions, after a waiting period
403(b) retirement plan participation available with eligibility for an employer match
after one year of credited service
Generous PTO based on years of service
Generous paid holiday schedule
Send cover letter, resume, and at least one letter of reference to:
submissions@thechildrenstheatre.com, Subject line: Production Manager Application
Application deadline: February 8, 2016
Start Date: May 2016
Organizational Overview:
TCTC's mission is to educate, entertain and engage audiences of all ages through professional
theatrical productions and arts education programming. We fulfill our mission through three primary
programs:
 TCT | MainStage – We welcome 90,000 children, teachers, and family members from
across the Tri-State, to one of our four family-friendly and professional musical theater
productions at the historic Taft.
 TCT | On Tour! – We see over 90,000 children and their families at one of our touring
performances or during an arts-integration workshop or residency.

TCT | Academy – Over 600 children will be provided fine arts instruction, including the
group that participates in the four-week intensive STAR summer program where we offer
professional musical theatre training to some of the region's most talented youth.
Vision:
 Create smiles, open minds, and touch hearts.
 Harness theater experiences and the arts as forces for education and understanding.
 Create meaningful shared arts experiences.
 Present award winning and nationally recognized productions and arts education
programming.
 Foster a work environment of excellence, creativity, and innovation.
Core Beliefs:
 We believe in the power of theater to enrich lives and create deeper understandings of
people, cultures, and perspectives.
 We believe that our audiences deserve high quality experiences that are rich with wonder,
honesty, compassion, joy, and wisdom.
 We believe that the arts and education are not mutually exclusive.
 We believe that the art we create must respect the diversity of our community.
 We believe in the power of integrated arts education to enrich our lives and our
communities.