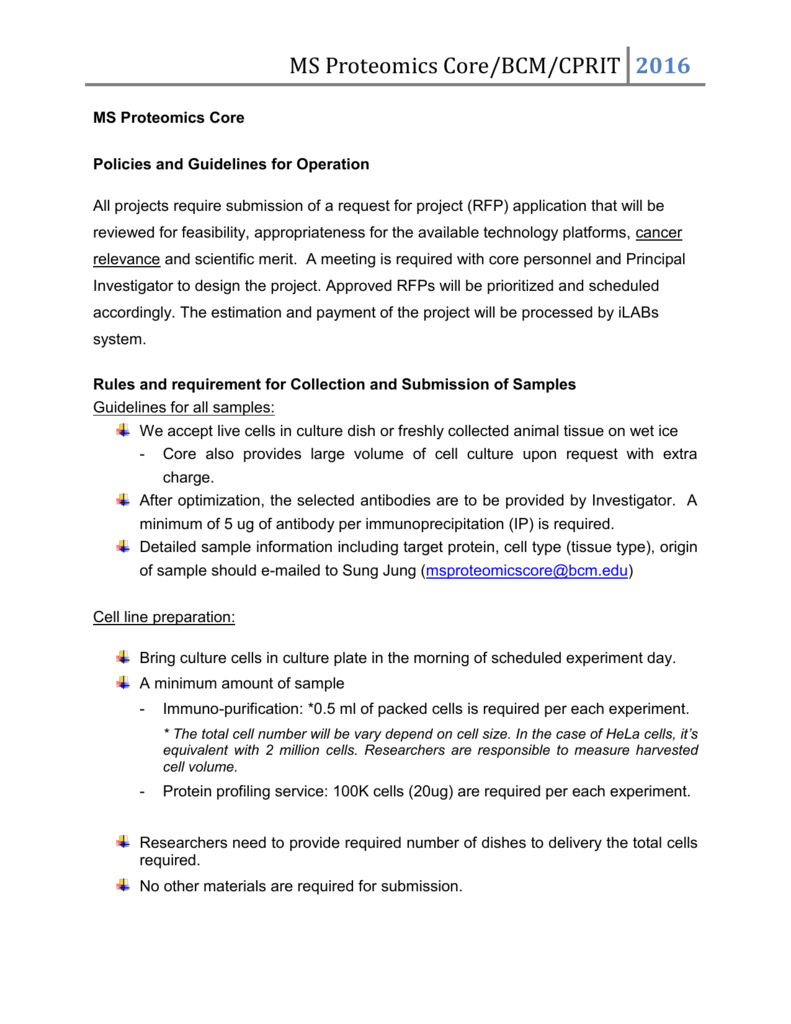 MS Proteomics Core/BCM/CPRIT 2016
MS Proteomics Core
Policies and Guidelines for Operation
All projects require submission of a request for project (RFP) application that will be
reviewed for feasibility, appropriateness for the available technology platforms, cancer
relevance and scientific merit. A meeting is required with core personnel and Principal
Investigator to design the project. Approved RFPs will be prioritized and scheduled
accordingly. The estimation and payment of the project will be processed by iLABs
system.
Rules and requirement for Collection and Submission of Samples
Guidelines for all samples:
We accept live cells in culture dish or freshly collected animal tissue on wet ice
- Core also provides large volume of cell culture upon request with extra
charge.
After optimization, the selected antibodies are to be provided by Investigator. A
minimum of 5 ug of antibody per immunoprecipitation (IP) is required.
Detailed sample information including target protein, cell type (tissue type), origin
of sample should e-mailed to Sung Jung ([email protected])
Cell line preparation:
Bring culture cells in culture plate in the morning of scheduled experiment day.
A minimum amount of sample
-
Immuno-purification: *0.5 ml of packed cells is required per each experiment.
* The total cell number will be vary depend on cell size. In the case of HeLa cells, it's
equivalent with 2 million cells. Researchers are responsible to measure harvested
cell volume.
-
Protein profiling service: 100K cells (20ug) are required per each experiment.
Researchers need to provide required number of dishes to delivery the total cells
required.
No other materials are required for submission.
MS Proteomics Core/BCM/CPRIT 2016
For Immune-purification, No frozen harvested cells can be accepted. (Acceptable
for profiling service)
Tissue samples:
For IP, freshly harvested tissue should be delivered on wet ice.
For profiling service, fresh tissue is preferred but frozen tissues may be
acceptable (please consult core-director).
All animal tissues for both of IP and profiling must be perfused with an
appropriate solution (PBS, Krebs-ringer solution, etc) prior to harvest.