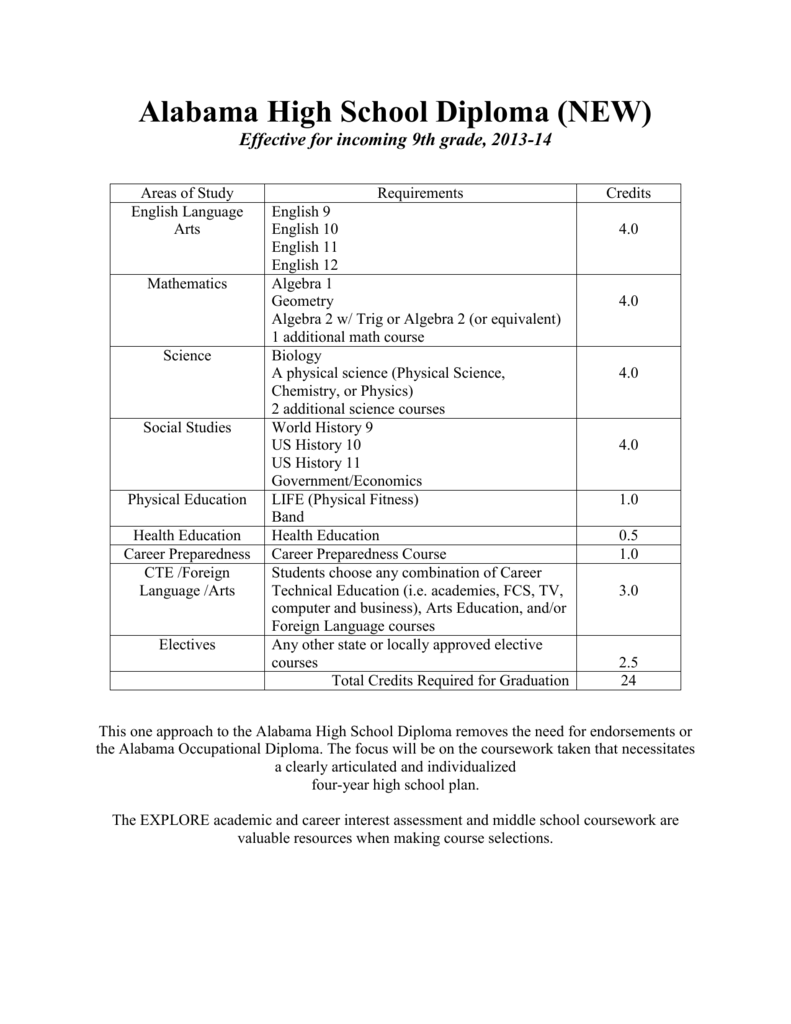 Alabama High School Diploma (NEW)
Effective for incoming 9th grade, 2013-14
Areas of Study
English Language
Arts
Mathematics
Science
Social Studies
Physical Education
Health Education
Career Preparedness
CTE /Foreign
Language /Arts
Electives
Requirements
English 9
English 10
English 11
English 12
Algebra 1
Geometry
Algebra 2 w/ Trig or Algebra 2 (or equivalent)
1 additional math course
Biology
A physical science (Physical Science,
Chemistry, or Physics)
2 additional science courses
World History 9
US History 10
US History 11
Government/Economics
LIFE (Physical Fitness)
Band
Health Education
Career Preparedness Course
Students choose any combination of Career
Technical Education (i.e. academies, FCS, TV,
computer and business), Arts Education, and/or
Foreign Language courses
Any other state or locally approved elective
courses
Total Credits Required for Graduation
Credits
4.0
4.0
4.0
4.0
1.0
0.5
1.0
3.0
2.5
24
This one approach to the Alabama High School Diploma removes the need for endorsements or
the Alabama Occupational Diploma. The focus will be on the coursework taken that necessitates
a clearly articulated and individualized
four-year high school plan.
The EXPLORE academic and career interest assessment and middle school coursework are
valuable resources when making course selections.