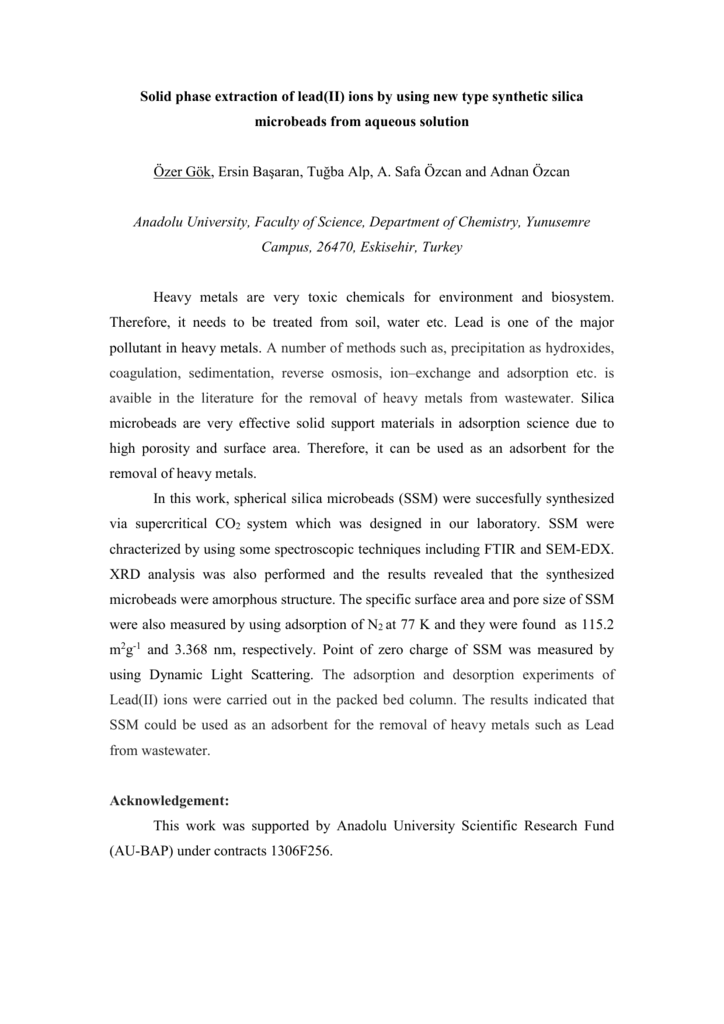 Solid phase extraction of lead(II) ions by using new type synthetic silica
microbeads from aqueous solution
Özer Gök, Ersin Başaran, Tuğba Alp, A. Safa Özcan and Adnan Özcan
Anadolu University, Faculty of Science, Department of Chemistry, Yunusemre
Campus, 26470, Eskisehir, Turkey
Heavy metals are very toxic chemicals for environment and biosystem.
Therefore, it needs to be treated from soil, water etc. Lead is one of the major
pollutant in heavy metals. A number of methods such as, precipitation as hydroxides,
coagulation, sedimentation, reverse osmosis, ion–exchange and adsorption etc. is
avaible in the literature for the removal of heavy metals from wastewater. Silica
microbeads are very effective solid support materials in adsorption science due to
high porosity and surface area. Therefore, it can be used as an adsorbent for the
removal of heavy metals.
In this work, spherical silica microbeads (SSM) were succesfully synthesized
via supercritical CO2 system which was designed in our laboratory. SSM were
chracterized by using some spectroscopic techniques including FTIR and SEM-EDX.
XRD analysis was also performed and the results revealed that the synthesized
microbeads were amorphous structure. The specific surface area and pore size of SSM
were also measured by using adsorption of N2 at 77 K and they were found as 115.2
m2g-1 and 3.368 nm, respectively. Point of zero charge of SSM was measured by
using Dynamic Light Scattering. The adsorption and desorption experiments of
Lead(II) ions were carried out in the packed bed column. The results indicated that
SSM could be used as an adsorbent for the removal of heavy metals such as Lead
from wastewater.
Acknowledgement:
This work was supported by Anadolu University Scientific Research Fund
(AU-BAP) under contracts 1306F256.