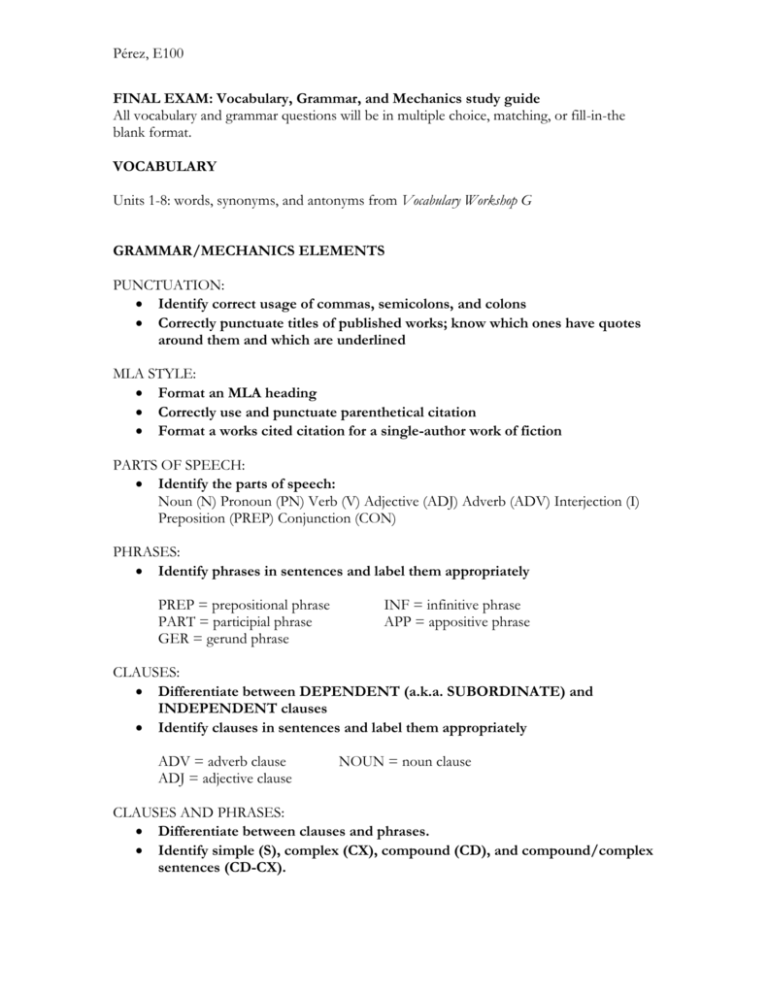 Pérez, E100
FINAL EXAM: Vocabulary, Grammar, and Mechanics study guide
All vocabulary and grammar questions will be in multiple choice, matching, or fill-in-the
blank format.
VOCABULARY
Units 1-8: words, synonyms, and antonyms from Vocabulary Workshop G
GRAMMAR/MECHANICS ELEMENTS
PUNCTUATION:
 Identify correct usage of commas, semicolons, and colons
 Correctly punctuate titles of published works; know which ones have quotes
around them and which are underlined
MLA STYLE:
 Format an MLA heading
 Correctly use and punctuate parenthetical citation
 Format a works cited citation for a single-author work of fiction
PARTS OF SPEECH:
 Identify the parts of speech:
Noun (N) Pronoun (PN) Verb (V) Adjective (ADJ) Adverb (ADV) Interjection (I)
Preposition (PREP) Conjunction (CON)
PHRASES:
 Identify phrases in sentences and label them appropriately
PREP = prepositional phrase
PART = participial phrase
GER = gerund phrase
INF = infinitive phrase
APP = appositive phrase
CLAUSES:
 Differentiate between DEPENDENT (a.k.a. SUBORDINATE) and
INDEPENDENT clauses
 Identify clauses in sentences and label them appropriately
ADV = adverb clause
ADJ = adjective clause
NOUN = noun clause
CLAUSES AND PHRASES:
 Differentiate between clauses and phrases.
 Identify simple (S), complex (CX), compound (CD), and compound/complex
sentences (CD-CX).