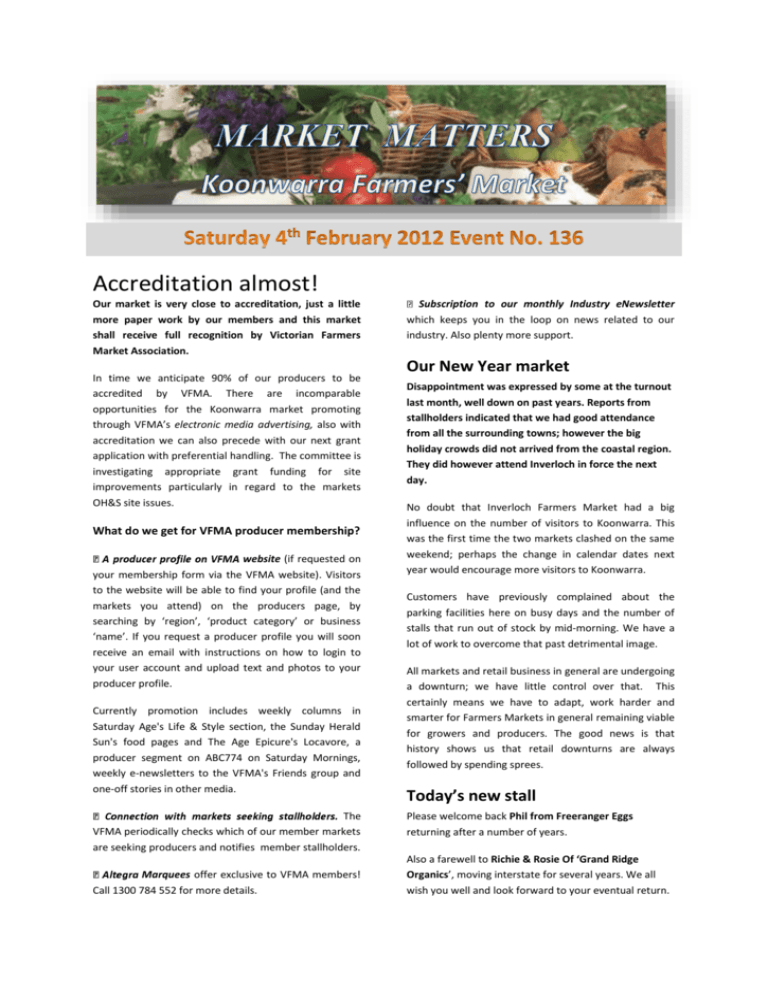 Accreditation almost!
Our market is very close to accreditation, just a little
more paper work by our members and this market
shall receive full recognition by Victorian Farmers
Market Association.
In time we anticipate 90% of our producers to be
accredited by VFMA. There are incomparable
opportunities for the Koonwarra market promoting
through VFMA's electronic media advertising, also with
accreditation we can also precede with our next grant
application with preferential handling. The committee is
investigating appropriate grant funding for site
improvements particularly in regard to the markets
OH&S site issues.
What do we get for VFMA producer membership?
website (if requested on
your membership form via the VFMA website). Visitors
to the website will be able to find your profile (and the
markets you attend) on the producers page, by
searching by 'region', 'product category' or business
'name'. If you request a producer profile you will soon
receive an email with instructions on how to login to
your user account and upload text and photos to your
producer profile.
Currently promotion includes weekly columns in
Saturday Age's Life & Style section, the Sunday Herald
Sun's food pages and The Age Epicure's Locavore, a
producer segment on ABC774 on Saturday Mornings,
weekly e-newsletters to the VFMA's Friends group and
one-off stories in other media.
The
VFMA periodically checks which of our member markets
are seeking producers and notifies member stallholders.
Marquees offer exclusive to VFMA members!
Call 1300 784 552 for more details.
Subscription to our monthly Industry eNewsletter
which keeps you in the loop on news related to our
industry. Also plenty more support.
Our New Year market
Disappointment was expressed by some at the turnout
last month, well down on past years. Reports from
stallholders indicated that we had good attendance
from all the surrounding towns; however the big
holiday crowds did not arrived from the coastal region.
They did however attend Inverloch in force the next
day.
No doubt that Inverloch Farmers Market had a big
influence on the number of visitors to Koonwarra. This
was the first time the two markets clashed on the same
weekend; perhaps the change in calendar dates next
year would encourage more visitors to Koonwarra.
Customers have previously complained about the
parking facilities here on busy days and the number of
stalls that run out of stock by mid-morning. We have a
lot of work to overcome that past detrimental image.
All markets and retail business in general are undergoing
a downturn; we have little control over that. This
certainly means we have to adapt, work harder and
smarter for Farmers Markets in general remaining viable
for growers and producers. The good news is that
history shows us that retail downturns are always
followed by spending sprees.
Today's new stall
Please welcome back Phil from Freeranger Eggs
returning after a number of years.
Also a farewell to Richie & Rosie Of 'Grand Ridge
Organics', moving interstate for several years. We all
wish you well and look forward to your eventual return.
.