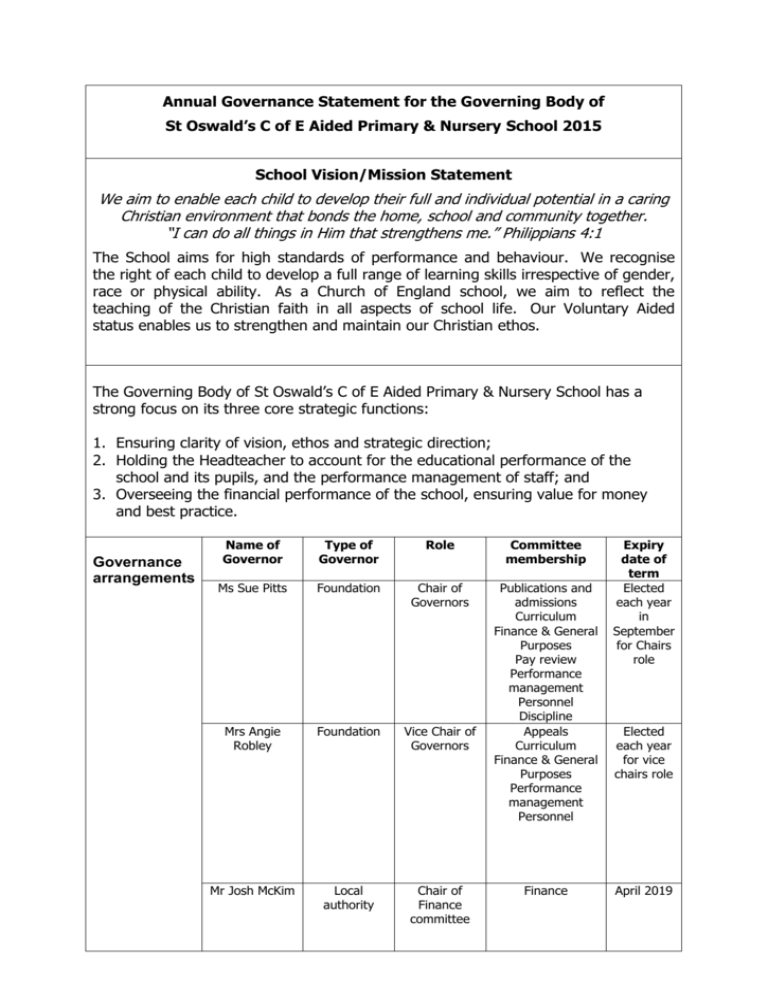 Annual Governance Statement for the Governing Body of
St Oswald's C of E Aided Primary & Nursery School 2015
School Vision/Mission Statement
We aim to enable each child to develop their full and individual potential in a caring
Christian environment that bonds the home, school and community together.
"I can do all things in Him that strengthens me." Philippians 4:1
The School aims for high standards of performance and behaviour. We recognise
the right of each child to develop a full range of learning skills irrespective of gender,
race or physical ability. As a Church of England school, we aim to reflect the
teaching of the Christian faith in all aspects of school life. Our Voluntary Aided
status enables us to strengthen and maintain our Christian ethos.
The Governing Body of St Oswald's C of E Aided Primary & Nursery School has a
strong focus on its three core strategic functions:
1. Ensuring clarity of vision, ethos and strategic direction;
2. Holding the Headteacher to account for the educational performance of the
school and its pupils, and the performance management of staff; and
3. Overseeing the financial performance of the school, ensuring value for money
and best practice.
Governance
arrangements
Name of
Governor
Type of
Governor
Role
Committee
membership
Ms Sue Pitts
Foundation
Chair of
Governors
Mrs Angie
Robley
Foundation
Vice Chair of
Governors
Publications and
admissions
Curriculum
Finance & General
Purposes
Pay review
Performance
management
Personnel
Discipline
Appeals
Curriculum
Finance & General
Purposes
Performance
management
Personnel
Mr Josh McKim
Local
authority
Chair of
Finance
committee
Finance
Expiry
date of
term
Elected
each year
in
September
for Chairs
role
Elected
each year
for vice
chairs role
April 2019
Dr Tim Lang
Foundation
Curriculum
Discipline
Personnel
April 2015
Rev Peter
Kashouris
Foundation
Appeals
20.2.16
Mrs Sally
Henniker Major
Foundation
Curriculum
Pay Review
Personnel
6.3.17
Mrs C.
Roxborough
Foundation
Publications and
admissions
Appeals
Curriculum
4.3.18
Mrs N. Bray
Foundation
26.6.15
Leaving
June 2015
Mrs P.
Nicholson
Foundation
Dr M. Armellini
Parent
Governor
Publications and
admissions
Pay Review
Head Teachers
Performance
management
Personnel
Curriculum
Finance & General
purposes
Pay review
Personnel
Curriculum
Pay Review
Mr Andy
Jordan
Parent
Governor
Publications and
admissions
Curriculum
Discipline
3.10.17
Mrs Gill
Harrison
Head
Teacher
All Committees
Ms Donna
Wilson
Associate
Governor
Mr R. Handy
Associate
Governor
temporary
Publications and
admissions
Finance & General
purposes
Personnel
Publications and
admissions
Finance & General
purposes
Personnel
Mrs Judy
Frame
Staff
Governor
SEND
Governor
Publications and
admissions
Finance & General
purposes
Personnel
6.3.17
19.12.16
31.8.15
July 2015
12.3.19
Key Issues
faced and
addressed by
the
Governing
Body
1 To assist the Head Teacher in leading the School through
the OFSTED process and ensure the Outstanding School
judgement remained and standards continued to remain
high.
2 To monitor the Schools only OFSTED action point, which
stipulated that there should be more opportunities for the
children to deal with real life problem solving questions in
mathematics, which enabled the children to explain what
they needed to do to solve the problem and explain their
findings.
3 To support the Head Teacher and members of staff as the
school changed its status to Primary and Nursery from Infant
& Nursery.
4 To ensure that members of teaching staff were prepared for
the transition to Primary Status and had received relevant
CPD and support.
5 To ensure that the building project which was organised to
extend the school, (following decision to move to Primary
Status) was carried out effectively, efficiently and within the
allocated budget.
6 To ensure the school had relevant and appropriate resources
for its transition into Key Stage 2.
7 To create and implement the new National Curriculum in
readiness for September 2015.
8 To monitor admission numbers, in order to ensure that the
numbers of children in school did not exceed or fall below the
critical level of children that the school could operate with.
9 To ensure the school complied with the new Special
Educational Needs regulations and created a section on the
website detailing what the Schools offer would be with regard
to SEND provision.
Assessment
of Impact
1 The school was inspected in July 2014 and was considered
to be outstanding in all areas.
2 The OFSTED action point became one of the School
Development Plan action points and continues to become
embedded into Mathematics teaching throughout the school.
Children in Key Stage 2 are now successfully analysing
problem solving questions and are able to answer them
independently with a good degree of success.
Children in the Foundation Stage and Key Stage 1 regularly
deal with problem solving questions and are using their
thinking skills to help them solve the problems and find
solutions.
3 The School successfully made the transition to Primary &
Nursery School in September 2014.
4 All of the Teaching and Learning Support Staff have received
appropriate training and support in order to ensure they are
appropriately equipped to teach their new year groups.
5 The building project was completed in time for the children to
return to school in September 2015. The Governors,
6
7
8
9
Future plans
for the
Governing
Body







Contact
Details
Diocese, Local Authority, School Staff, Children and Parents
are delighted with our remodelled school.
Appropriate resources continue to be purchased in order to
ensure that all of the children's needs are being met and the
new Curriculum is appropriately resourced.
All of the staff are to be congratulated for their part in
creating the new National Curriculum planning document
which is extremely effective and creative. This has resulted
in a well-balanced, stimulating and enjoyable curriculum for
all of the children.
In September 2014 the Admission numbers for reception
class were 15 and a mixed age class was planned. In reality,
a further 9 children were admitted due to appeals, which
meant the class and other classes in the school had to
become single year groups. This cannot be sustained
because there would be too many children in the School in
relation to classroom space and the number of employed
teachers.
From September 2015 the Reception class becomes mixed
with Year 1, resulting in a class of 30 children. Due to infant
Class size prejudice, it will not be possible to admit more
children into this class.
A new SEND section of the website was created and was in
operation from September 2015.
To continue monitoring the transition to Primary Status with
the age group of the school extending to Year 4 from
September 2015.
To monitor the Mixed Age teaching of classes throughout the
school from September 2015.
To monitor further building work in order to add a further
break out learning space for key Stage 2 children.
To ensure that outdated remaining school radiators are
replaced with modern and efficient radiators in all areas of
the school.
To monitor break times throughout the school in order to
ensure that playground and lunchtime provision remains
effective, efficient and safe.
To continue ensuring that standards remain high throughout
the school, to enable children to receive the best possible
education we can provide and ensure that they achieve their
targets in line with expectations.
To ensure that the Ethos of the school remains at the centre
of all that we do and that links to the Church and Faith
continue to grow along with our distinctiveness.
The Governing Body welcomes suggestions, feedback and ideas
from parents/carers. Please contact the Chair of Governors c/o the
school office.
Details of the full Governing Body are on the school website.