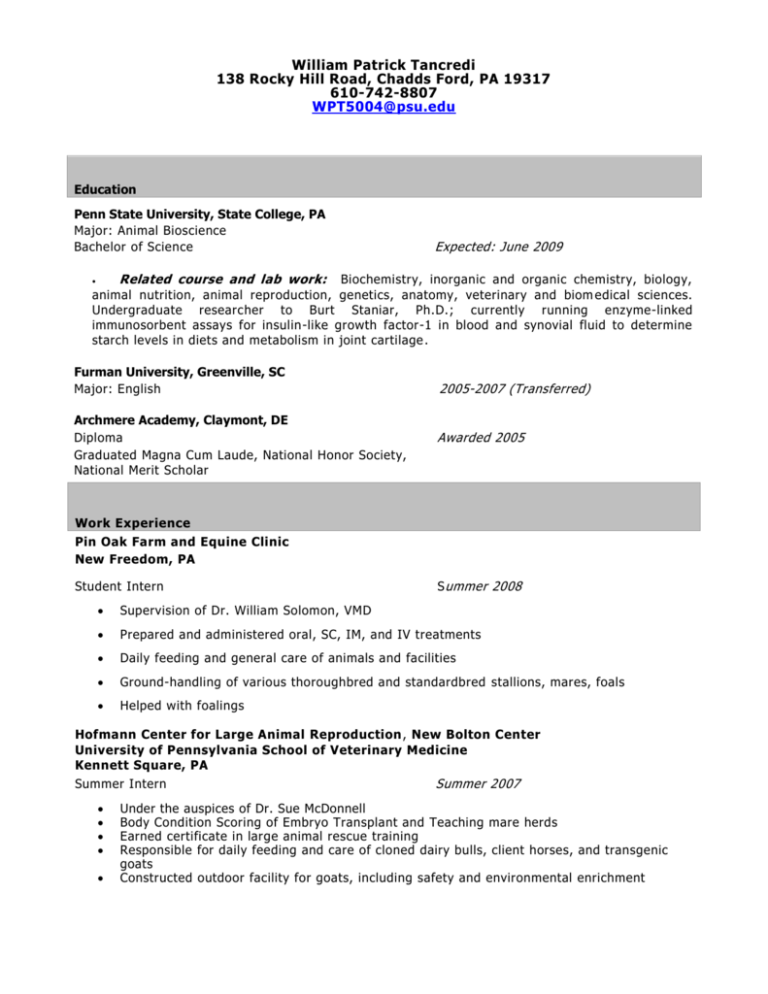 William Patrick Tancredi
138 Rocky Hill Road, Chadds Ford, PA 19317
610-742-8807
WPT5004@psu.edu
Education
Penn State University, State College, PA
Major: Animal Bioscience
Bachelor of Science
Expected: June 2009
Related course and lab work: Biochemistry, inorganic and organic chemistry, biology,
animal nutrition, animal reproduction, genetics, anatomy, veterinary and biom edical sciences.
Undergraduate researcher to Burt Staniar, Ph.D.; currently running enzyme-linked
immunosorbent assays for insulin-like growth factor-1 in blood and synovial fluid to determine
starch levels in diets and metabolism in joint cartilage .

Furman University, Greenville, SC
Major: English
Archmere Academy, Claymont, DE
Diploma
Graduated Magna Cum Laude, National Honor Society,
National Merit Scholar
2005-2007 (Transferred)
Awarded 2005
Work Experience
Pin Oak Farm and Equine Clinic
New Freedom, PA
Student Intern
S ummer 2008

Supervision of Dr. William Solomon, VMD

Prepared and administered oral, SC, IM, and IV treatments

Daily feeding and general care of animals and facilities

Ground-handling of various thoroughbred and standardbred stallions, mares, foals

Helped with foalings
Hofmann Center for Large Animal Reproduction , New Bolton Center
University of Pennsylvania School of Veterinary Medicine
Kennett Square, PA
Summer Intern





Summer 2007
Under the auspices of Dr. Sue McDonnell
Body Condition Scoring of Embryo Transplant and Teaching mare herds
Earned certificate in large animal rescue training
Responsible for daily feeding and care of cloned dairy bulls, client horses, and transgenic
goats
Constructed outdoor facility for goats, including safety and environmental enrichment
Work Experience
Greenville Humane Society,
Greenville, SC
Student Volunteer
 Responsible for care and walking of dogs and cats
2006-2007

Participated in courses on dog training

Helped train and care for animals in order to make the animals more adoptable
Related Experience
Equine
 Assisting during foaling of broodmares, including problem deliveries .
 Administering IV, IM, and oral treatments to geldings, mares, and foals .
 Daily feeding, general care, and grooming of various horse breeds, especially racehorses
 Handling of thoroughbred and Standard Bred teaser stallions, geldings, and broodmares and
foals.
 Assisting in the semen collection and artificial insemination of Standardbred horses ; preparing
extenders for semen transport and shipping .
 Completed Henneke Body Condition Scoring of teaching mares and embryo transplant mares at
New Bolton Center.
Large Animal
 Daily care and feeding of cloned dairy bulls, teaching bull, jump ewe, and transgenic goats
 Completed training in Large Animal Rescue Clinic at the New Bolton Center .
Small, Lab, and Exotic Animal
 Extensive handling and training of various breeds of dogs at Humane Societies and other non profit organizations
 Volunteer work also consisted of feeding and handling puppies, kittens, cats, rabbits and
assorted rodents
 Completed successful post-mortem in vitro fertilization of mouse embryos
 Galapagos Islands, Ecuador, t wo-week field study, 2003.
Other
Community Service:
 Penn State Undergraduate Equine Research Team: member 2007 -2008.
 Habitat for Humanity: Service trip to Maryland to build houses, 2004.
 Ministry of Caring: Volunteer for Holiday Gift Program, 2004 -2005.
 AmeriCorps: Service trip to Washington D.C, 2003.
Sports & Hobbies:

Penn State Crew Team: Competed at Dad Vail Regatta in Philadelphia.

Tae Kwon Do: 1 st Dan black belt.

Furman Boxing Club: Cruiserweight Champion.

Cross Country: Delaware State Championship Team Member 2002 &2004 .

Delaware State 2 nd Place-Track-4x800 Relay Team-2005.