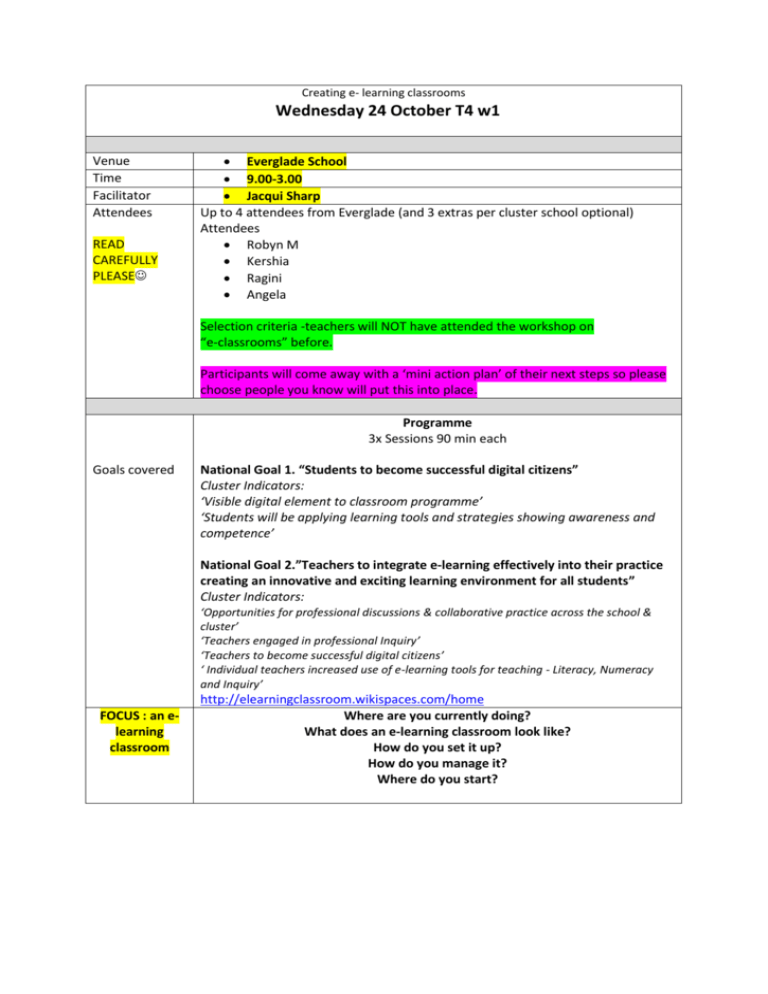 Creating e- learning classrooms
Wednesday 24 October T4 w1
Venue
Time
Facilitator
Attendees
READ
CAREFULLY
PLEASE
 Everglade School
 9.00-3.00
 Jacqui Sharp
Up to 4 attendees from Everglade (and 3 extras per cluster school optional)
Attendees
 Robyn M
 Kershia
 Ragini
 Angela
Selection criteria -teachers will NOT have attended the workshop on
"e-classrooms" before.
Participants will come away with a 'mini action plan' of their next steps so please
choose people you know will put this into place.
Programme
3x Sessions 90 min each
Goals covered
National Goal 1. "Students to become successful digital citizens"
Cluster Indicators:
'Visible digital element to classroom programme'
'Students will be applying learning tools and strategies showing awareness and
competence'
National Goal 2."Teachers to integrate e-learning effectively into their practice
creating an innovative and exciting learning environment for all students"
Cluster Indicators:
'Opportunities for professional discussions & collaborative practice across the school &
cluster'
'Teachers engaged in professional Inquiry'
'Teachers to become successful digital citizens'
' Individual teachers increased use of e-learning tools for teaching - Literacy, Numeracy
and Inquiry'
FOCUS : an elearning
classroom
http://elearningclassroom.wikispaces.com/home
Where are you currently doing?
What does an e-learning classroom look like?
How do you set it up?
How do you manage it?
Where do you start?