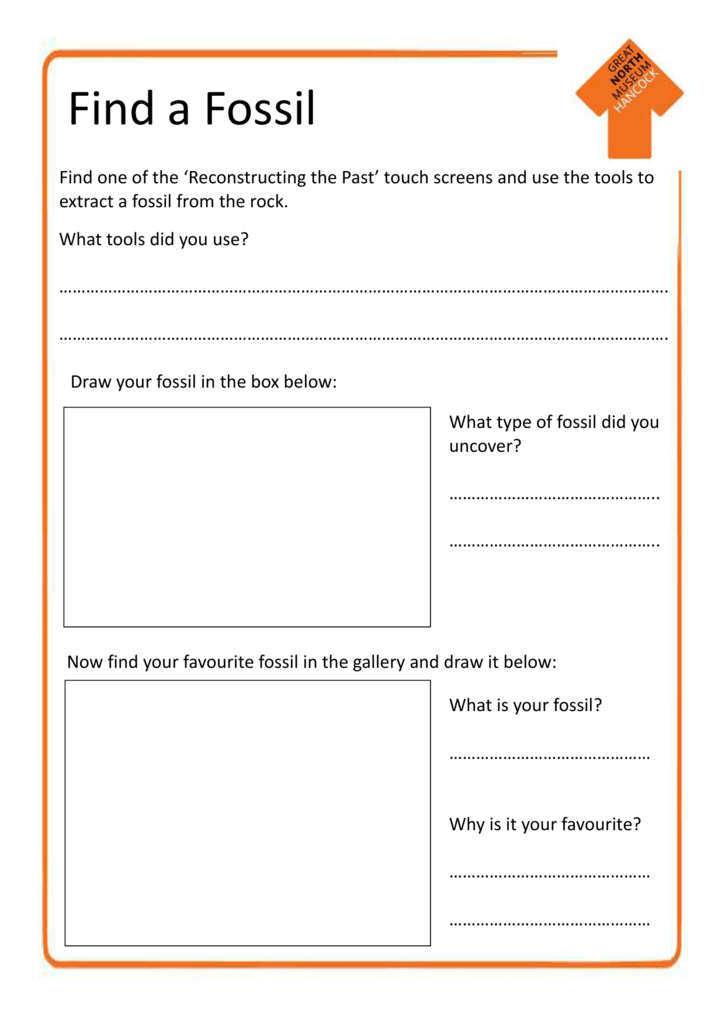 Find a Fossil
Find one of the 'Reconstructing the Past' touch screens and use the tools to
extract a fossil from the rock.
What tools did you use?
……………………………………………………………………………………………………………………….
……………………………………………………………………………………………………………………….
Draw your fossil in the box below:
What type of fossil did you
uncover?
………………………………………..
………………………………………..
Now find your favourite fossil in the gallery and draw it below:
What is your fossil?
………………………………………
Why is it your favourite?
………………………………………
………………………………………
each section in the boxes.
the dates for each time period and
Prehistoric Timeline Find
then draw your favourite object from
Cretaceous
Period
Date:
Jurassic
Period
Date:
Triassic
Period
Date:
Carboniferous
Period
Date:
Fossilisation
Write a storyboard on the process of fossilisation—start with
a creature dying and end with the fossil being excavated.
1.
2.
3.
4.
5.
6.
Dinosaur Explorer Bags
Our custom-made dinosaur explorer bags are designed to be used in the Fossil Stories
gallery and can be booked out by groups for use during their visit. They provide a good
accompaniment to Fossil Finders or Dinosaur Detectives workshop and also work well for
self-led groups. The bags are aimed at children from KS1 or lower KS2 (although some
groups of Reception pupils or those from upper KS2 may also enjoy using them).
Each bag contains a set of resources and also a laminated sheet for use by an accompanying
adult to guide a group of up to around 6 children through the bag and its contents. No
previous knowledge is necessary for either children or adult in order to use the bags.
There are five bags, each of which explores a different theme:
Habitats
Find out about our local Carboniferous rocks by using this bag in the Carboniferous Swamps
and Seas area of the Fossil Stories gallery. Think about what different adaptations animals
need to live in these different habitats.
Dinosaur Stories
Use the hand and finger puppets of dinosaurs and other animals from their time to
encourage children to act out a story. We have provided a story for you – or you can make
up your own!
Explorer Bag
Become a palaeontologist and explore the Fossil Stories gallery. This bag contains resources
which help you to learn about how different fossils are found and dug out and also how to
interpret what they mean.
Dinosaur Dressing up
Be transported back to the Mesozoic Era and find out about the features of four of the most
famous dinosaurs. When you have investigated their adaptations,
maybe you could mix and match to make your own new creature, or
explore the gallery as a herd.
Fossilisation
How did these animals go from being live creatures in the sea to pieces of rock? This bag
contains real fossils and invites children to find out about how they were made and the way
in which different creatures from the past have been preserved.