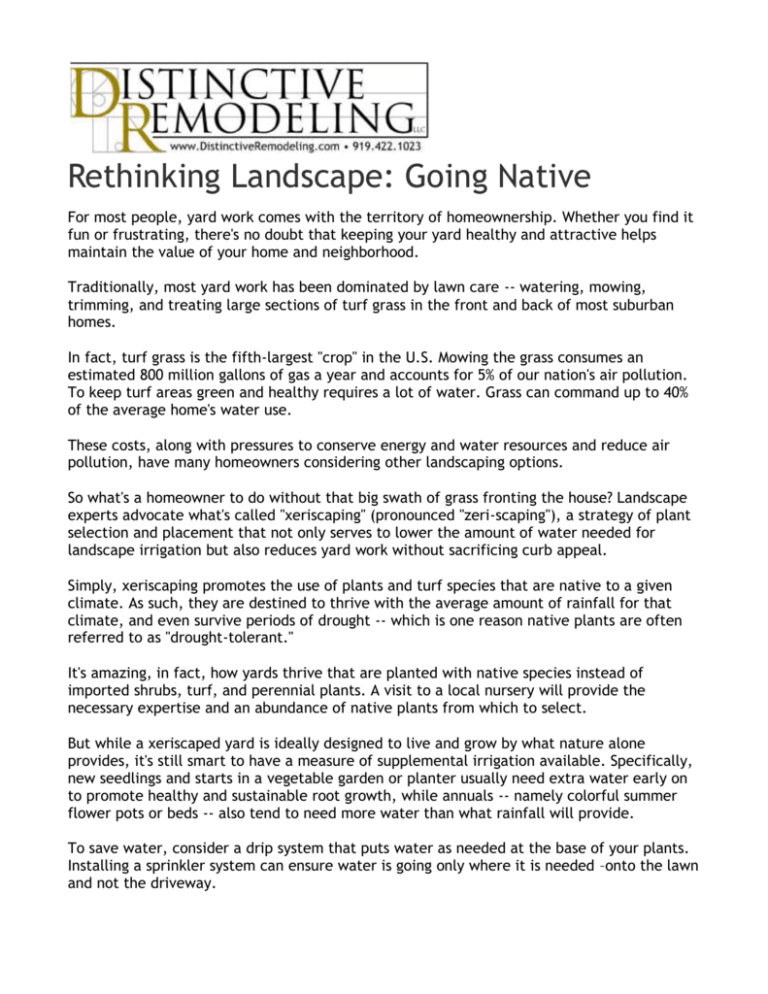 Rethinking Landscape: Going Native
For most people, yard work comes with the territory of homeownership. Whether you find it
fun or frustrating, there's no doubt that keeping your yard healthy and attractive helps
maintain the value of your home and neighborhood.
Traditionally, most yard work has been dominated by lawn care -- watering, mowing,
trimming, and treating large sections of turf grass in the front and back of most suburban
homes.
In fact, turf grass is the fifth-largest "crop" in the U.S. Mowing the grass consumes an
estimated 800 million gallons of gas a year and accounts for 5% of our nation's air pollution.
To keep turf areas green and healthy requires a lot of water. Grass can command up to 40%
of the average home's water use.
These costs, along with pressures to conserve energy and water resources and reduce air
pollution, have many homeowners considering other landscaping options.
So what's a homeowner to do without that big swath of grass fronting the house? Landscape
experts advocate what's called "xeriscaping" (pronounced "zeri-scaping"), a strategy of plant
selection and placement that not only serves to lower the amount of water needed for
landscape irrigation but also reduces yard work without sacrificing curb appeal.
Simply, xeriscaping promotes the use of plants and turf species that are native to a given
climate. As such, they are destined to thrive with the average amount of rainfall for that
climate, and even survive periods of drought -- which is one reason native plants are often
referred to as "drought-tolerant."
It's amazing, in fact, how yards thrive that are planted with native species instead of
imported shrubs, turf, and perennial plants. A visit to a local nursery will provide the
necessary expertise and an abundance of native plants from which to select.
But while a xeriscaped yard is ideally designed to live and grow by what nature alone
provides, it's still smart to have a measure of supplemental irrigation available. Specifically,
new seedlings and starts in a vegetable garden or planter usually need extra water early on
to promote healthy and sustainable root growth, while annuals -- namely colorful summer
flower pots or beds -- also tend to need more water than what rainfall will provide.
To save water, consider a drip system that puts water as needed at the base of your plants.
Installing a sprinkler system can ensure water is going only where it is needed –onto the lawn
and not the driveway.
Both strategies also reduce weed growth, a chore that both passionate gardeners and
weekend warriors would gladly shed.
Given xeriscape and water-efficient irrigation strategies, there's no reason why you can't
have a beautiful yard that boosts your home's value while reducing your environmental
footprint and your to-do list of yard maintenance chores.