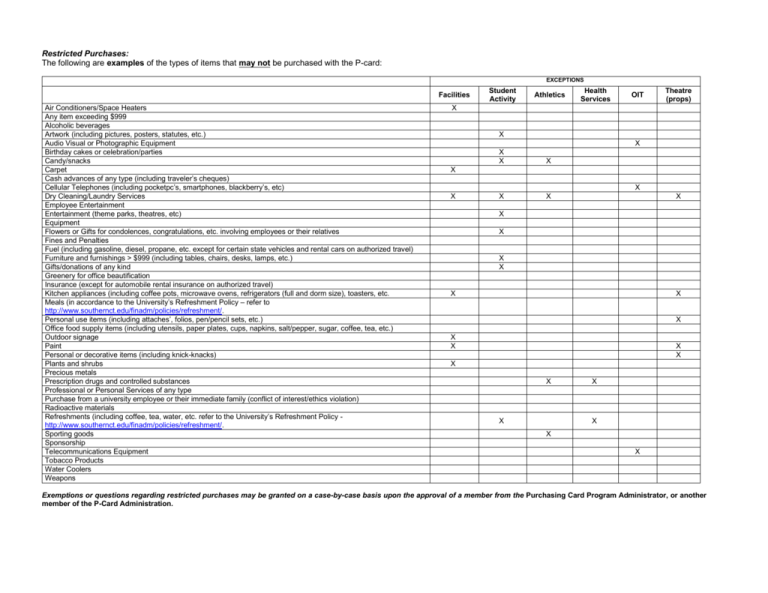 Restricted Purchases:
The following are examples of the types of items that may not be purchased with the P-card:
EXCEPTIONS
Facilities
Air Conditioners/Space Heaters
Any item exceeding $999
Alcoholic beverages
Artwork (including pictures, posters, statutes, etc.)
Audio Visual or Photographic Equipment
Birthday cakes or celebration/parties
Candy/snacks
Carpet
Cash advances of any type (including traveler's cheques)
Cellular Telephones (including pocketpc's, smartphones, blackberry's, etc)
Dry Cleaning/Laundry Services
Employee Entertainment
Entertainment (theme parks, theatres, etc)
Equipment
Flowers or Gifts for condolences, congratulations, etc. involving employees or their relatives
Fines and Penalties
Fuel (including gasoline, diesel, propane, etc. except for certain state vehicles and rental cars on authorized travel)
Furniture and furnishings > $999 (including tables, chairs, desks, lamps, etc.)
Gifts/donations of any kind
Greenery for office beautification
Insurance (except for automobile rental insurance on authorized travel)
Kitchen appliances (including coffee pots, microwave ovens, refrigerators (full and dorm size), toasters, etc.
Meals (in accordance to the University's Refreshment Policy – refer to
http://www.southernct.edu/finadm/policies/refreshment/.
Personal use items (including attaches', folios, pen/pencil sets, etc.)
Office food supply items (including utensils, paper plates, cups, napkins, salt/pepper, sugar, coffee, tea, etc.)
Outdoor signage
Paint
Personal or decorative items (including knick-knacks)
Plants and shrubs
Precious metals
Prescription drugs and controlled substances
Professional or Personal Services of any type
Purchase from a university employee or their immediate family (conflict of interest/ethics violation)
Radioactive materials
Refreshments (including coffee, tea, water, etc. refer to the University's Refreshment Policy http://www.southernct.edu/finadm/policies/refreshment/.
Sporting goods
Sponsorship
Telecommunications Equipment
Tobacco Products
Water Coolers
Weapons
Student
Activity
Athletics
Health
Services
OIT
Theatre
(props)
X
X
X
X
X
X
X
X
X
X
X
X
X
X
X
X
X
X
X
X
X
X
X
X
X
X
X
X
X
X
Exemptions or questions regarding restricted purchases may be granted on a case-by-case basis upon the approval of a member from the Purchasing Card Program Administrator, or another
member of the P-Card Administration.