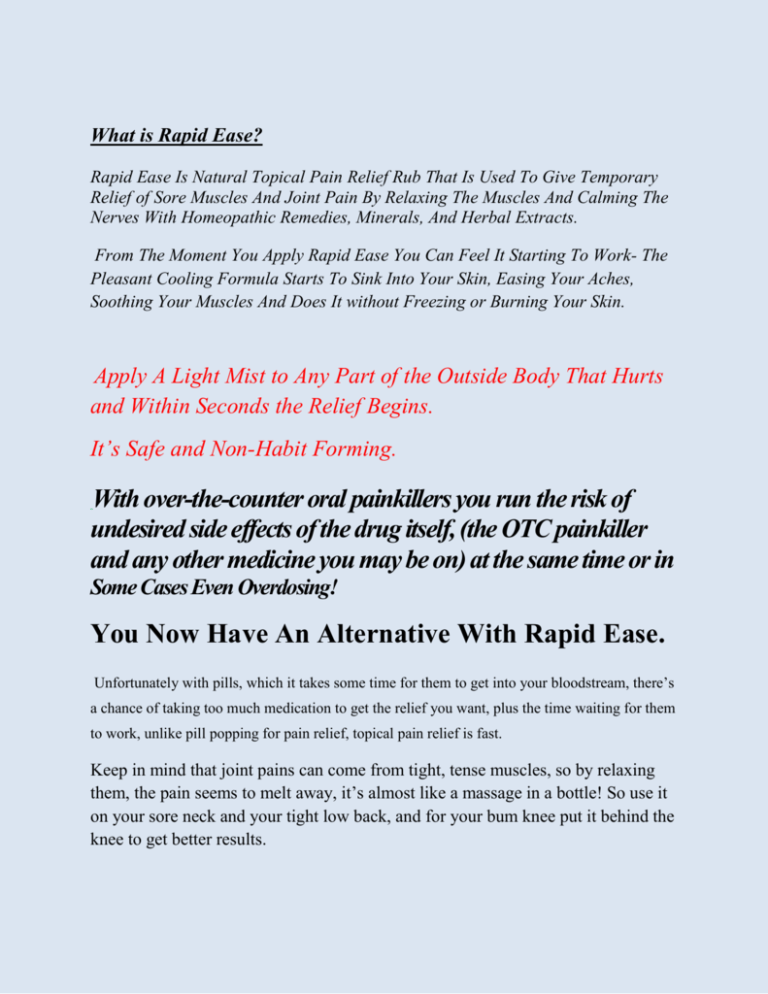 What is Rapid Ease?
Rapid Ease Is Natural Topical Pain Relief Rub That Is Used To Give Temporary
Relief of Sore Muscles And Joint Pain By Relaxing The Muscles And Calming The
Nerves With Homeopathic Remedies, Minerals, And Herbal Extracts.
From The Moment You Apply Rapid Ease You Can Feel It Starting To Work- The
Pleasant Cooling Formula Starts To Sink Into Your Skin, Easing Your Aches,
Soothing Your Muscles And Does It without Freezing or Burning Your Skin.
Apply A Light Mist to Any Part of the Outside Body That Hurts
and Within Seconds the Relief Begins.
It's Safe and Non-Habit Forming.
With over-the-counter oral painkillers you run the risk of
undesired side effects of the drug itself, (the OTC painkiller
and any other medicine you may be on) at the same time or in
Some Cases Even Overdosing!
You Now Have An Alternative With Rapid Ease.
Unfortunately with pills, which it takes some time for them to get into your bloodstream, there's
a chance of taking too much medication to get the relief you want, plus the time waiting for them
to work, unlike pill popping for pain relief, topical pain relief is fast.
Keep in mind that joint pains can come from tight, tense muscles, so by relaxing
them, the pain seems to melt away, it's almost like a massage in a bottle! So use it
on your sore neck and your tight low back, and for your bum knee put it behind the
knee to get better results.
Rapid Ease Is An Herbal And Homeopathic Pain Relief
Rub That Provides Three Levels Of Pain Relief:
Homeopathic: Composed of 6 different remedies.
BRYONIA ALBA30C,ARNICA MONTANNA-12C,
RHUS TOXIDENDRON-12C,RUTA GRAVEOLENS -30C,
PHYTOLLACA DECANDRA-30C,SYMPHYTUM OFFICINALE-30C
Picture of herbs and vitamins
G
t
Herbal: Boswellia Extract, Emu Oil, Rosemary Extract,
Ginger Extract, Centella Asiatica Extract And
Other Essential Oils
Nutritional: Methylsulfonylmethane (MSM),
Glutathione,
Vitamin E, Trace Minerals, and Aloe.
With Its Active Ingredients Originating From Homeopathy And Nutrition Origins,
This Triple Action Pain Relief Rub
Starts works within second, and provides penetrating pain relief within minutes.
You can easily take it anywhere and apply it when needed. The more you apply,
the stronger the effect. This Wholistic pain relief formula provides a healthy
alternative to prescription drugs, and works on all types of pain. The formula does
not contain harsh chemicals that most of the competitors use.
Rapid Ease uses micronized ingredients to achieve fast absorption and rapid pain
relief; the relief usually can be felt before the product even dries or in about one
minute. The pain relief can last up to 6 hours and can be used multiple times a day.
It's Simple To Use, Has Harsh No Chemicals And Is
Hypoallergenic. Just Simply Spray It On The Sore Area For
Fast Acting, Long Lasting Pain Relief.
By combining Homeopathic
and Natural Medicine
in a micronized form we
are able to give a triple action answer for sprains, strains, aches, soreness, muscle
tightness, and general pain.
This is not a synthetic Menthol, Camphor, or Capsicum pain rub formula (used in
products such as "IcyHot", "Biofreeze", "Bengay" etc). Rapid Ease contains none
of these ingredients. Most of the competition uses these ingredients to trick the
body by numbing the area so you don't feel the pain, whereas Rapid Ease provides
ingredients that help promote to relaxation to the muscles and nerves to ease the
pain. Rapid Ease pain relief rub is a soothing rub that works in less than 2 minutes.
Rapid Ease helps promote reduction inflammation and muscle tightness with
natural ingredients and relieves pain and soreness with an array of Homeopathic
remedies. This well rounded formula works fast, smells good and doesn't freeze or
burn the skin. It works great for knee pain, shoulder pain, foot pain, neck pain,
tight and sore muscles, and even old injuries. It works fast and it works where
other products do not.
This new formula has been designed specifically to target:
Reduced Range of Motion
Stiffness, Cramping
Foot Pain
Chronic Pain
Muscle Soreness
GOT Pain related to sports injuries???
Whether it's an occasional sports sprain or chronic joint or muscle pain Rapid Ease provides fast
relief to back pain, joint pain, foot pain, neck pain or shoulder pain. Great for anyone with leg
cramps, ankle pain, muscle sprain, bruising, morning stiffness, restless leg syndrome or foot
pain.
 Rapid Ease Is Popular With Athletes And Weekend Sports
Enthusiasts Who Need To Relieve Minor Injuries.
 Women Can Use It On Their Cramps, Sore Back, Hips, Legs, And
Feet.
A by Fighters, Martial Artists, And Yoga Practioners

A Favorite Among Chiropractors, Physical Therapists, And
Massage Therapists.
PICTURE OF DOCTOR
Rapid Ease Pain Relief Rub is a soothing pain relief rub, that works in less than 2 minutes.
SPORTS PERFORMANCE If you lead an active lifestyle and experience muscle cramps
and soreness, we recommend Rapid Ease. It makes an excellent exercise companion, and is ideal
for times when you know you are going to be active. This fast release formula allows for
temporary pain relief, this can allow you to engage in physical activity without taking breaks to
rest. It is inevitable that pain occurs as we age. And as unfortunate as it, it is very common that
the more active we are, the more prone we are to injuries.
These injuries prevent us from continue in normal activity, and with less movement and less
blood circulation, recovery time slows down. Keep in mind that joint pains can come from tight,
tense muscles, so by relaxing them, the pain seems to melt away, it's almost like a massage in a
bottle! Use the product to help you get up and move your body, so you can start rehabbing your
injury.
The advantage of using a spray versus creams is that even while you're running you can apply
the spray to your knee or calf, without having to stop. During a tennis game, a basketball game,
golf tournament or even a yoga class, a few sprays and you are on your way to pain relief,
without offending others with a strong smell, and without the unwanted residue on your skin or
clothes. You will be amazed by the reduced cramping and muscle tightness and soreness, and be
pleased you are able to continue in whatever sports activity you are in engaged in.
"There are many pain management products on the market that have synthetic, chemical based
ingredients. We didn't want to produce something that if you are going to use it on a regular
basis, it will contain harsh chemicals and synthetic preservatives to pollute your skin.
Rapid Ease is a non-prescription drug and non-addictive pain relief, making it safe to use on a
frequent basis"
PICTUERS OF PEOPLE RUNNING AND EXCERCISING
Use RAPID EASE to reduce low back pain, neck pain, leg, foot, arm and shoulder
pain, finger pain, headache pain, muscle and joint pain... RAPID EASE is great for
injuries such as, tennis elbow, golfer's elbow, muscle spasms, sprains, and strains.
PICTURES OF DIFFERENT JOINT PAINS…..
RAPID EASE Pain Relief Rub Benefits:
• 6 plus hours of relief
• Easy to use convenience
• Satisfaction guaranteed
• No prescription needed
• Easy return policy
• Buy direct from lab and save
Fast Acting Topical Pain Relief
It is an FDA compliant non-prescription drug that is an easy to apply, RAPID EASE is so
effective in relieving pain that its pain relieving performance is guaranteed.
Plus, there is NO greasy feel, Absorbs and Dries fast,



NO burning Sensation-Due to Camphor and Cayenne
NO freezing sensation-Due to High dose synthetic Menthol
NO pungent medication smell-Due to using Harsh Chemicals
Rapid Ease Is Created From Powerful Pain Relieving Herbs. We Chose
Not To Use Synthetic Chemicals. We Prefer Natural Ingredients, Mineral
Extracts, And Homeopathic Remedies.
Rapid Ease Pain Relief Spray Allows You To Target Hard To Reach Areas Directly, Like Your
Back, Feet, And Legs. If Pain Persists After Strenuous Activity, Try Massaging Sore Muscles
With Rapid Ease, And Also Before Bed For Almost Instant Relief, So You Can Sleep The Night
Away.
HAVE PICTUERS OF SLEEPING, RUNNING, AND MASSAGING
The Result Of Eight Years Of Extensive Research And Development,
Ingredients Are Specially Formulated To Speed Up The Pain Relief
Effect, Free Radical Scavengers, Antioxidants, Minerals, Herbal
Extracts, And Homeopathic Remedies All Help With This Process.
Rapid Ease Is Utilized By Health Care Professionals
TO ALLEVIATE PAIN, this fast acting external
formula is simply massaged into the skin covering the affected area.
PICTURE OF RUBBING IN SPRAY
INOTECH THERAPEUTICS/WE EVEN
OFFER A MONEY-BACK GUARANTEE, IF
YOU'RE NOT SATISFIED.
This product isn't going to make your skin feel like it's on fire or to make it freeze,
these products just try to trick your nerves in your skin into not "feeling" the pain.
Rapid Ease Pain relief Rub is especially effective for people of
all ages wishing to participate in healthy and active lifestyle.
Rapid Ease Pain Relief Rub is designed to give temporary pain
relief to joint pain, like sports injuries.
Users quickly realize how fast and effective the products is… and remember it is called Rapid
Ease for a reason.
Q. Why is RAPID EASE so effective?
A. RAPID EASE Is Superior To Other Topical Pain Creams On The Market. With It's Triple
Action Effect, From Herbs, Minerals, And Homeopathic Remedies!
We've specifically blended ingredients that work together to reduce your aches
and pains. These different ingredients give relief;
 Rhus Toxidendron and Arnica Montanna help soothe muscle pain and
reduce swelling.
 Dead Sea Minerals And Homeopathic Remedies help to relax spasms,
 Peppermint, Ginger, Emu, and Rosemary extracts soothes Inflammation.
 MSM ,Glutathione, Vitamin E, Aloe Vera give vital nutrients to the body.
.
Picture of 3 things rubbing spray like www.rtpr site 3 pics in circle
New Product Guarantees Five Minutes to Joint Pain Relief
Pain Management from a Fast-Acting, Natural Product
Rapid Ease Natural Ingredients Give
A Healthier Alternative To Drug Therapy
Powerful Pain Relief with Natural Ingredients
Includes Natural Ingredients Designed To
Reduce Pain And Inflammation.
We Only Use FDA Approved Ingredients!
The Product Doesn't Contain Common Pain Relief Drugs In A Liquid Form Like
Ibuprophen ,Acetaminophen, Camphor Cayenne, Trolamine Salycilate, Synthetic Menthol,
Lidocaine, Benzocaine, or Ketamine,
An Innovative Blend Of Natural Active Botanicals,Homeopathics And Micronized
Minerals.Using A Advanced Proprietary Formula Rapid Ease Is A Reliable
Alternative To Traditional Joint Pain Management.
Inotech Therapeutics introduces its new breakthrough product, Rapid
Ease a natural remedy for those who desire rapid, non-addictive joint
pain relief.
From here up reviewed ryan sun 7pm
Why do I use Rapid Ease?
A: Use RAPID EASES to control painful backaches, muscle aches, strains, sprains, tension.
The deep, penetrating warmth of this fast-acting formula targets pain directly and
"massages" away your aches and pains. When used regularly, it actually becomes a more
effective pain control treatment. The more you use it, the better you will feel! Experience
fast, long-lasting pain control; soothe away your pain for up to 6 hours.
Where To Get Rapid Ease? Is It Available In Stores?
A. Some Local Pharmacies, Health Food Store, Chiropractic Offices, And Naturopathic
Clinic's Carry Rapid Ease; The Reason Not To Buy It In The Stores Is To Save You Money! It's
Not In Stores to Save You Money, Did You Know They Will Charge an Extra 40% Over What
You Can Buy It For Here….They Have A Store Front And Overhead And Sales People And
Marketing All To Pay For, This Is Why This Premium Product Is Not Sold In The Mass Retail
Stores.
BECAUSE… THEY WOULD RIP YOU OFF, THIS IS 2 OR EVEN 3 PRODUCTS IN ONE
AND THEN IT IS MADE WITH NO SYNTHETIC CHEMICALS … IF YOU WANT
QUALITY U BUY IT WHOLESALE THEN YOU WOULD REALLY GET A BIG SAVINGS.
THE RETAIL PRICE FOR THE SPRAY IS $49, YOU CAN GET IT HERE
FOR $29- With over 50 treatments per bottle, That's Less Than A Dollar
For Relief!
Is It Safe To Use?
A. Well don't drink it, put it in your eye, nose. etc. So-YES! Safety is one of RAPID EASE
PAIN RELIEF RUB'S strong points. The botanical extracts are prepared in accordance with the
Homeopathic Pharmacopeia of the United States and are recognized as official medicines under
the Federal Food, Drug, and Cosmetics Act. They contain no narcotics, are not habit forming,
and have none of the dangerous or unpleasant side effects of synthetic drugs. They are among the
safest preparations known to medical science.
What Is Rapid Ease®?
It is an FDA compliant non-prescription drug that is an easy to apply, non-greasy pain relieving
SPRAY. . Each ingredient has been approved and determined SAFE and EFFECTIVE by the
Homeopathic Pharmacopoeia Convention of the United States. RAPID EASE is so effective in
relieving pain that its pain relieving performance is guaranteed. Plus, there is NO greasy feel, NO
burning sensation and NO pungent medication smell.
The Best Part About This Triple Action Formula Is The
Long-Term Benefits.
Selected health care providers can receive a discount, contact us via email.
RAPID EASE is An Effective, Fast Acting Pain
Relief Rub.
Powerful Pain Relief With Natural Ingredients
Includes Natural Ingredients Designed To Eliminate Pain And
Reduce Inflammation.
Prices start at $29.99 for 1 bottle with over 150 sprays 2 bottles for 49.99 that's
300 + sprays that's using it every day for over 3 months, That's less than $20 a
month for rapid pain relief, Now here is a great bargain- if you want the best deal
in town, then buy 3 bottles and get the fourth on free-that's a $120 value for a
Amazing $64.99 with Free Shipping! That's almost Half Price! $16.64 per bottle!
WOW What a Deal! Feel Better Now, Your pain relief is just a few sprays away.
Natures best pain relievers are found in Rapid Ease. The complex formula is designed to
provide long lasting relief to the following areas:
have pic of person with foot pain.
Pain Reliever Foot Care Product
Raid Ease Pain Relief Rub Is Amazing For Foot Pain. Helps Alleviate Minor
Pain Caused By, Muscle Sprains, And Tired Aching Feet. Includes Natural Menthol, And A
Soothing Natural Ingredients Like Arnica Montanna, Boswellia, Rosemary, Ginger,Pepermint,
Msm And More. Studies Have Shown That These Ingredients Are Effective At Reducing
Swelling, Increasing Mobility, And Effectively Reducing Pain.
Rapid Ease Pain Relief Spray Is Recommended For Minor Foot Pain Relief Related To:






Foot Nerve Pain
Tired Aching Feet
Muscle Strains And Sprains
Sore Arches
Heel Pain And Joint Pain
Benefits For Foot Pain Relief





No Mess Spray On Application
Soothes Feet, Heels, Arches, Ankles And Legs
Helps to Temporary Relieve Numbness And Tingling
Multiple Penetrating, Natural Ingredients That Soothe And Condition
Podiatrist/Osteopath/Doctor Recommended
Directions for Foot Use



Apply To Clean, Dry Feet
Gently Massage Into The Skin Until Fully Absorbed (Use Sparingly)
Apply when Needed
Rapid Ease Only Comes In An Easy-To-Squeeze Spray Bottle. This Type Of Packaging
Is Recognized By The Arthritis Foundation As Acceptable For Persons With Difficulties
In Opening Jars. Only Minimal Pressure Is Then Required To Dispense The Liquid Raid
Ease Product.

With The Use Of Homeopathic Remedies They Help To Work Better Over Time. When
Used Regularly, It Acts As A More Efficient Pain Reliever, Helping You Finally Combat
Chronic Pain So You Can Take Charge Of Your Life. If You Have Pain, Stiffness,
Reduced Joint Range Of Motion, And Limitations To Lifestyle Rapid Ease Is Made To
Order For A Targeted Pain Relief.
USE THE PRODUCT TO HELP YOU GET UP AND MOVE YOUR BODY, SO
YOU CAN START TO REHAB YOUR INJURY
Fast Acting Topical Pain Relief
GREAT FOR pain, stiffness, reduced joint range of motion, and limitations to
lifestyle IF YOU SUFFER FROM THESE THEN THIS PRODUCT IS made to
order for YOUR targeted pain relief.
New RAPID Ease Pain Relief Rub!
Provides penetrating pain relief within minutes, you can easily take it anywhere and apply it
when needed.
RAPID EASE Pain Relieving RUB is applied topically, and provides powerful temporary pain
relief, This new formula has been designed specifically to target:
More!
Rapid Ease Is A Convenient To Use Topical Spray For
External Use To Reduce Pain; Homeopathic Remedies Are An
Effective Method Of Treating Select Conditions.
SHOULDER
Commonly caused by strenuous physical activity or repetitive motion, minor shoulder pain can
be considered the daily aches and pains. Minor shoulder pain symptoms include stiffness and
soreness pain can also result from muscle, ligament or tendon strain. Most shoulder injuries of
this type can heal on their own.
Pain is also often associated with the shoulder area; limited range of motion, a dull ache and
stiffness are some of the symptoms with arthritis pain, and they are what you can use Rapid Ease
to help alleviate.
ARM
Minor arm pain is the result of strained muscles, sprained ligaments or tendons, usually as a
result from playing sports or other physical activities. Overuse of muscles in the arm can also
result in minor arm pain. Symptoms of minor arm pain can include swelling, soreness, cramping
and bruising. Most arm injuries of this type should heal on their own.
LEG
Strained ligaments or tendons and muscle strain is the cause of much minor leg pain. Commonly
known minor leg pain is a muscle spasm that people call a 'Charley Horse' or a 'pulled muscle'
resulting from any physical activity such as playing sports. These uncontrollable muscle
contractions generally heal on their own and can be treated at home.
KNEE
Strenuous physical activity and repetitive motion are attributed to minor knee pain. Some people
are more likely to develop knee problems than others but activities such as biking, running or
skiing can result pain as well. Symptoms typically include swelling, stiffness, and soreness and
can result also from a minor fall or twisting of the knee.
ELBOW
Minor elbow pain can result from strenuous physical activity or repetitive motion, such as
swinging a tennis racquet or throwing a baseball. Strained muscles, ligament or tendon strains
can also result in minor elbow pain. Symptoms typically include swelling, stiffness, and
soreness, which can generally heal on their own.
One of the most common places to feel the pain from arthritis and tendonitis is the elbow joint.
Athletes of all ages and skill level are prone to a tennis elbow. This is a common condition where
the tendon on the outside of the elbow becomes sore and injured.
Use Rapid Ease to help promote range of motion, relieve dull ache, and stiffness.
BACK
Sprained tendons and ligaments as well as sprained muscles can contribute to minor back pain;
in any area of your back, most commonly the lower back or lumbar regions. Minor back pain can
be caused as a result of lifting heavy objects.
Pain from a minor back injury can appear gradually over a few days or immediately. Minor back
pain usually does not result in any permanent damage, and if you suffer from minor back pain
you should go about your normal daily activities for a faster recovery.
Another type of back pain is spine related; you may have pain in your back and down both or
one of your legs. You may also experience numbness or pain running down your sciatic nerve. If
you do experience these symptoms you should first consult your doctor.
NECK
Suddenly twisting your neck or keeping your neck in one position for an extended period of time
can result in minor neck pain. It can also be the result of sleeping with your neck in an odd
position. Minor neck pain is often called a 'crick' or 'kink' in your neck.
Pain and stiffness in your shoulders, arms or upper back, and headaches can often accompany
minor neck pain. Typically the stiffness from neck pain will limit your neck and head movement.
Common symptoms include a dull pain at the back of your neck; this can also be brought on, or
exaggerated by stress. If you suffer from minor neck pain you should go about your normal daily
activities for a faster recovery.
One method of going about your normal daily activities when suffering from minor aches and
pains is the use of a topical pain reliever such as Rapid Ease.
DISCLAIMER:
The content provided within these pages is for informational purposes only and is not intended to
be a diagnosis, treatment or substitute for professional medical advice. Rapid Ease Products are
not responsible for actions taken after reading this content.