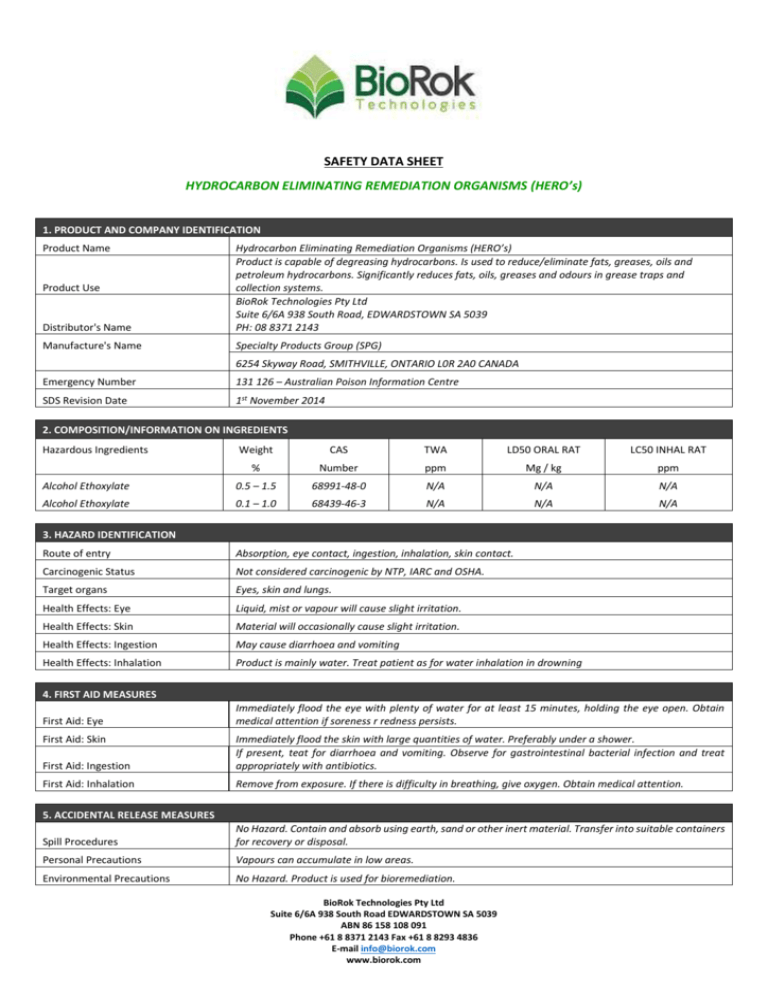 SAFETY DATA SHEET
HYDROCARBON ELIMINATING REMEDIATION ORGANISMS (HERO's)
1. PRODUCT AND COMPANY IDENTIFICATION
Product Name
Distributor's Name
Hydrocarbon Eliminating Remediation Organisms (HERO's)
Product is capable of degreasing hydrocarbons. Is used to reduce/eliminate fats, greases, oils and
petroleum hydrocarbons. Significantly reduces fats, oils, greases and odours in grease traps and
collection systems.
BioRok Technologies Pty Ltd
Suite 6/6A 938 South Road, EDWARDSTOWN SA 5039
PH: 08 8371 2143
Manufacture's Name
Specialty Products Group (SPG)
Product Use
6254 Skyway Road, SMITHVILLE, ONTARIO L0R 2A0 CANADA
Emergency Number
131 126 – Australian Poison Information Centre
SDS Revision Date
1st November 2014
2. COMPOSITION/INFORMATION ON INGREDIENTS
Hazardous Ingredients
Weight
CAS
TWA
LD50 ORAL RAT
LC50 INHAL RAT
%
Number
ppm
Mg / kg
ppm
Alcohol Ethoxylate
0.5 – 1.5
68991-48-0
N/A
N/A
N/A
Alcohol Ethoxylate
0.1 – 1.0
68439-46-3
N/A
N/A
N/A
3. HAZARD IDENTIFICATION
Route of entry
Absorption, eye contact, ingestion, inhalation, skin contact.
Carcinogenic Status
Not considered carcinogenic by NTP, IARC and OSHA.
Target organs
Eyes, skin and lungs.
Health Effects: Eye
Liquid, mist or vapour will cause slight irritation.
Health Effects: Skin
Material will occasionally cause slight irritation.
Health Effects: Ingestion
May cause diarrhoea and vomiting
Health Effects: Inhalation
Product is mainly water. Treat patient as for water inhalation in drowning
4. FIRST AID MEASURES
First Aid: Eye
First Aid: Skin
Immediately flood the eye with plenty of water for at least 15 minutes, holding the eye open. Obtain
medical attention if soreness r redness persists.
First Aid: Ingestion
Immediately flood the skin with large quantities of water. Preferably under a shower.
If present, teat for diarrhoea and vomiting. Observe for gastrointestinal bacterial infection and treat
appropriately with antibiotics.
First Aid: Inhalation
Remove from exposure. If there is difficulty in breathing, give oxygen. Obtain medical attention.
5. ACCIDENTAL RELEASE MEASURES
Spill Procedures
No Hazard. Contain and absorb using earth, sand or other inert material. Transfer into suitable containers
for recovery or disposal.
Personal Precautions
Vapours can accumulate in low areas.
Environmental Precautions
No Hazard. Product is used for bioremediation.
BioRok Technologies Pty Ltd
Suite 6/6A 938 South Road EDWARDSTOWN SA 5039
ABN 86 158 108 091
Phone +61 8 8371 2143 Fax +61 8 8293 4836
E-mail info@biorok.com
www.biorok.com
6. HANDLING AND STORAGE
Handling
Use in well-ventilated areas. Use local exhaust ventilation. Avoid inhaling vapour. Avoid Contact with
eyes, skin and clothing. Keep container tightly closed when not in use.
Storage
Storage area should be: cool, dry area. KEEP FROM FREEZING. Product will deactivate.
7. FIRE FIGHTING MEASURES
Conditions of flammability
Extinguishing media
Non-Flammable. Will not support combustion.
Use water spray, dry chemical or carbon dioxide. Keep containers and surroundings cool with water
spray.
Special hazards of product
None
Protective equipment for fire fighting
Wear full protective clothing, and self – contained breathing apparatus.
Flash point (PMCC)
(oC)
Non-Flammable.
Upper flammable limit % VOL
N/A
Lower flammable limit % VOL
N/A
Autoignition temp (oC)
N/A
Explosion Data – Sensitivity to impact
Explosion Data – Sensitivity to static
discharge
No
No
8. EXPOSURE CONTROLS/PERSONAL PROTECTION
Engineering Control Measures
None
Respiratory Protection
None
Hand Protection
None
Eye Protection
Chemical goggles should be worn during all handling operations.
Body Protection
None
Do Not ingest product, wash hands. Might cause diarrhoea because of bioremediation microbe and
natural microbe content.
Protecting During Application
9. PHYSICAL AND CHEMICAL PROPERTIES
Physical State
Liquid
Odour & Colour
None, Clear
Odour Threshold (ppm)
N/A
Specific Gravity
1.00 – 1.02
Vapour Density (AIR =1)
N/A
Vapour Pressure = 20 C
N/A
Evaporation Rate
N/A
Boiling Range / Point
(oC)
100oC
Freezing Point (oC)
0oC
PH (1% solution at 20 C)
7.0
Coefficient of water / oil distribution
N/A
Solubility In Water
Soluble
VOC (G/L)
0
10. STABILITY AND REACTIVITY
Stability
Stable under normal conditions.
Conditions to avoid
Do not freeze.
Materials to avoid
N/A
Hazardous Polymerization
Will not occur
Hazardous Decomposition Products
None
11. TOXICOLOGICAL INFORMATION
Effects of acute exposure
Effects of chronic exposure
Exposure may cause eye and skin irritation. Ingestion may lead to gastrointestinal irritation.
None from handling. Ingestion or contact exposure, not known, most likely die to natural bacteria
present in product.
Exposure limits
N/A
Irritancy
Mild irritation expected.
Sensitisation
No
Carcinogenicity
No known effect in humans.
Reproductive toxicity
No known effect in humans.
Teratogenicity
N/A
Mutagenicity
N/A
Toxicologically synergistic products
N/A
12. ECOLOGICAL INFORMATION
Mobility
Used as bioremediation product. Will migrate into soil.
Persistence / Degradability
The product is biodegradable.
Bio-Accumulation
The product will not bio-accumulate.
Eco toxicity
None
13. DISPOSAL CONSIDERATIONS
Product Disposal
Container Disposal
Can be disposed of freely.
Labels should not be removed from containers until they have been cleaned. Do not cut, puncture or
weld on or near to the container. Do not incinerate closed containers. Dispose of containers with care,
according to local regulations for non-toxic container disposal.
14. TRANSPORTATION INFORMATION
CANADA
TDG Classification
Hazard Label: Not Required
Not Regulated, Keep from freezing.
EXPORT
DOT CFR 172.101 Data
Not Regulated
UN Proper Shipping Name
N/A
UN Class
N/A
UN Number
N/A
UN Packaging Group
N/A
Flash Point
None
Hazardous Material
N/A
Hazardous Label
N/A
15. REGULATORY INFORMATION
SARA Title III Sect. 304
Not Regulated
SARA Title III Sect. 311/312
Not Regulated
SARA Title III Sect. 313
Not Regulated
WHMIS Classification
Not controlled under WHMIS.
CEPA Status (DSL)
All of the ingredients of this product are listed on the Domestic Substances List.
This product has been classified in accordance with the hazard criteria of the Controlled Products Regulations (CPR) and the SDS contains all the
information required by CPR.
16. OTHER INFORMATION
Hazard Rating
0 = Minimal; 1 = Slight; 2 = Moderate; 3 = High; 4 = Extreme
Health = 1
Flammability = 0
Reactivity = 0
Abbreviations
N/A: No applicable information found or available
CAS#: Chemical Abstracts Service Number
ACGIH: American Conference of Governmental Industrial Hygienists
OSHA: Occupational Safety and Health Administration
TLV: Threshold Limit Value
PEL: Permissible Exposure Limit
STEL: Short Term Exposure Limit
NTP: National Toxicology Program
IARC: International Agency for Research on Cancer
R: Risk
S: Safety
LD50: Lethal Dose 50%
LC50: Lethal Concentration 50%
Prepared By
Specialty Products Group (SPG)
Provided data is offered in good faith as typical values and not as a product specification. No warranty, either express or implied, is hereby
made. The recommended industrial hygiene and safe handling procedures and believed to be generally applicable, however, each user should
review these recommendations.