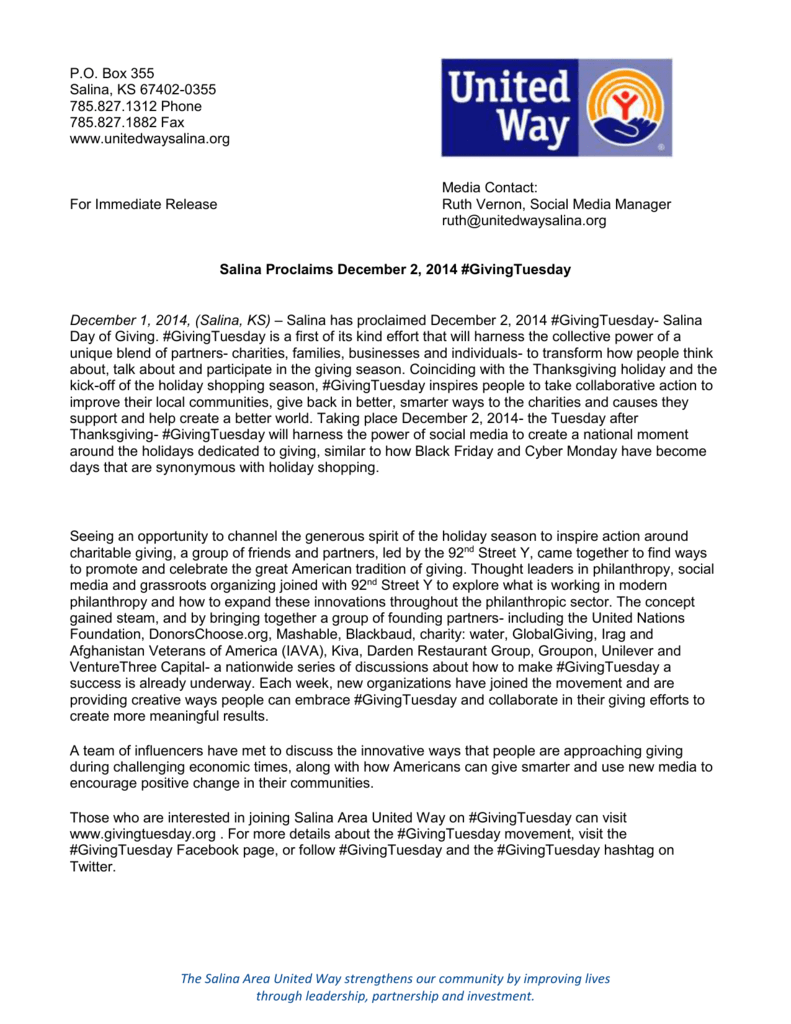 P.O. Box 355
Salina, KS 67402-0355
785.827.1312 Phone
785.827.1882 Fax
www.unitedwaysalina.org
For Immediate Release
Media Contact:
Ruth Vernon, Social Media Manager
[email protected]
Salina Proclaims December 2, 2014 #GivingTuesday
December 1, 2014, (Salina, KS) – Salina has proclaimed December 2, 2014 #GivingTuesday- Salina
Day of Giving. #GivingTuesday is a first of its kind effort that will harness the collective power of a
unique blend of partners- charities, families, businesses and individuals- to transform how people think
about, talk about and participate in the giving season. Coinciding with the Thanksgiving holiday and the
kick-off of the holiday shopping season, #GivingTuesday inspires people to take collaborative action to
improve their local communities, give back in better, smarter ways to the charities and causes they
support and help create a better world. Taking place December 2, 2014- the Tuesday after
Thanksgiving- #GivingTuesday will harness the power of social media to create a national moment
around the holidays dedicated to giving, similar to how Black Friday and Cyber Monday have become
days that are synonymous with holiday shopping.
Seeing an opportunity to channel the generous spirit of the holiday season to inspire action around
charitable giving, a group of friends and partners, led by the 92nd Street Y, came together to find ways
to promote and celebrate the great American tradition of giving. Thought leaders in philanthropy, social
media and grassroots organizing joined with 92nd Street Y to explore what is working in modern
philanthropy and how to expand these innovations throughout the philanthropic sector. The concept
gained steam, and by bringing together a group of founding partners- including the United Nations
Foundation, DonorsChoose.org, Mashable, Blackbaud, charity: water, GlobalGiving, Irag and
Afghanistan Veterans of America (IAVA), Kiva, Darden Restaurant Group, Groupon, Unilever and
VentureThree Capital- a nationwide series of discussions about how to make #GivingTuesday a
success is already underway. Each week, new organizations have joined the movement and are
providing creative ways people can embrace #GivingTuesday and collaborate in their giving efforts to
create more meaningful results.
A team of influencers have met to discuss the innovative ways that people are approaching giving
during challenging economic times, along with how Americans can give smarter and use new media to
encourage positive change in their communities.
Those who are interested in joining Salina Area United Way on #GivingTuesday can visit
www.givingtuesday.org . For more details about the #GivingTuesday movement, visit the
#GivingTuesday Facebook page, or follow #GivingTuesday and the #GivingTuesday hashtag on
Twitter.
The Salina Area United Way strengthens our community by improving lives
through leadership, partnership and investment.
###
The Salina Area United Way strengthens our community by improving lives
through leadership, partnership and investment.