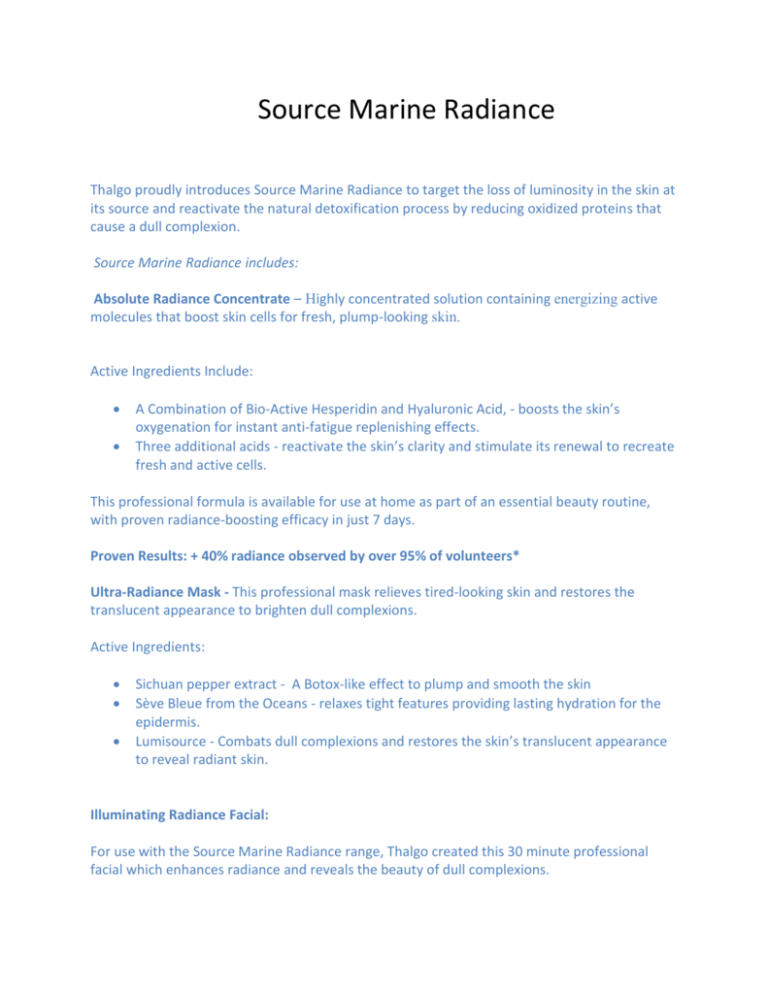 Source Marine Radiance
Thalgo proudly introduces Source Marine Radiance to target the loss of luminosity in the skin at
its source and reactivate the natural detoxification process by reducing oxidized proteins that
cause a dull complexion.
Source Marine Radiance includes:
Absolute Radiance Concentrate – Highly concentrated solution containing energizing active
molecules that boost skin cells for fresh, plump-looking skin.
Active Ingredients Include:


A Combination of Bio-Active Hesperidin and Hyaluronic Acid, - boosts the skin's
oxygenation for instant anti-fatigue replenishing effects.
Three additional acids - reactivate the skin's clarity and stimulate its renewal to recreate
fresh and active cells.
This professional formula is available for use at home as part of an essential beauty routine,
with proven radiance-boosting efficacy in just 7 days.
Proven Results: + 40% radiance observed by over 95% of volunteers*
Ultra-Radiance Mask - This professional mask relieves tired-looking skin and restores the
translucent appearance to brighten dull complexions.
Active Ingredients:



Sichuan pepper extract - A Botox-like effect to plump and smooth the skin
Sève Bleue from the Oceans - relaxes tight features providing lasting hydration for the
epidermis.
Lumisource - Combats dull complexions and restores the skin's translucent appearance
to reveal radiant skin.
Illuminating Radiance Facial:
For use with the Source Marine Radiance range, Thalgo created this 30 minute professional
facial which enhances radiance and reveals the beauty of dull complexions.