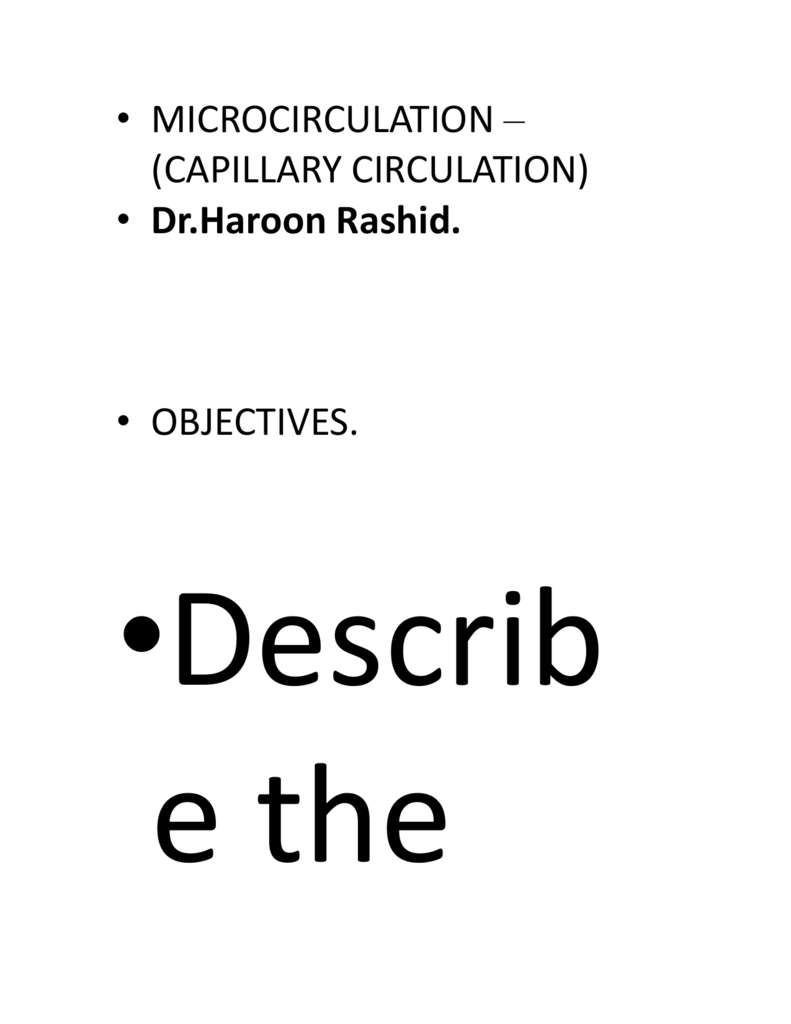 • MICROCIRCULATION –
(CAPILLARY CIRCULATION)
• Dr.Haroon Rashid.
• OBJECTIVES.
•Describ
e the
physiolo
gical
anatomy
of
capillary
circulati
on.
•Identify
the
values
for
normal
capillary
blood
flow.
•Discuss
the
dynamic
s for
interstiti
al fluid
formatio
n.
•Correlat
e this
knowled
ge to
edema
formatio
n.
• The term Microcirculation
refers to the functions of the
capillaries and the neighboring
lymphatic vessels.
• 5 % of circulating blood
volume is present in the
capillaries at any given time.
• This takes part into the
exchange of nutrients, gases
and waste products between
the blood & tissues.
• Lymphatic circulation
• The interstitial fluid enter
lymphatic capillaries through
loose junctions between
endothelial cells .
• Lymph flow back to the
thoracic duct is promoted by
contraction of smooth muscle
in wall of lymphatic vessels &
contraction of surrounding
skeletal muscle .
• Failure of lymphatic drainage
can lead to Edema .
• The Microcirculation
● Important in the transport of nutrients to
tissues
● Site of waste product removal
● Over 10 billion capillaries with surface
area of 500-700 square meters
● Solute and fluid exchange
• Types of capillaries
Classified according to the size of
the pores
• Brain – the pores are very tight and
allow only very small molecules to
pass thru.
• Kidney & Intestine - the pores are
wider – fenestrations
• Liver - the endothelium is
discontinuous with wide gaps
between the cells.
• EXCHANGE OF SUBSTANCES
ACROSS THE CAPILLARY WALL
This occurs by.
• Simple diffusion Lipid soluble
gases such as O2 & CO2 readily
diffuse through the endothelial
cells.
• Bulk Flow - the most
important mechanism for fluid
transfer driven by Starlings
forces.
• FLUID COMPARTMENT.
• Total Body Water-60% of Body
Weight.(42liters) in a 70kg
person.
• Classification:-Intracellular
fluid- 40%(28 liters)
•
Extracellular
fluid-20%(14liters)
/ \
Plasma-5%
Intercellular-15%
• PERCENTAGE OF FLUID.
•
•
•
•
•
• Interstitial fluid
Interstitial fluid; also
known as intercellular fluid
and tissue fluid is fluid
between the cells of
multicellular organisms
bathes and surrounds the
cells of the body, and
provides a means of
delivering materials to the
cells, intercellular
communication, and
removal of metabolic
waste.
-
-It represents the largest
portion of the ECF
compartment . The plasma
and the interstitial fluid
intermingle through pores
in the blood capillaries
which allow water and
most dissolved substances
except protein to diffuse .
- The exchange of material
across the capillaries
occurs at high rate by
diffusion in both direction.
- Formation of the IF
;The high content
of proteins in the
plasma accounts
for its higher
osmotic pressure
compared to that
of the IF which will
attract fluid and
dissolved
substances into the
circulation from
the tissue spaces .
Opposing this force
is the hydrostatic
pressure of the
blood which tends
to force fluids out
of the circulation
and into the tissue
spaces, thus
equilibrium is
always
maintained.
Edema; Is the term
used to describe an
unusual
accumulation of
interstitial fluid
which occurs when
an alteration in the
balance mentioned
earlier occurs . It
could happen due
to decrease in
plasma albumin
concentration
leading to a
decrease in blood
osmolarity thus
allowing fluid to
escape from the
circulation to the
interstitial space.
The rate of filtration at any point
along the capillary depends on a
balance of forces – STARLINGS
FORCES.
• 1. Capillary hydrostatic pressure
Arterial end = 37 mmHg
Venous end = 17 mmHg
• 2. Plasma colloid osmotic pressure
= 25 mmHg
• 3. Interstitial hydrostatic pressure
= 0 -1
• 4. Interstitial colloid osmotic
pressure = 0 mmHg
• Arteriolar end  fluid moves out
into tissue spaces
• Venous end fluid enters into
capillaries.
• Any decrease in plasma proteins
(hypoproteinemia) or increase in
capillary
hydrostatic
pressure
(cardiac failure) causes edema.
(abnormal increase in interstitial
fluid volume )
• Histamines, bradykinin increases
capillary permeability  edema.
• Starling's forces across
capillary wall
• What is Edema?
• Accumulation of fluid beneath the skin or
in a body cavity
• Palpable swelling produced by expansion
of the interstitial fluid volume
• Causes of Edema
• Increase capillary pressure
– Increase vascular volume
•
•
•
•
Heart failure
Kidney disease
Pregnancy
Environmental heat stress
– Venous obstruction
• Thrombosis
• Liver disease
• Decrease colloidal osmotic
pressure
– Increase loss of proteins
• Nephrotic syndrome
• Burns
– Decrease production
• Starvation, Malnutrition
• Liver disease
• Edema:
• The abnormal accumulation of
fluid in a specific organ vs
generalized.
• In capillary: Balance between
hydrostatic pressure and
•
•
•
•
•
•
•
oncotic (colloid osmotic)
pressure.
Interstitial hydrostatic
pressure:
Varies from one organ to
another:
Subcutaneous tissue:
Subatmospheric (-2 mmHg)
Liver, kidney: +
Brain: As high as 6 mmHg
Organ specific:
Brain: Cerebral edema
• Lung: Intraalveolar=pulmonary edema,
intra-pleural=pleural effusion
• Peritoneum=ascites
• Severe generalized
edema=anasarca
• Reduced oncotic pressure:
• Reduction in production of
colloids--- plasma proteins.
• Liver failure
• Malnutrition
• Increase in loss of colloids--plasma proteins.
• Nephrotic syndrome
• Catabolic states
• Increase capillary
hydrostatic pressure:
• Venous end: Heart failure,
deep venous thrombosis,
superior vena cava obstruction
etc.
• Arterial end: Pre-capillary
dilatation. Calcium channel
blockers.
• Capillary leaks:
• Result of capillary damage:
• Pleura: Infections, tumors
• Alveoli: Inhalation of noxious
substance, eg chlorine gas etc
• Diverse causes of edema:
• Anaemia
• Hypothyroidism
• Hormones involved in edema:
• Renin angiotensin aldosterone
system: secondary
hyperaldosteronism
• ADH (Vasopressin)
•
•
•
•
ANP
Jugular venous pressure:
Elevated and pulsating:
=hypervolemia
• Then edema:
• Due to increased capillary
hydrostatic pressure:
• Cardiac failure, or isolated RV
(pulm HT)
• Hypervolemia caused by
transfusion
• Generalized edema
without hypervolemia:
• Decreased capillary colloid oncotic
pressure: liver, kidney, catabolic
states, malnutrition.
• Increased interstitial colloid oncotic
pressure: lymphatic.
• Increase in capillary permeability:
Inflammation, toxins, severe
anaemia
• Capillary Circulation.
• Define interstitial fluid with
normal values.
• Define edema,& causes of it.
• References:- Guyton &
Hall,12th edition.
• Ganong-24th edition.
• Internet.
THANK YOU.