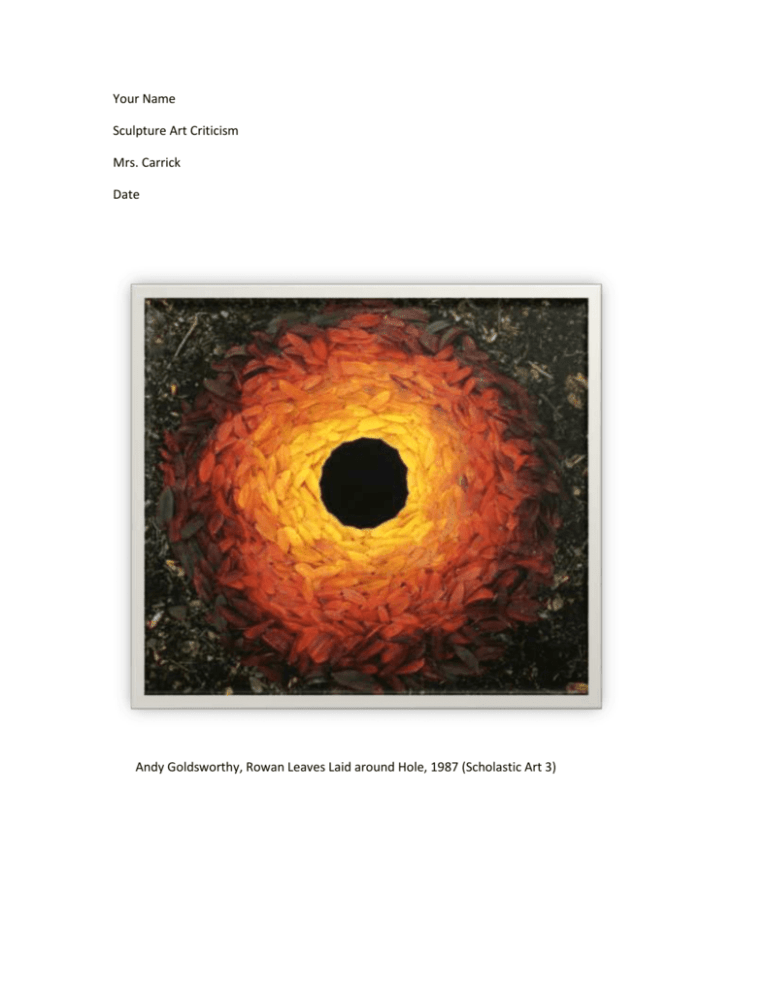 Your Name
Sculpture Art Criticism
Mrs. Carrick
Date
Andy Goldsworthy, Rowan Leaves Laid around Hole, 1987 (Scholastic Art 3)
(NOTE: THIS INTRO / BIOGRAPHY PARAGRAPH IS ONLY REQUIRED FOR GRADUATION PROJECT)
Andy Goldsworthy is renowned for using objects found in nature to create thoughtprovoking, nonobjective sculptures. He was born in 1956 in England and is still working today.
He attended Preston Polytechnic in northern England where he studied fine art ("35 Who Made
a Difference"). "Goldsworthy's principal artistic debt is to 'Land Art,' an American movement of
the 1960s that took [art] out of the studio to create giant earthworks… ("35 Who Made a
Difference"). His sculptures consist of a variety of natural materials such as snow, ice, leaves,
bark, clay, stones, feathers, petals, and twigs. He rarely uses anything man-made ("Andy
Goldsworthy's Amazing Works"). "The artist makes use of universal shapes found in nature—
spirals, concentric circles, holes, arches, jagged lines, and rainbow colors—but dislocates them
and arranges them in ways that contradict natural law" ("Andy Goldsworthy: Working with
Ideas" 3). These sculptures are documented through photographs. The photographs record
each piece at a pivotal moment; since, most of them are transient and disintegrate back into
nature ("Andy Goldsworthy: Working with Ideas" 7). Using the environment rather than
traditional materials, Goldsworthy creates awe-inspiring sculptures such as in his piece titled
Rowan Leaves Laid around Hole.
(NOTE: THE FOLLOWING ART CRITICISM IS REQUIRED FOR ALL)
Rowan Leaves Laid around Hole is a nonobjective sculpture consisting of repeating shapes
and colors made from hundreds of leaves. These oblong leaves colored with maroon, red,
orange, and yellow radiate from an outer circle in towards a black circle in the center. The thick
band of maroon leaves form the outer circle followed by a band of red leaves which transition
into a thin band of orange and then a thicker circular band of yellow leaves. Each leaf is from
the same type of tree as listed in the title. The shape of each leaf is the same oblong, thinly
convex shape even though the colors vary. The center is a black circle. Along the outer corners
there is a dark, brownish dirt ground with traces of twigs and fallen leaves.
The dark, black circular shape is emphasized as the focal point, because it is in the center of
all of the warmer colored leaves. The center circle or hole creates negative space as it feels like
a void amongst the other colored shapes. This contrast of space and color makes it stand out.
The colors and shapes create radial balance due to the warm, analogous color scheme and the
way they are arranged in a radial pattern. The texture and colors also create unity because of
their repetition. Together they feel harmonious and lead the eye in a circular path toward the
center.
Goldsworthy creates a warm, fiery sculpture with a bulls-eye. The negative space created by
this black circle feels as if you could fall into it. His use of common objects found outdoors in
nature creates a colorful sculpture that transcends the leaves; it looks mesmerizing and more
intriguing than simply the original leaves that one sees on trees. One can get lost in the circular
pattern. The sculpture can be seen as using the circle as a symbol which represents infinity or
no beginning and no end. It feels complete and whole.
Using the aesthetic theory of emotionalism, I feel this sculpture is a success, because it
evokes a warm feeling and creates a space in which I get lost. Formally, it is compositionally
strong due to the radial balance and warm color scheme that unifies it. It wouldn't be fair to
judge it according to the imitationalsim theory, since it is a non-objective piece that isn't
intended to look realistic. It goes beyond realism and creates a more symbolic meaning due to
the symbol of the circle. Overall, it is an eye-catching and thought-provoking sculpture.
(NOTE: FOR GRADUATION PROJECT YOU MUST ALSO INCLUDE AN OVERALL CONCLUSION AND
WORKS CITED PAGE)
Works Cited
"35 Who Made a Difference: Andy Goldsworthy." Smithsonian. N.p., n.d. Web. 28 Mar. 2014.
<http://www.smithsonianmag.com/arts-culture/35-who-made-a-difference-andygoldsworthy-114067437/?no-ist>
"Andy Goldsworthy's Amazing Works of Art - EcoSalon | Conscious Culture and Fashion :
EcoSalon | Conscious Culture and Fashion." EcoSalon. N.p., n.d. Web. 28 Mar. 2014.
<http://ecosalon.com/andy-goldsworthys-amazing-works-of-art/>
"Andy Goldsworthy: Working with Ideas." Scholastic Art. Apr.-May 2005: 2-9. Print.