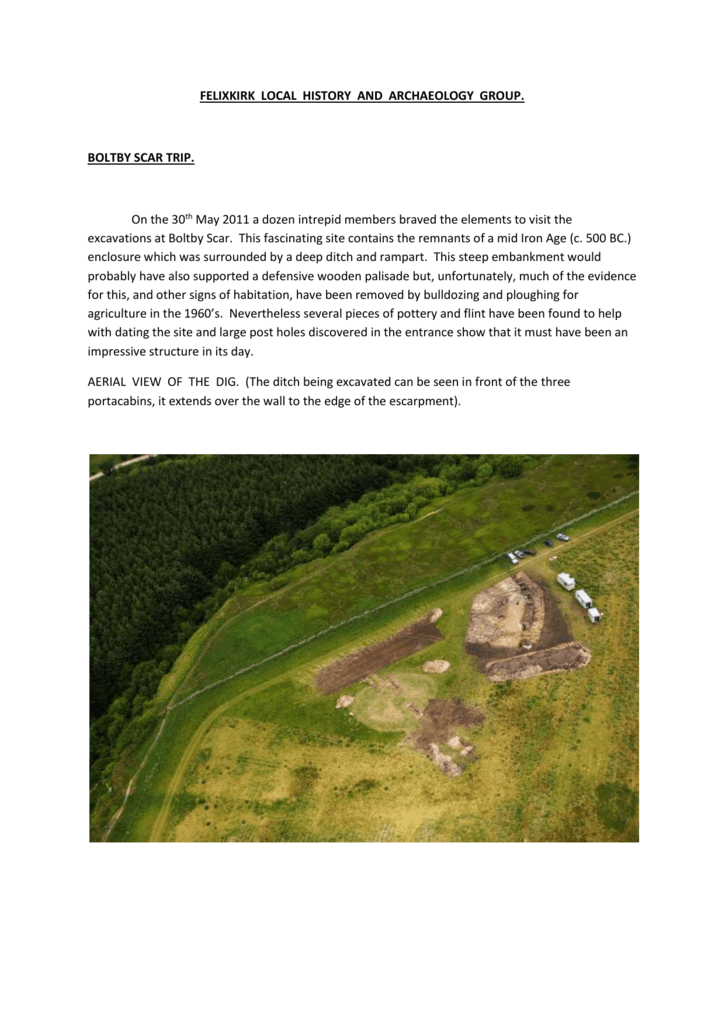 FELIXKIRK LOCAL HISTORY AND ARCHAEOLOGY GROUP.
BOLTBY SCAR TRIP.
On the 30th May 2011 a dozen intrepid members braved the elements to visit the
excavations at Boltby Scar. This fascinating site contains the remnants of a mid Iron Age (c. 500 BC.)
enclosure which was surrounded by a deep ditch and rampart. This steep embankment would
probably have also supported a defensive wooden palisade but, unfortunately, much of the evidence
for this, and other signs of habitation, have been removed by bulldozing and ploughing for
agriculture in the 1960's. Nevertheless several pieces of pottery and flint have been found to help
with dating the site and large post holes discovered in the entrance show that it must have been an
impressive structure in its day.
AERIAL VIEW OF THE DIG. (The ditch being excavated can be seen in front of the three
portacabins, it extends over the wall to the edge of the escarpment).
A further interesting feature was also investigated during the dig. This was the Bronze Age
burial mound show in the centre of the picture above (a similar monument is thought to exist within
the mound opposite the pub in Felixkirk).
EXCAVATIONS INTO THE BURIAL MOUND AT BOLTBY SCAR.
Although this site has been robbed of its valuable grave goods many years ago, much
important information was still gained through the excavation; the method of construction using
layers of turf for example. A circle of bright white limestone blocks had also been placed around the
perimeter to make it an even more prominent feature in the landscape. Small pieces of pottery and
flint were also discovered that helped to date the mound to around 2000 BC, some 1500 years
earlier than the enclosure ditch around it. The two features were though not to be associated, as
several other mounds appear in the surrounding countryside.
THE EXCAVATED DICH FROM GROUND LEVEL.
The trip was thought to be well worthwhile, despite the weather, and plans are being made
to do some more digging next year. So there will be the chance for more people to see it then.
More meetings are being planned for the near future, so watch this space.