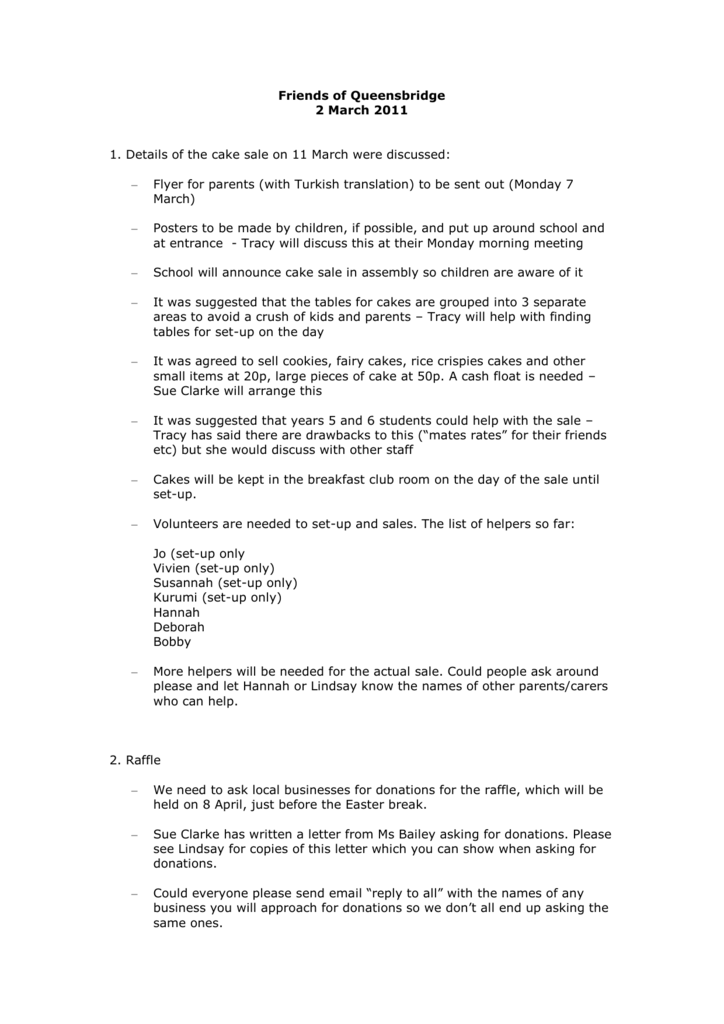 Friends of Queensbridge
2 March 2011
1. Details of the cake sale on 11 March were discussed:
–
Flyer for parents (with Turkish translation) to be sent out (Monday 7
March)
–
Posters to be made by children, if possible, and put up around school and
at entrance - Tracy will discuss this at their Monday morning meeting
–
School will announce cake sale in assembly so children are aware of it
–
It was suggested that the tables for cakes are grouped into 3 separate
areas to avoid a crush of kids and parents – Tracy will help with finding
tables for set-up on the day
–
It was agreed to sell cookies, fairy cakes, rice crispies cakes and other
small items at 20p, large pieces of cake at 50p. A cash float is needed –
Sue Clarke will arrange this
–
It was suggested that years 5 and 6 students could help with the sale –
Tracy has said there are drawbacks to this ("mates rates" for their friends
etc) but she would discuss with other staff
–
Cakes will be kept in the breakfast club room on the day of the sale until
set-up.
–
Volunteers are needed to set-up and sales. The list of helpers so far:
Jo (set-up only
Vivien (set-up only)
Susannah (set-up only)
Kurumi (set-up only)
Hannah
Deborah
Bobby
–
More helpers will be needed for the actual sale. Could people ask around
please and let Hannah or Lindsay know the names of other parents/carers
who can help.
2. Raffle
–
We need to ask local businesses for donations for the raffle, which will be
held on 8 April, just before the Easter break.
–
Sue Clarke has written a letter from Ms Bailey asking for donations. Please
see Lindsay for copies of this letter which you can show when asking for
donations.
–
Could everyone please send email "reply to all" with the names of any
business you will approach for donations so we don't all end up asking the
same ones.
3. Gardening
Danny said that one of school staff, Arun (an LSA), is interested in gardening with
the kids. More seed planting is to be done and Danny would like to have a plant
sale later in the spring if possible. Could discuss this, and fundraising for a shed,
at the next meeting.
4. An organizer for Shoreditch Citizens, as community action group, came to
speak with parents & carers about their work, and he wanted to know if parents
had community issues they might be ablel to help with. Two issues raised were
unemptied bins in Evergreen Square, and no suitable crossing place at
Queensbridge Road and Albion Drive. Dan will return for a meeting on 23 March
to discuss how parents could be supported in their efforts to get action on these
problems.
The next Friends of Queensbridge meeting will be held on Wednesday 30
March.