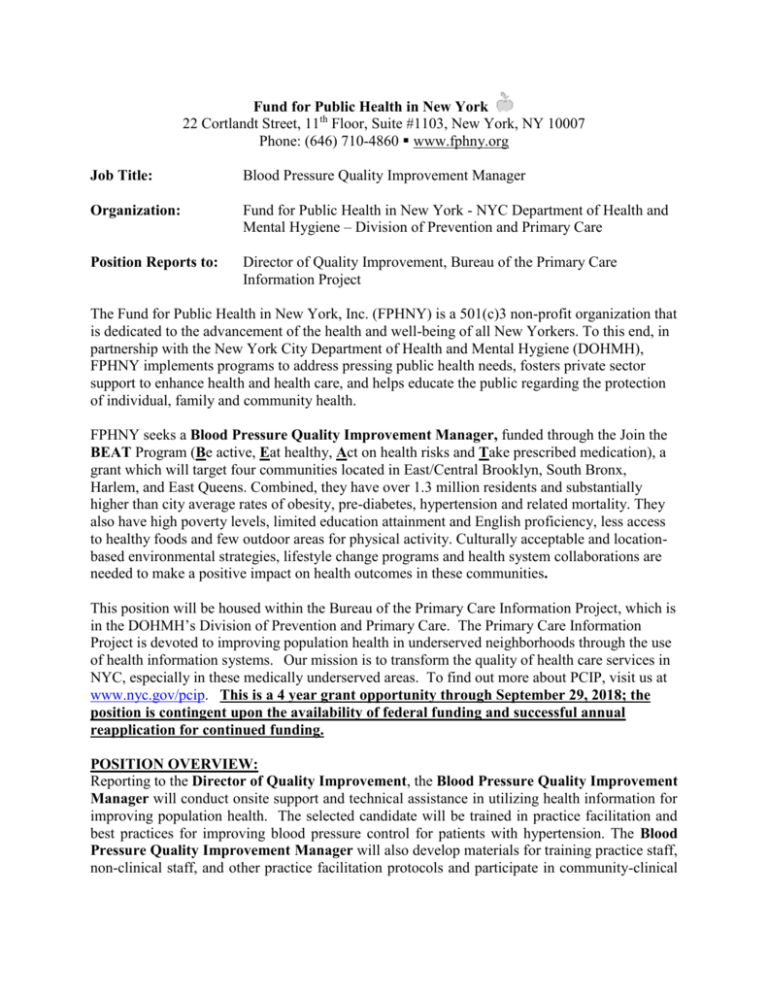 Fund for Public Health in New York
22 Cortlandt Street, 11th Floor, Suite #1103, New York, NY 10007
Phone: (646) 710-4860  www.fphny.org
Job Title:
Blood Pressure Quality Improvement Manager
Organization:
Fund for Public Health in New York - NYC Department of Health and
Mental Hygiene – Division of Prevention and Primary Care
Position Reports to:
Director of Quality Improvement, Bureau of the Primary Care
Information Project
The Fund for Public Health in New York, Inc. (FPHNY) is a 501(c)3 non-profit organization that
is dedicated to the advancement of the health and well-being of all New Yorkers. To this end, in
partnership with the New York City Department of Health and Mental Hygiene (DOHMH),
FPHNY implements programs to address pressing public health needs, fosters private sector
support to enhance health and health care, and helps educate the public regarding the protection
of individual, family and community health.
FPHNY seeks a Blood Pressure Quality Improvement Manager, funded through the Join the
BEAT Program (Be active, Eat healthy, Act on health risks and Take prescribed medication), a
grant which will target four communities located in East/Central Brooklyn, South Bronx,
Harlem, and East Queens. Combined, they have over 1.3 million residents and substantially
higher than city average rates of obesity, pre-diabetes, hypertension and related mortality. They
also have high poverty levels, limited education attainment and English proficiency, less access
to healthy foods and few outdoor areas for physical activity. Culturally acceptable and locationbased environmental strategies, lifestyle change programs and health system collaborations are
needed to make a positive impact on health outcomes in these communities.
This position will be housed within the Bureau of the Primary Care Information Project, which is
in the DOHMH's Division of Prevention and Primary Care. The Primary Care Information
Project is devoted to improving population health in underserved neighborhoods through the use
of health information systems. Our mission is to transform the quality of health care services in
NYC, especially in these medically underserved areas. To find out more about PCIP, visit us at
www.nyc.gov/pcip. This is a 4 year grant opportunity through September 29, 2018; the
position is contingent upon the availability of federal funding and successful annual
reapplication for continued funding.
POSITION OVERVIEW:
Reporting to the Director of Quality Improvement, the Blood Pressure Quality Improvement
Manager will conduct onsite support and technical assistance in utilizing health information for
improving population health. The selected candidate will be trained in practice facilitation and
best practices for improving blood pressure control for patients with hypertension. The Blood
Pressure Quality Improvement Manager will also develop materials for training practice staff,
non-clinical staff, and other practice facilitation protocols and participate in community-clinical
linkage meetings to integrate non-clinical partners to support patient self-management for blood
pressure control.
RESPONSIBILITIES:
 Form and maintain supportive, collegial relationships with primary care practices
 Lead and liaise the linkage of community pharmacists and primary care providers to
coordinate patient hypertension medication management
 Develop a training module for pharmacists to interact with primary care providers
 Conduct off/on site practice visits and trainings
 Establish protocols, identify methods and formalize bi-directional information sharing
between clinical and community settings
 Assist practices in mapping and modification of workflows
 Assess and document practice progression throughout the transformation process
 Facilitate the support, encouragement, reinforcement, and recognition of practice
successes
 Coordinate the training and support of clinical practices to utilize the electronic health
record (EHR) for identifying patients in need of outreach or follow-up; identify patients
for self-management for blood pressure control; host networking events to connect
clinical providers, community workers and pharmacists
 Supervise Clinical Community Health Worker Coordinators; provide coaching in project
management, change management, effective feedback and conflict resolution
 Other duties, as assigned
QUALIFICATIONS:
 Master's in Public Health, Clinical, Pharmacy background or equivalent
 Experience in staff supervision, practice management, and health care industry
 Excellent verbal, written, presentation, remote communication and group facilitation
skills
 Working knowledge of Microsoft Word, Excel, PowerPoint and Outlook
 Participating member of the American Pharmacists Association or Local Pharmacy
Association a plus
 Experience with EHR software is a plus
SALARY AND BENEFITS:
FPHNY offers a comprehensive benefits package. The salary range for this position is
commensurate with experience and is dependent upon experience and salary history.
TO APPLY:
To apply, send resume and cover letter to publichealthjobs@fphny.org with "BEAT Blood
Pressure Quality Improvement Manager_your name" in the subject line.
PLEASE NOTE:
The Fund for Public Health in New York, Inc., is an Equal Opportunity Employer and
encourages a diverse pool of candidates to apply.