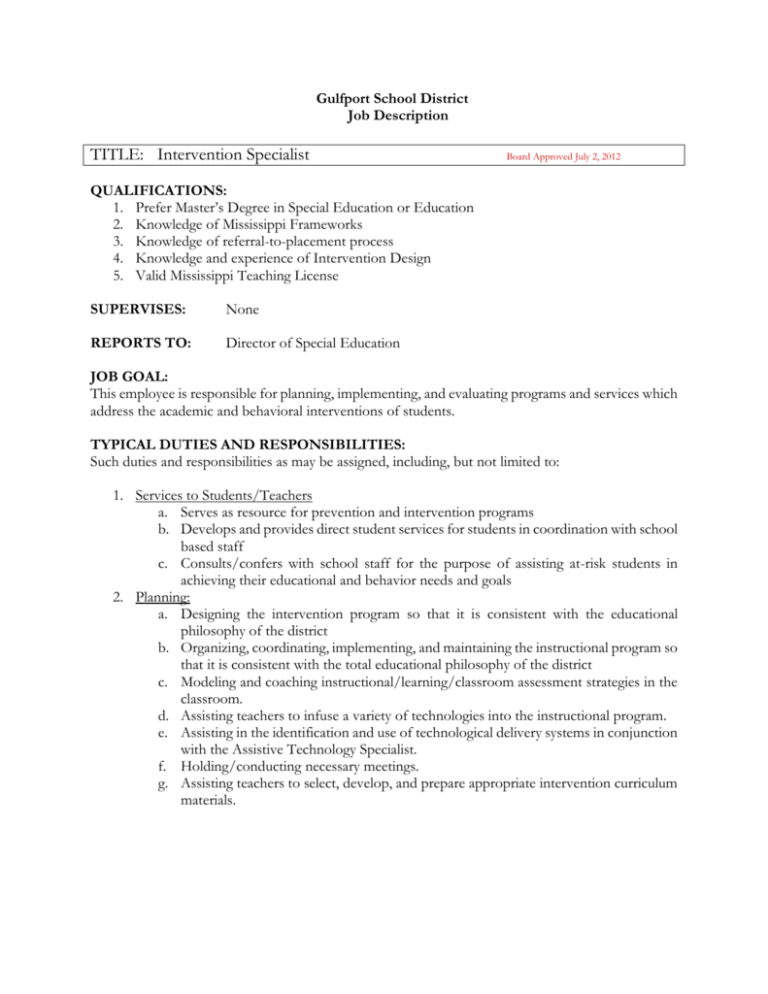 Gulfport School District
Job Description
TITLE: Intervention Specialist
Board Approved July 2, 2012
QUALIFICATIONS:
1. Prefer Master's Degree in Special Education or Education
2. Knowledge of Mississippi Frameworks
3. Knowledge of referral-to-placement process
4. Knowledge and experience of Intervention Design
5. Valid Mississippi Teaching License
SUPERVISES:
None
REPORTS TO:
Director of Special Education
JOB GOAL:
This employee is responsible for planning, implementing, and evaluating programs and services which
address the academic and behavioral interventions of students.
TYPICAL DUTIES AND RESPONSIBILITIES:
Such duties and responsibilities as may be assigned, including, but not limited to:
1. Services to Students/Teachers
a. Serves as resource for prevention and intervention programs
b. Develops and provides direct student services for students in coordination with school
based staff
c. Consults/confers with school staff for the purpose of assisting at-risk students in
achieving their educational and behavior needs and goals
2. Planning:
a. Designing the intervention program so that it is consistent with the educational
philosophy of the district
b. Organizing, coordinating, implementing, and maintaining the instructional program so
that it is consistent with the total educational philosophy of the district
c. Modeling and coaching instructional/learning/classroom assessment strategies in the
classroom.
d. Assisting teachers to infuse a variety of technologies into the instructional program.
e. Assisting in the identification and use of technological delivery systems in conjunction
with the Assistive Technology Specialist.
f. Holding/conducting necessary meetings.
g. Assisting teachers to select, develop, and prepare appropriate intervention curriculum
materials.
2 – Intervention Specialist
3. Programming:
a. Assisting teacher in the collection of assessment data in preparation for review by the
TST
b. Establishing the intervention program
c. Providing training/coaching to others
d. Monitoring the progress of those trained
4. Staff Development:
a. Providing in-service training and follow-up to assist classroom teachers in the
application of curriculum and instructional interventions, assessment strategies,
instructional technology, and utilization of test data
5. Reporting:
a. Completing appropriate reports for local, state, federal, and educational agencies as
required
b. Assuming other duties and responsibilities necessary to facilitate program success
6. Other Duties:
a. Attends school and district meetings and in-service programs
b. Participates in the evaluation process as it relates to prevention and intervention
programs and activities
c. Provides additional services as required by the supervisor
TERMS OF EMPLOYMENT:
Designated by contract
EVALUATION:
Performance of this job will be evaluated in accordance with the provisions of the policy of the Board
of Trustees on Evaluation of Professional Personnel.