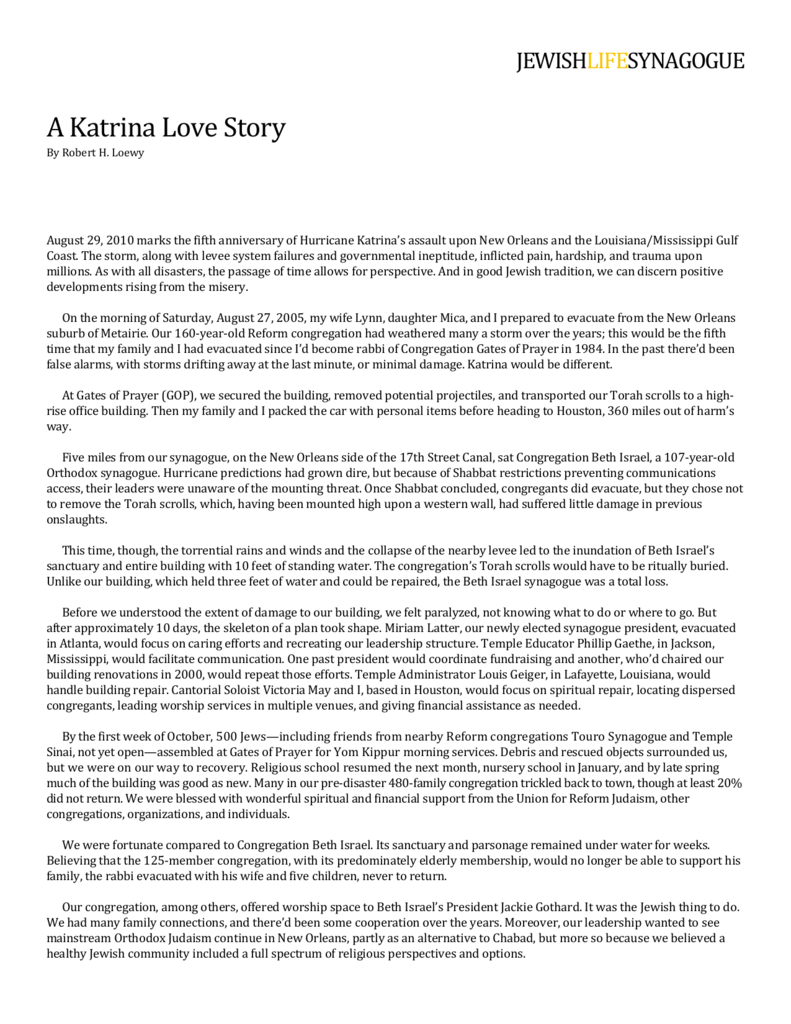 JEWISHLIFESYNAGOGUE
A Katrina Love Story
By Robert H. Loewy
August 29, 2010 marks the fifth anniversary of Hurricane Katrina's assault upon New Orleans and the Louisiana/Mississippi Gulf
Coast. The storm, along with levee system failures and governmental ineptitude, inflicted pain, hardship, and trauma upon
millions. As with all disasters, the passage of time allows for perspective. And in good Jewish tradition, we can discern positive
developments rising from the misery.
On the morning of Saturday, August 27, 2005, my wife Lynn, daughter Mica, and I prepared to evacuate from the New Orleans
suburb of Metairie. Our 160-year-old Reform congregation had weathered many a storm over the years; this would be the fifth
time that my family and I had evacuated since I'd become rabbi of Congregation Gates of Prayer in 1984. In the past there'd been
false alarms, with storms drifting away at the last minute, or minimal damage. Katrina would be different.
At Gates of Prayer (GOP), we secured the building, removed potential projectiles, and transported our Torah scrolls to a highrise office building. Then my family and I packed the car with personal items before heading to Houston, 360 miles out of harm's
way.
Five miles from our synagogue, on the New Orleans side of the 17th Street Canal, sat Congregation Beth Israel, a 107-year-old
Orthodox synagogue. Hurricane predictions had grown dire, but because of Shabbat restrictions preventing communications
access, their leaders were unaware of the mounting threat. Once Shabbat concluded, congregants did evacuate, but they chose not
to remove the Torah scrolls, which, having been mounted high upon a western wall, had suffered little damage in previous
onslaughts.
This time, though, the torrential rains and winds and the collapse of the nearby levee led to the inundation of Beth Israel's
sanctuary and entire building with 10 feet of standing water. The congregation's Torah scrolls would have to be ritually buried.
Unlike our building, which held three feet of water and could be repaired, the Beth Israel synagogue was a total loss.
Before we understood the extent of damage to our building, we felt paralyzed, not knowing what to do or where to go. But
after approximately 10 days, the skeleton of a plan took shape. Miriam Latter, our newly elected synagogue president, evacuated
in Atlanta, would focus on caring efforts and recreating our leadership structure. Temple Educator Phillip Gaethe, in Jackson,
Mississippi, would facilitate communication. One past president would coordinate fundraising and another, who'd chaired our
building renovations in 2000, would repeat those efforts. Temple Administrator Louis Geiger, in Lafayette, Louisiana, would
handle building repair. Cantorial Soloist Victoria May and I, based in Houston, would focus on spiritual repair, locating dispersed
congregants, leading worship services in multiple venues, and giving financial assistance as needed.
By the first week of October, 500 Jews—including friends from nearby Reform congregations Touro Synagogue and Temple
Sinai, not yet open—assembled at Gates of Prayer for Yom Kippur morning services. Debris and rescued objects surrounded us,
but we were on our way to recovery. Religious school resumed the next month, nursery school in January, and by late spring
much of the building was good as new. Many in our pre-disaster 480-family congregation trickled back to town, though at least 20%
did not return. We were blessed with wonderful spiritual and financial support from the Union for Reform Judaism, other
congregations, organizations, and individuals.
We were fortunate compared to Congregation Beth Israel. Its sanctuary and parsonage remained under water for weeks.
Believing that the 125-member congregation, with its predominately elderly membership, would no longer be able to support his
family, the rabbi evacuated with his wife and five children, never to return.
Our congregation, among others, offered worship space to Beth Israel's President Jackie Gothard. It was the Jewish thing to do.
We had many family connections, and there'd been some cooperation over the years. Moreover, our leadership wanted to see
mainstream Orthodox Judaism continue in New Orleans, partly as an alternative to Chabad, but more so because we believed a
healthy Jewish community included a full spectrum of religious perspectives and options.
A nearby Conservative congregation, Shir Chadash, also offered Beth Israel space, but the Orthodox congregation rejected that
offer, concerned that some of their members might be attracted to a branch of Judaism not that different from their own. With us,
there was only minimal chance of that happening.
In January 2006 Congregation Beth Israel began to use our Bart Community Room on Shabbat and festivals. Our maintenance
staff learned how to erect a mechitzah (barrier separating men and women), and we made parts of our kitchen kosher. A
Unitarian church, similarly displaced, used the community room on Sunday afternoons. We were providing a home for three
congregations simultaneously. Initially we offered space at no charge; later, we entered into rental agreements to cover expenses.
Prior to the storm, only Orthodox rabbis could conduct funerals in Beth Israel's congregational cemetery. But now, as there
was no permanent Orthodox rabbi, I was called upon to lead funeral services for their members. I took care to perform Orthodox
rituals, which in truth are not that different than my usual practices.
A unique moment occurred during Kol Nidre eve 2006. In the middle of our worship, Beth Israel's visiting rabbi asked to speak
briefly to our congregation. Eloquently he related a midrash describing the angels on either side of God who proclaim, "Holy, Holy,
Holy" in our kedushah prayer. When these angels who are competing for God's attention unite and cease their rivalry, it is said the
messianic times will be upon us. Expressing gratitude to us for opening our doors, Rabbi Joey Friedman suggested that those times are a
bit nearer.
In truth, before the storm a certain amount of disdain existed between the two communities. Katrina prompted us to discover
what we held in common. Being under one roof, we began to conduct an occasional joint program. One highlight was a visit by
Rabbi Joseph Telushkin, who spoke at Gates of Prayer on Friday night with Beth Israel members in attendance, and then again at
Beth Israel's Sunday morning breakfast with our members joining in.
As Beth Israel's leaders began to envision the future, they decided to relocate to Metairie, at least temporarily, and use our
facility. They purchased a residence near GOP to serve both as an office and as a place where visiting rabbis could spend Shabbat.
Next they committed to securing a full-time rabbi. As an unofficial part of the search committee, I met with their candidates and
was consulted throughout the process. All of the prospects were young, and it was their leadership's hope that I, with my gray
hair, could be helpful in mentoring their new rabbi.
One Friday, a candidate who had led their early worship stayed for our 8:00 P.M. service. It was well underway when I spotted
him exuberantly singing along with the Cantor Jeff Klepper and Rabbi Daniel Freelander (Reform) version of "Shalom Rav."
Instantly I knew that this young Orthodox man was going to be the right rabbinic partner.
Rabbi Uri Topolosky, a handsome, charismatic 30-year-old graduate of the modern Orthodox Yeshivat Chovevei Torah Rabbinical
School, quickly accepted the invitation to revive Beth Israel. In summer 2007, he, his wife, and children moved to Metairie, and soon
the two of us were engaged in weekly Torah study and dialogue. Within our communities, "Rabbi Uri" and I also built bridges of
understanding where once there had been a great divide. We held joint Selichot evenings where we sang, learned, and danced; offered
education programs with films and lectures; advocated jointly for freeing Israeli soldier Gilad Shalit and other Jewish causes; shared
guest speakers and meals; and arose before dawn for a jointly led Birkat Hachama ritual of the sun. Our communities grew to
appreciate one another in ways that would have been impossible before the storm.
Under Rabbi Topolosky's leadership, Congregation Beth Israel decided, given a shift in population and the pervasive destruction,
that the future of modern Orthodoxy in Greater New Orleans was better situated in Metairie. Beth Israel needed to buy a parcel of land
on which to build a new synagogue. As it happened, we owned an empty tract adjacent to our own building, purchased decades earlier
for possible future expansion. Given the economic and demographic realities following the storm, we sadly had to let that dream fade
away.
Finally, after two years of sometimes difficult negotiations, under the direction of GOP President Lee Plotkin, our congregation
voted overwhelmingly—and joyfully—to sell the land to Beth Israel. The property was transferred on November 2, 2009, and the
groundbreaking took place on March 7, 2010.
Out of the Katrina catastrophe, two Jewish communities forged a positive, loving relationship. We pray it will continue to be
nurtured and cherished.
Rabbi Robert H. Loewy is spiritual leader of Congregation Gates of Prayer, Metairie, LA.
LEFT TO RIGHT: REFORM RABBI ROBERT H. LOEWY AND ORTHODOX RABBI URI TOPOLOSKY STUDY TORAH AT CONGREGATION GATES OF PRAYER.
KATRINA DESTRUCTION. LEFT: OUTSIDE CONGREGATION GATES OF PRAYER, METAIRIE, LA; RIGHT: THE RUINED TALLESIM INSIDE FLOODED CONGREGATION BETH ISRAEL, NEW ORLEANS.