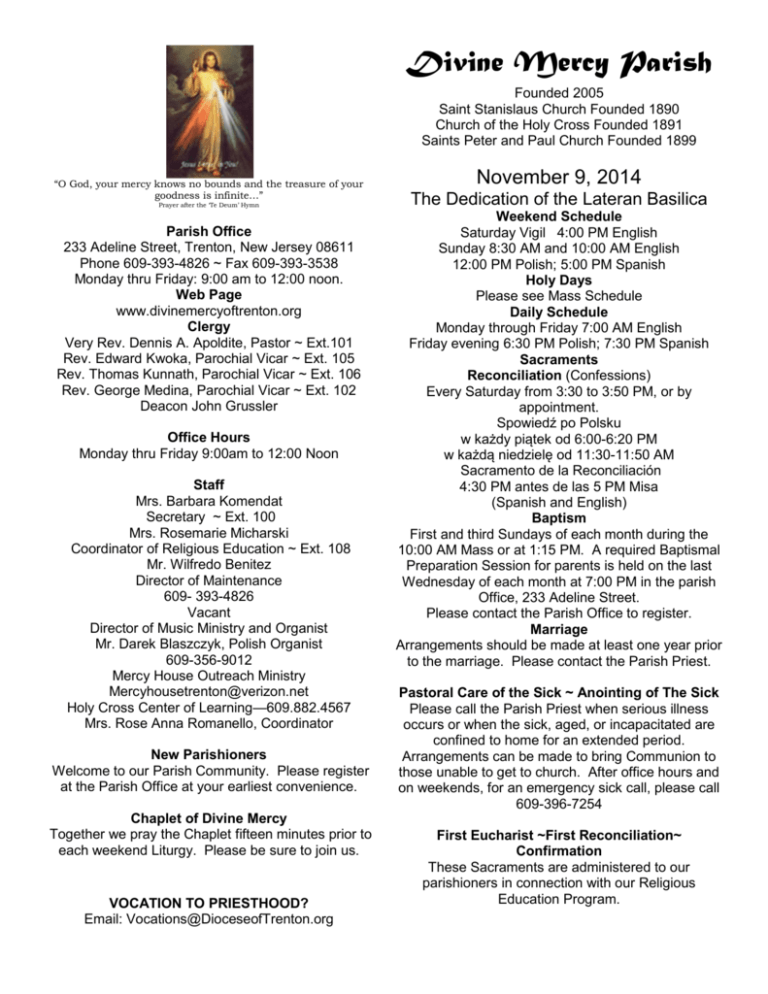 Divine Mercy Parish
Founded 2005
Saint Stanislaus Church Founded 1890
Church of the Holy Cross Founded 1891
Saints Peter and Paul Church Founded 1899
"O God, your mercy knows no bounds and the treasure of your
goodness is infinite…"
Prayer after the 'Te Deum' Hymn
Parish Office
233 Adeline Street, Trenton, New Jersey 08611
Phone 609-393-4826 ~ Fax 609-393-3538
Monday thru Friday: 9:00 am to 12:00 noon.
Web Page
www.divinemercyoftrenton.org
Clergy
Very Rev. Dennis A. Apoldite, Pastor ~ Ext.101
Rev. Edward Kwoka, Parochial Vicar ~ Ext. 105
Rev. Thomas Kunnath, Parochial Vicar ~ Ext. 106
Rev. George Medina, Parochial Vicar ~ Ext. 102
Deacon John Grussler
Office Hours
Monday thru Friday 9:00am to 12:00 Noon
Staff
Mrs. Barbara Komendat
Secretary ~ Ext. 100
Mrs. Rosemarie Micharski
Coordinator of Religious Education ~ Ext. 108
Mr. Wilfredo Benitez
Director of Maintenance
609- 393-4826
Vacant
Director of Music Ministry and Organist
Mr. Darek Blaszczyk, Polish Organist
609-356-9012
Mercy House Outreach Ministry
Mercyhousetrenton@verizon.net
Holy Cross Center of Learning—609.882.4567
Mrs. Rose Anna Romanello, Coordinator
New Parishioners
Welcome to our Parish Community. Please register
at the Parish Office at your earliest convenience.
Chaplet of Divine Mercy
Together we pray the Chaplet fifteen minutes prior to
each weekend Liturgy. Please be sure to join us.
VOCATION TO PRIESTHOOD?
Email: Vocations@DioceseofTrenton.org
November 9, 2014
The Dedication of the Lateran Basilica
Weekend Schedule
Saturday Vigil 4:00 PM English
Sunday 8:30 AM and 10:00 AM English
12:00 PM Polish; 5:00 PM Spanish
Holy Days
Please see Mass Schedule
Daily Schedule
Monday through Friday 7:00 AM English
Friday evening 6:30 PM Polish; 7:30 PM Spanish
Sacraments
Reconciliation (Confessions)
Every Saturday from 3:30 to 3:50 PM, or by
appointment.
Spowiedź po Polsku
w każdy piątek od 6:00-6:20 PM
w każdą niedzielę od 11:30-11:50 AM
Sacramento de la Reconciliación
4:30 PM antes de las 5 PM Misa
(Spanish and English)
Baptism
First and third Sundays of each month during the
10:00 AM Mass or at 1:15 PM. A required Baptismal
Preparation Session for parents is held on the last
Wednesday of each month at 7:00 PM in the parish
Office, 233 Adeline Street.
Please contact the Parish Office to register.
Marriage
Arrangements should be made at least one year prior
to the marriage. Please contact the Parish Priest.
Pastoral Care of the Sick ~ Anointing of The Sick
Please call the Parish Priest when serious illness
occurs or when the sick, aged, or incapacitated are
confined to home for an extended period.
Arrangements can be made to bring Communion to
those unable to get to church. After office hours and
on weekends, for an emergency sick call, please call
609-396-7254
First Eucharist ~First Reconciliation~
Confirmation
These Sacraments are administered to our
parishioners in connection with our Religious
Education Program.
Saturday, November 8
4:00 pm Ronald Brodowski req. wife, Arlene
Sunday, November 9 The Dedication of the
Lateran Basilica
8:30 am Living & Deceased Holy Name Society members
10:00 am Doris Mitrosky req Family
12:00 pm People of the Parish
5:00 pm Oscar T. Torres req. Nereida & Stanley
Saganowski
Monday, November 10
7:00 am Rita Immordino req. Michael & Family
Tuesday, November 11
7:00 am Jean Bullaro Owens req John & Lorraine Rogers
Wednesday, November 12
7:00 am Eleanor Pitonyak req. Jacqueline Karlovich
Thursday, November 13
7:00 am Grace Ryan req. Sharleen Hatch
Friday, November 14
7:00 am Anne Hoch req Hoch Family
6:30 pm Stella Rockal req. Felicia Stoj
7:30 pm Special Intentions
Saturday, November 15
4:00 pm Fances Costantini Happy 87th Birthday
Req. Lynda, Paula & Ed
Sunday, November 16 Thirty Third Sunday
8:30 am Mary Ann Moeller req. Bonnie, Bobbie,
& Jo-Anne
10:00 am Freddie Saganowski req. Aunt Teresa &
Uncle Mark Durma
12:00 pm Frank Prasak req wife, children & grandchildren
5:00 pm For the People of the Parish
VIGIL LIGHTS AND ALTAR BREADS
For the week of November 9, 2014
Vigil Light is given for the intention of Stanley
Cary at the request of Barbara & George
Altar Breads are given for the intention of
Jimmy Temple
at the request of Aunt Barbara & Uncle George
WEEKLY COLLECTION
The collection total for the weekend of November
1 & 2 amounted to $4,990.00. The collection
for All Saints was $685.00 and All Souls totaled
$854.00
Thank you for your continued
generosity.
TRY OUR WEB SITE
www.divinemercyoftrenton.org
PRAY FOR OUR SICK
Daniel Applegate, Ismael Báez, Joseph Bezinski,
Eleanor
Biesiada, Margaret Bliznawicz, Cathy
Boucher, Josephine Caraballo, Lillian Caraballo,
Richard Caraballo, Florence Cebula, Rosa Choz,
Tim Cicon, Mark Cicon, Fran Costantini, Mary
DeBono, David DeLeon, Sr., Delia
DeLeone, Al
DelAversano, Shawn Kevin Dempsky, Steven
Diefenbach, Linda Donovan, Helen Falcone, Jennifer
Fry,
Margaret Gadecki, Julia Gracioli, Theresa
Grover, Rose
Gruzlovic, Catherine Hager, Amber
Haux, Alexander and Marianne Heyesey, Steven
Hill, Fran Hrabchak, Andrew
Jacobs, Jean
Janeczek, Arlene Jarzyk, Lee W. Johnson, Richard
A. Johnson, Carol Kirkland, Ray Klama, Clara
Krencicki, Richard Liedtka, Irene Lipson, Nicholas
Loffredo, Anita McIntyre, Rosemarie and Richard
Malkin, Adam Marut, Betty Marut, Genevieve
Marvuglio, Patricia Meisner, Nancy Mirabelli, Edward
Moeller, Carol Morris, Joanne Murphy, Helen Nealon,
Lorraine Novatkowski, Claire Pasierb, Barbara Pela,
Ralph Pela, Andrew Pitonyak, Margaret Pregg,
Maureen Quinn, Bill Rafferty, Nancy Rafferty, David
Remboske, Jane Richart, Michael Rogers, Shelby
Rowe, George Ryan, William Scott, Mary Silhan,
Lottie Skwirut, Claire Sorce, Rita Szuter, Stephanie
Szuter, Beatrice Tylutki, Lynde Ugoretz,
Cathy Weber, Patrick Weber, Nicholas Wiener, Helen
Wnuk, Lucjan Wolinski, Larry Wooton, Mary Ann
Zaburski, Brother Robert Ziobro, Jonathan Zdybel,
Carol Zelak and those listed in the Prayer Intention
Book.
PRAY FOR OUR DECEASED
Stanley Pela, Paul Merger, James T. Karr, Eileen
Karr, Helen Krol, Stanley Wyzykowski, Josephine
Wiaczek, Irene Johnson, Lottie Mizerski, Harry Riley,
Elizabeth Zialkowski, George Pintye, James Sabol,
Katherine Rue, Robert
Gronostajski, Walter V.
Szelich, Mary Ann Szczepanski and Eleanore
Pitonyak.
PRAY FOR OUR MILITARY
Please pray for our servicemen and women who are
in the Military and serving in the United States or in
the Middle East. May the Lord keep them safe and
may they return home soon.
OUR PRAYER NETWORK
Dolores can be reached at 609.499.3979. She is
available for all requests that will be lifted in prayer by
members on the prayer line.
Happy Veteran's Day
The Parish Office will be closed on Tuesday,
November 11th
YOUTH GROUP
The Youth Group meets on Friday, evenings at
6:45 at St. Stanislaus School. We welcome all
teens from 13-17 years old to join us as we
begin a year of fellowship, prayer and community
outreach.
If interested, please call or text
Carmen Benitez @ 609-954-3058.
ATLANTIC CITY TRIP
D & A Senior Atlantic City Trip to Resorts Casino
is planned for Nov. 11. Bus leaves Holy Cross
parking lot at 9 am. Cost is $30, receive $25. slot
play. Please call Agnes (588-0883) or David
(658-7221) for more information.
HOLY CROSS CWV AUXILIARY
The Holy Cross CWV Auxiliary will be meeting
on Tuesday, November,11th at 1:00 PM. Kindly
make every effort to be there.
THANKSGIVING DINNER PLANNED
Our annual Thanksgiving dinner will be held on
Thursday, Nov. 27, 2014. All parishioners and
friends are invited to attend this function at no
charge. Last year we served over 180 dinners
and enjoyed a great time together. We will be in
need of volunteers, donations of cooked turkey
breast and canned items. If can volunteer a few
hours or want to donate food items please call
Frank at 587-6571 and leave a message. He will
return your call. Check our bulletin for more
details.
PLAN AHEAD
Plans are in the making for our annual Wafer
Supper. More details will be given next week.
PLEASE PRAY FOR VOCATIONS
TO THE PRIESTHOOD
AND
CONSECREATED LIFE
Is God Calling You?
Vocational discernment groups meet to assist
young men who are discerning the possibility
that God may be calling them to a life of priestly
ministry. These groups are designed to explore
a priestly vocation with other life-minded men
through prayer and sharing vocation stories and
experiences. The group meetings aren't meant
to convince anyone that the priesthood is their
vocation. They are designed to assist you in
discovering if the priesthood is your true vocation
and build your relationship with Christ along the
way.
If you are a faithful, single, Roman Catholic man,
between the ages of 18 and 40, and are asking
yourself whether God is calling you to be a
priest, you are cordially invited to attend this
month's discernment meeting on November 23rd,
from 4:00 p.m. to 6:00 p.m. at Saint Charles
Borromeo Parish,2226
Riverton Road,
Cinnaminson, NJ Join Very Rev. Peter James
Alindogan and Rev. Chris Picollo, as they share
their experiences of the priesthood, followed by
prayer and conclude with conversation and a
meal. Please register with Vocation Office at
vocations@dioceseoftrenton.org or by calling
609-406-7449. Join us at this exciting time as
you discover and respond to His invitation!
LOVING LIFE LOGO CONTEST
Calling all high school students, here's your
chance to compete to wind an Apple MacBook!
Here's the challenge: use your own unique
artistic and creative skills to design a pro-life logo
for Loving Life 2015. Most importantly, the logo
should reflect your understanding of how we
show respect for God's gift of life. . The contest
is open to all high school students living in or
attending school in the Diocese of Trenton. The
five finalist logos will be posted on
www.DioceseofTrenton.org/RespectLifeMinistry,
and the contest winner will be chosen by the
number of votes received on the website. The
deadline for submissions is Dec. 1, 2014.
www.DiocseofTrenton.org/RespectLifeMinistry
for contest rules or contact Donna Goodwin at
609-403-7192 or dgoodw@diocseoftrento.org.