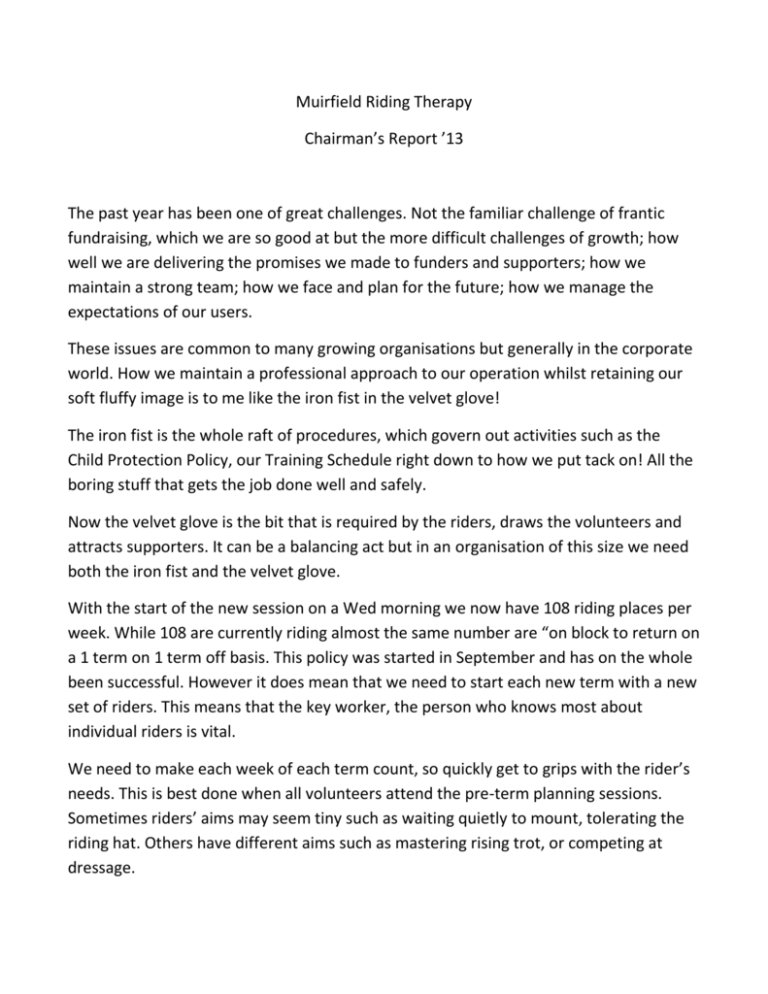 Muirfield Riding Therapy
Chairman's Report '13
The past year has been one of great challenges. Not the familiar challenge of frantic
fundraising, which we are so good at but the more difficult challenges of growth; how
well we are delivering the promises we made to funders and supporters; how we
maintain a strong team; how we face and plan for the future; how we manage the
expectations of our users.
These issues are common to many growing organisations but generally in the corporate
world. How we maintain a professional approach to our operation whilst retaining our
soft fluffy image is to me like the iron fist in the velvet glove!
The iron fist is the whole raft of procedures, which govern out activities such as the
Child Protection Policy, our Training Schedule right down to how we put tack on! All the
boring stuff that gets the job done well and safely.
Now the velvet glove is the bit that is required by the riders, draws the volunteers and
attracts supporters. It can be a balancing act but in an organisation of this size we need
both the iron fist and the velvet glove.
With the start of the new session on a Wed morning we now have 108 riding places per
week. While 108 are currently riding almost the same number are "on block to return on
a 1 term on 1 term off basis. This policy was started in September and has on the whole
been successful. However it does mean that we need to start each new term with a new
set of riders. This means that the key worker, the person who knows most about
individual riders is vital.
We need to make each week of each term count, so quickly get to grips with the rider's
needs. This is best done when all volunteers attend the pre-term planning sessions.
Sometimes riders' aims may seem tiny such as waiting quietly to mount, tolerating the
riding hat. Others have different aims such as mastering rising trot, or competing at
dressage.
Last month the Saturday session ran an Inter-session Dressage competition when each
session was represented by 3 of its riders competing against each other. They all ride
very well and the winning team? A tie between Tuesday and Thursday sessions.
Two weeks ago Thursday rider Lydia Rogers travelled to compete on Molly in the
Regional Dressage Competition at the Drum RDA. She came back with a first and a third.
Well done to her!
What the Key Worker system allows is for each rider's individual aims to be recognised
and worked towards. With the new blocking system where riders change every term the
Key Worker is even more important as the riders special friend and mentor who will
support the instructor, working as a team to progress towards the riders goals.
This kind of involvement requires commitment from the volunteer it is true, but is it not
also true that you get back what you put it?
The Mentors continue to progress each new volunteers progress through their training
schedule and in February some elements of the training were posted on the MRT
website which gives volunteers time to take in the details of such things as the Child
Protection Policy and Fire Training.
Rosemary Eaton and Wendy Hughes have organised 4 Child Protection evenings as it is
now a requirement that all volunteers attend one of these. We thank them for working
their way through this programme and dealing with CRBS – a sometimes frustrating
business!
The group also provided First Aid Appointed Person Training for 40 volunteers in
January. For this we used a new company who had done their homework and the
training provided was tailored to the situations we are likely to encounter during session
or when handling ponies.
The volunteers' thirst to learn is wonderful inspired often by working with the group's
physios. Sarah Campbell helps on a Saturday; Heather Falconer has recently completed
her diploma in Therapeutic Riding and helps on a Friday as well as being employed by
the Sick Kids on a Tuesday afternoon to run two classes. New kid on the block Felicity
Hutton is currently working on a case study as part of gaining her diploma in therapeutic
Riding. So MRT is well blessed with physio input.
Volunteers love working with these ladies and are able to see the measurable difference
that riding therapy can make.
Felicity loves coming to West Fenton not just because she gets a chance to work with
great volunteers but to see Bluebell who she shares. She is one of a band of people who
contribute financial to the keep of our ponies, keep them fit out of sessions but most
importantly they give the ponies the special love they crave. MRT is very grateful to
them for their input.
All the ponies are doing well although the oldest Kishmul has struggled a bit over the
winter, his teeth being inadequate to deal with short grass. He is looking much better
now he is getting some longer grass. McGregor too is getting on a bit. The Coll family
have shared him for 10 years and done a great job but the girls have moved on now. We
must make sure we look after him as well as they did.
Bibi has two sharers and is doing well sporting a very cute fringe courtesy of Claire
Lawrie. Claire also shares Raiden and is quietly bringing him on.
He and Bluebell are our investment ponies, youngsters still growing so we must not over
face them too soon – so far so good.
Solomon & Otis have had lovely shares for the last couple of years but both girls go off
to university in September so we will miss them.
Hjarrandi has been doing more riding therapy work recently and is great at it. His tolt is
just right for some riders.
Sonic is shared by Rachel Chatham and Smartie, lucky boy is shared by two little boys –
so sweet! We hope that lovely little Bryony will soon have a sharer.
Clare Anderson took over from Shirley Duff in March as Sharers Representative and is
doing a wonderful job keeping everyone informed and happy.
Over the last year we sold Benji and Rosie who now have happy lives more suited to
their temperaments. Arlo is also due to move on to pastures new. Some ponies just
don't like the work involved and in these cases it seems better for the pony to find him a
home where he is happily employed.
We mustn't forget our other investment! Little Dusty, foal of Bluebell. He is now over a
year old and several people are sponsoring his keep until he comes back to us. The
people who are looking after him think he has a great temperament for RDA work, very
biddable and uncomplicated. Several of the riders and volunteers pop up to see him
from time to time.
Of course some volunteers are attracted to MRT by the ponies but other come because
of the riders, but what is so good about our work is the exchange of skills and the
constant learning that it involves. There surely can be no more rewarding volunteering
opportunity................as long as you don't mind horse poo!
In February we held an open morning hoping to attract new volunteers. Recently we
have had the problem of too many junior volunteers, that is under 14, but we do try to
manage this problem rather than turn these children away. We are after all an inclusive
organisation and children can learn so much from working with us.
In September Muirfield Riding Therapy hosted a very successful County Training Day and
in February 5 of our Instructors attended the Regional training Day at the Drum. In
addition last month, for the first time MRT hosted a RDA National Exam Day when
instructors from Scotland and the north of England came here to be examined by
external examiners. It was a lot of work to organise but we all learnt such a lot.
We currently have8 Instructors. We sadly say goodbye to Fiona Jarvie who has worked
with the Wednesday evening session for over 10 years, since it started we thank her for
all her work and wish her well. It is not easy to get instructors. There is a bit of work to
do and an assessment process, which can put people off, but it is vital for the group that
we keep on training up new instructors. We welcome Sharron Colvin from Thursday
session and Yvonne Wilkinson from the Friday session who have this term become Log
Book Holders.
The treasurer will talk in detail about fundraising in more detail.
The past year we have not had so many events but have been developing other funding
strands. On the domestic level the Cash for Clothes has done well, as have the
CoinTubes and the Pony Sponsorship Scheme, managed by Win Wright has been a good
earner. New initiatives have been set up, the Wed eve session now run a 100 club,
which is doing well. The new wed am session has agreed to take on the marketing of the
on-line fundraising initiatives such as everyclick. It is all grist to the mill and each session
has a target of £3,500 to aim for per annum.
The External Fundraising Committee was dealt a blow with the sad passing of Jack
Arrundal who was a member of this committee. However we will pick up the strands
once again and continue to work on the trusts, corporate and high value donor funders.
Gift Aid of course is a wonderful scheme and has served us well
I would just like to finish my by telling you about a recent ride out which we did on a
Friday afternoon in the sunshine. Ben was riding Otis with his usual team of helpers and
suddenly had a seizure. His little body was wracked in spasm as he clamped his legs to
Otis's sides and slumped forward. Otis stood like a rock while Ben's young helpers held
the little chap until the trembling passed. They then carefully dismounted his floppy
body and handed him over to his mum who sat with him on the grass verge. One of
them stayed with his mum, another dealt with Otis and the third ran off to get Ben's
buggy.
Now the team working with Ben knew about his condition and were trained to cope but
for me, seeing these young people pull together and work in just the calm quiet manner
they had been taught, was such a privilege. The caring, practical way they dealt with Ben
and his mum is an inspiration to us all.
It is the custom at in this report for the Chair to thank the Mentors, the Communicators,
The Instructors, the Committee, the volunteers, and the sharers. I always feel that this
little footnote is a bit inadequate.
So what can I say?. That you are a wonderful team of people who I know will help those
who are in the front line to face any challenges that come our way? To thank you all for
all the time, effort, care and dedication you put into Muirfield Riding Therapy need
stronger words than a mere thank you.