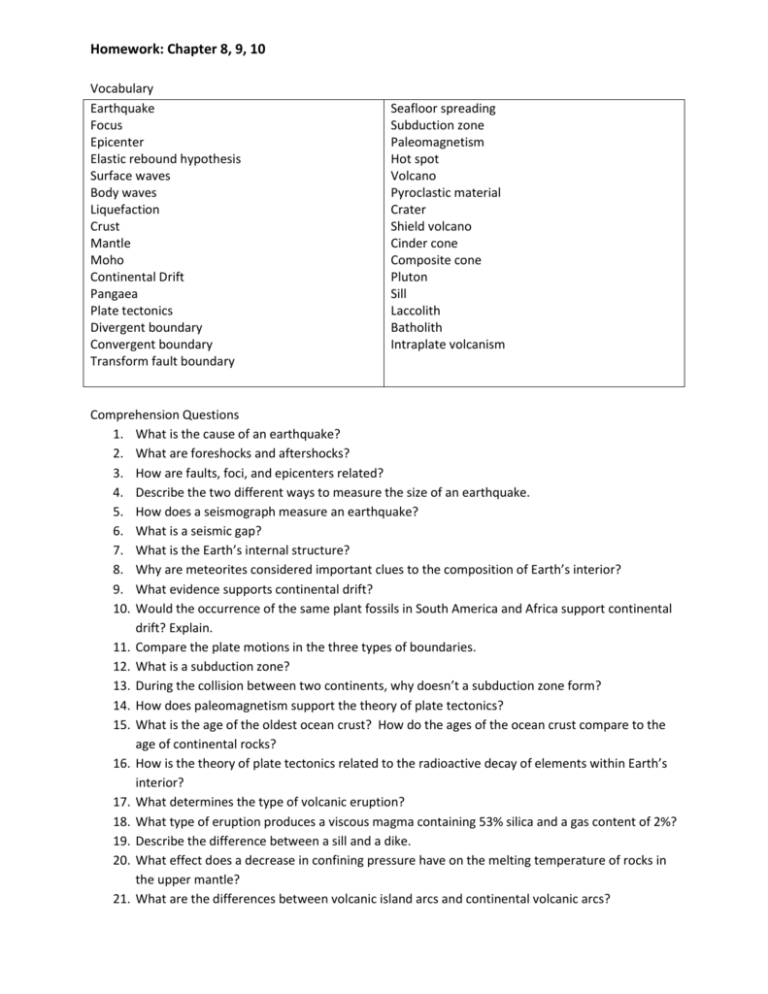 Homework: Chapter 8, 9, 10
Vocabulary
Earthquake
Focus
Epicenter
Elastic rebound hypothesis
Surface waves
Body waves
Liquefaction
Crust
Mantle
Moho
Continental Drift
Pangaea
Plate tectonics
Divergent boundary
Convergent boundary
Transform fault boundary
Seafloor spreading
Subduction zone
Paleomagnetism
Hot spot
Volcano
Pyroclastic material
Crater
Shield volcano
Cinder cone
Composite cone
Pluton
Sill
Laccolith
Batholith
Intraplate volcanism
Comprehension Questions
1. What is the cause of an earthquake?
2. What are foreshocks and aftershocks?
3. How are faults, foci, and epicenters related?
4. Describe the two different ways to measure the size of an earthquake.
5. How does a seismograph measure an earthquake?
6. What is a seismic gap?
7. What is the Earth's internal structure?
8. Why are meteorites considered important clues to the composition of Earth's interior?
9. What evidence supports continental drift?
10. Would the occurrence of the same plant fossils in South America and Africa support continental
drift? Explain.
11. Compare the plate motions in the three types of boundaries.
12. What is a subduction zone?
13. During the collision between two continents, why doesn't a subduction zone form?
14. How does paleomagnetism support the theory of plate tectonics?
15. What is the age of the oldest ocean crust? How do the ages of the ocean crust compare to the
age of continental rocks?
16. How is the theory of plate tectonics related to the radioactive decay of elements within Earth's
interior?
17. What determines the type of volcanic eruption?
18. What type of eruption produces a viscous magma containing 53% silica and a gas content of 2%?
19. Describe the difference between a sill and a dike.
20. What effect does a decrease in confining pressure have on the melting temperature of rocks in
the upper mantle?
21. What are the differences between volcanic island arcs and continental volcanic arcs?