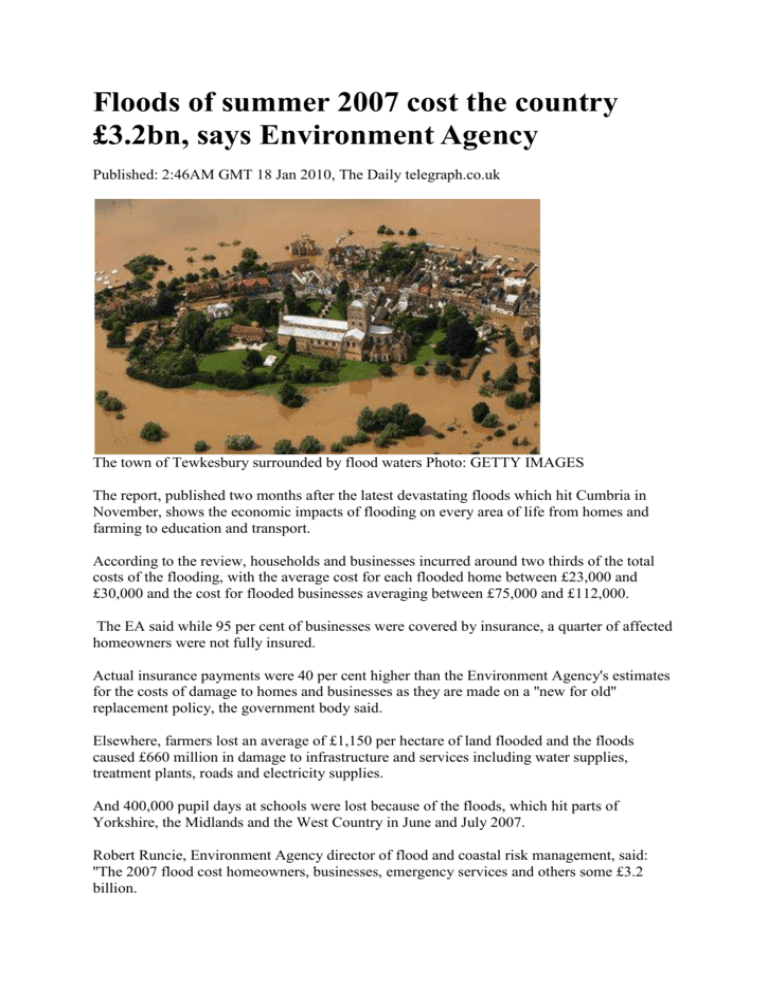 Floods of summer 2007 cost the country
£3.2bn, says Environment Agency
Published: 2:46AM GMT 18 Jan 2010, The Daily telegraph.co.uk
The town of Tewkesbury surrounded by flood waters Photo: GETTY IMAGES
The report, published two months after the latest devastating floods which hit Cumbria in
November, shows the economic impacts of flooding on every area of life from homes and
farming to education and transport.
According to the review, households and businesses incurred around two thirds of the total
costs of the flooding, with the average cost for each flooded home between £23,000 and
£30,000 and the cost for flooded businesses averaging between £75,000 and £112,000.
The EA said while 95 per cent of businesses were covered by insurance, a quarter of affected
homeowners were not fully insured.
Actual insurance payments were 40 per cent higher than the Environment Agency's estimates
for the costs of damage to homes and businesses as they are made on a ''new for old''
replacement policy, the government body said.
Elsewhere, farmers lost an average of £1,150 per hectare of land flooded and the floods
caused £660 million in damage to infrastructure and services including water supplies,
treatment plants, roads and electricity supplies.
And 400,000 pupil days at schools were lost because of the floods, which hit parts of
Yorkshire, the Midlands and the West Country in June and July 2007.
Robert Runcie, Environment Agency director of flood and coastal risk management, said:
''The 2007 flood cost homeowners, businesses, emergency services and others some £3.2
billion.
''The high costs of flooding underline the importance for continued investment in reducing
flood risk, particularly as climate change means that we are more likely to see more severe
and frequent flooding in future.''
Costs incurred by the 2007 floods included damage to communications, transport and roads
of some £230 million, costs to local government of £140 million and agriculture suffered
losses of £50 million, the EA report said.
The Environment Agency is warning that the average annual cost of flood damage could rise
by 60% by 2035 unless funding for defences is doubled to £1 billion a year by then to protect
against climate change.