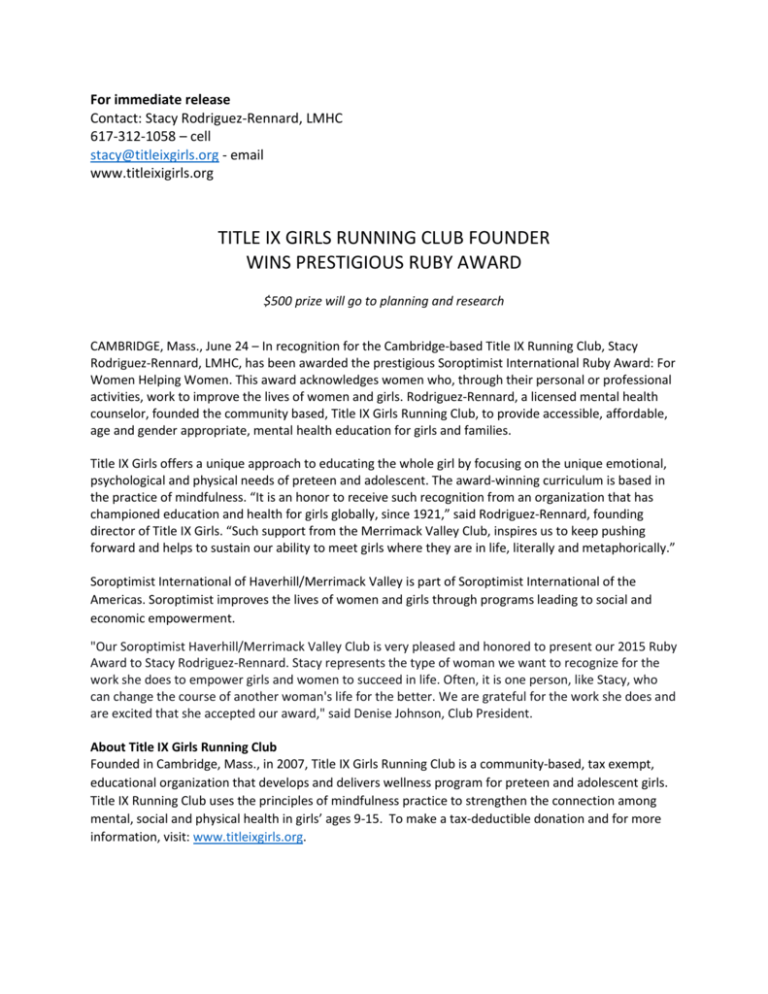 For immediate release
Contact: Stacy Rodriguez-Rennard, LMHC
617-312-1058 – cell
stacy@titleixgirls.org - email
www.titleixigirls.org
TITLE IX GIRLS RUNNING CLUB FOUNDER
WINS PRESTIGIOUS RUBY AWARD
$500 prize will go to planning and research
CAMBRIDGE, Mass., June 24 – In recognition for the Cambridge-based Title IX Running Club, Stacy
Rodriguez-Rennard, LMHC, has been awarded the prestigious Soroptimist International Ruby Award: For
Women Helping Women. This award acknowledges women who, through their personal or professional
activities, work to improve the lives of women and girls. Rodriguez-Rennard, a licensed mental health
counselor, founded the community based, Title IX Girls Running Club, to provide accessible, affordable,
age and gender appropriate, mental health education for girls and families.
Title IX Girls offers a unique approach to educating the whole girl by focusing on the unique emotional,
psychological and physical needs of preteen and adolescent. The award-winning curriculum is based in
the practice of mindfulness. "It is an honor to receive such recognition from an organization that has
championed education and health for girls globally, since 1921," said Rodriguez-Rennard, founding
director of Title IX Girls. "Such support from the Merrimack Valley Club, inspires us to keep pushing
forward and helps to sustain our ability to meet girls where they are in life, literally and metaphorically."
Soroptimist International of Haverhill/Merrimack Valley is part of Soroptimist International of the
Americas. Soroptimist improves the lives of women and girls through programs leading to social and
economic empowerment.
"Our Soroptimist Haverhill/Merrimack Valley Club is very pleased and honored to present our 2015 Ruby
Award to Stacy Rodriguez-Rennard. Stacy represents the type of woman we want to recognize for the
work she does to empower girls and women to succeed in life. Often, it is one person, like Stacy, who
can change the course of another woman's life for the better. We are grateful for the work she does and
are excited that she accepted our award," said Denise Johnson, Club President.
About Title IX Girls Running Club
Founded in Cambridge, Mass., in 2007, Title IX Girls Running Club is a community-based, tax exempt,
educational organization that develops and delivers wellness program for preteen and adolescent girls.
Title IX Running Club uses the principles of mindfulness practice to strengthen the connection among
mental, social and physical health in girls' ages 9-15. To make a tax-deductible donation and for more
information, visit: www.titleixgirls.org.