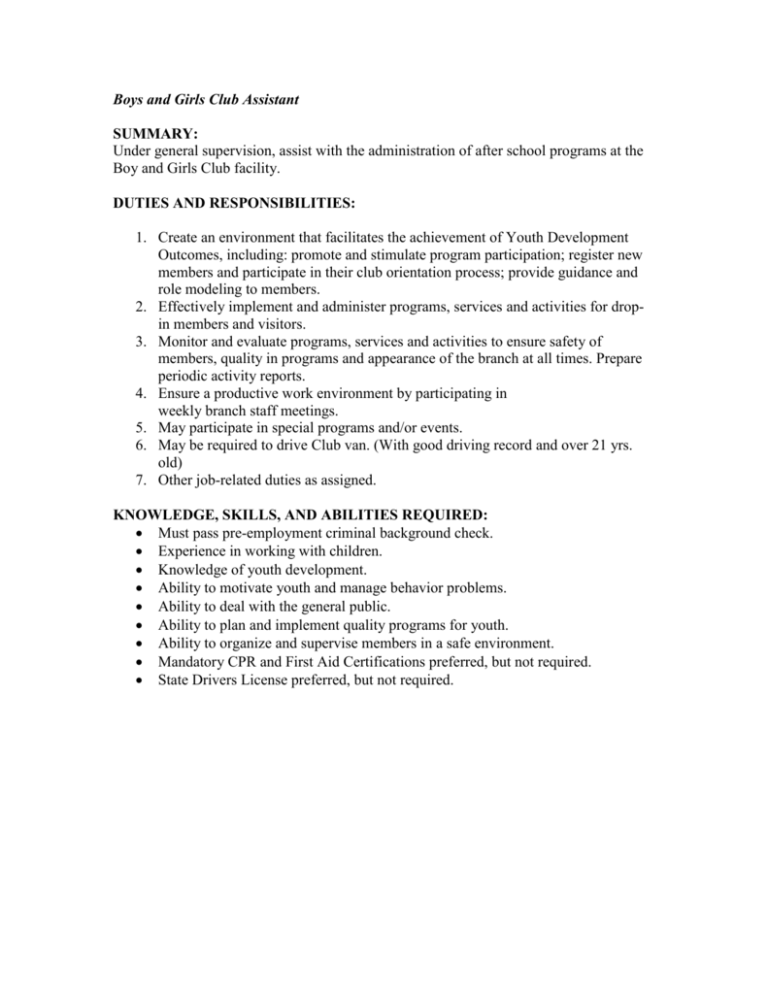 Boys and Girls Club Assistant
SUMMARY:
Under general supervision, assist with the administration of after school programs at the
Boy and Girls Club facility.
DUTIES AND RESPONSIBILITIES:
1. Create an environment that facilitates the achievement of Youth Development
Outcomes, including: promote and stimulate program participation; register new
members and participate in their club orientation process; provide guidance and
role modeling to members.
2. Effectively implement and administer programs, services and activities for dropin members and visitors.
3. Monitor and evaluate programs, services and activities to ensure safety of
members, quality in programs and appearance of the branch at all times. Prepare
periodic activity reports.
4. Ensure a productive work environment by participating in
weekly branch staff meetings.
5. May participate in special programs and/or events.
6. May be required to drive Club van. (With good driving record and over 21 yrs.
old)
7. Other job-related duties as assigned.
KNOWLEDGE, SKILLS, AND ABILITIES REQUIRED:
 Must pass pre-employment criminal background check.
 Experience in working with children.
 Knowledge of youth development.
 Ability to motivate youth and manage behavior problems.
 Ability to deal with the general public.
 Ability to plan and implement quality programs for youth.
 Ability to organize and supervise members in a safe environment.
 Mandatory CPR and First Aid Certifications preferred, but not required.
 State Drivers License preferred, but not required.