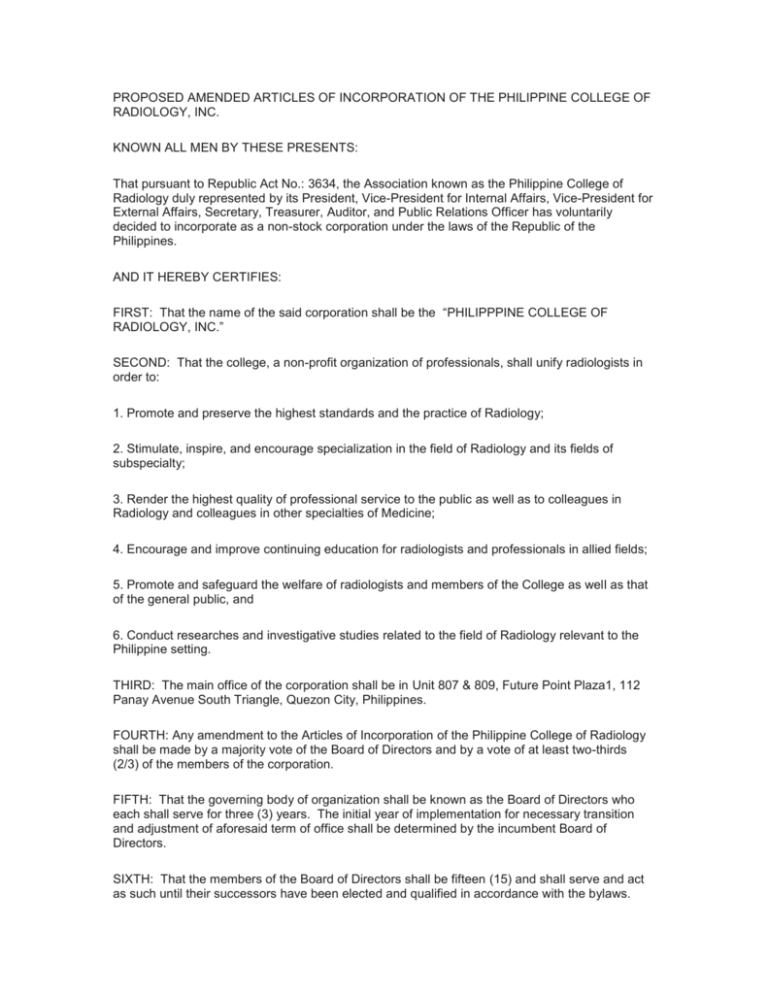 PROPOSED AMENDED ARTICLES OF INCORPORATION OF THE PHILIPPINE COLLEGE OF
RADIOLOGY, INC.
KNOWN ALL MEN BY THESE PRESENTS:
That pursuant to Republic Act No.: 3634, the Association known as the Philippine College of
Radiology duly represented by its President, Vice-President for Internal Affairs, Vice-President for
External Affairs, Secretary, Treasurer, Auditor, and Public Relations Officer has voluntarily
decided to incorporate as a non-stock corporation under the laws of the Republic of the
Philippines.
AND IT HEREBY CERTIFIES:
FIRST: That the name of the said corporation shall be the "PHILIPPPINE COLLEGE OF
RADIOLOGY, INC."
SECOND: That the college, a non-profit organization of professionals, shall unify radiologists in
order to:
1. Promote and preserve the highest standards and the practice of Radiology;
2. Stimulate, inspire, and encourage specialization in the field of Radiology and its fields of
subspecialty;
3. Render the highest quality of professional service to the public as well as to colleagues in
Radiology and colleagues in other specialties of Medicine;
4. Encourage and improve continuing education for radiologists and professionals in allied fields;
5. Promote and safeguard the welfare of radiologists and members of the College as well as that
of the general public, and
6. Conduct researches and investigative studies related to the field of Radiology relevant to the
Philippine setting.
THIRD: The main office of the corporation shall be in Unit 807 & 809, Future Point Plaza1, 112
Panay Avenue South Triangle, Quezon City, Philippines.
FOURTH: Any amendment to the Articles of Incorporation of the Philippine College of Radiology
shall be made by a majority vote of the Board of Directors and by a vote of at least two-thirds
(2/3) of the members of the corporation.
FIFTH: That the governing body of organization shall be known as the Board of Directors who
each shall serve for three (3) years. The initial year of implementation for necessary transition
and adjustment of aforesaid term of office shall be determined by the incumbent Board of
Directors.
SIXTH: That the members of the Board of Directors shall be fifteen (15) and shall serve and act
as such until their successors have been elected and qualified in accordance with the bylaws.