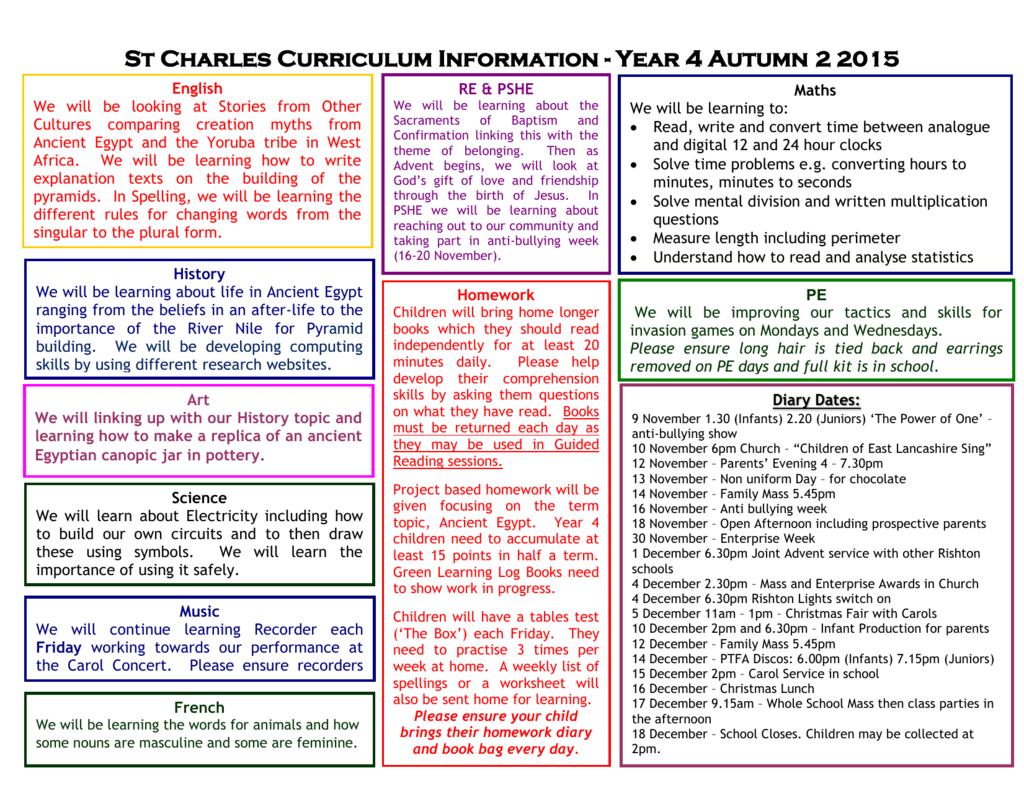 St Charles Curriculum Information - Year 4 Autumn 2 2015
English
We will be looking at Stories from Other
Cultures comparing creation myths from
Ancient Egypt and the Yoruba tribe in West
Africa. We will be learning how to write
explanation texts on the building of the
pyramids. In Spelling, we will be learning the
different rules for changing words from the
singular to the plural form.
History
We will be learning about life in Ancient Egypt
ranging from the beliefs in an after-life to the
importance of the River Nile for Pyramid
building. We will be developing computing
skills by using different research websites.
Art
We will linking up with our History topic and
learning how to make a replica of an ancient
Egyptian canopic jar in pottery.
Science
We will learn about Electricity including how
to build our own circuits and to then draw
these using symbols.
We will learn the
importance of using it safely.
Music
We will continue learning Recorder each
Friday working towards our performance at
the Carol Concert. Please ensure recorders
are in school.
French
We will be learning the words for animals and how
some nouns are masculine and some are feminine.
RE & PSHE
We will be learning about the
Sacraments
of
Baptism
and
Confirmation linking this with the
theme of belonging.
Then as
Advent begins, we will look at
God's gift of love and friendship
through the birth of Jesus. In
PSHE we will be learning about
reaching out to our community and
taking part in anti-bullying week
(16-20 November).
Homework
Children will bring home longer
books which they should read
independently for at least 20
minutes daily.
Please help
develop their comprehension
skills by asking them questions
on what they have read. Books
must be returned each day as
they may be used in Guided
Reading sessions.
Project based homework will be
given focusing on the term
topic, Ancient Egypt. Year 4
children need to accumulate at
least 15 points in half a term.
Green Learning Log Books need
to show work in progress.
Children will have a tables test
('The Box') each Friday. They
need to practise 3 times per
week at home. A weekly list of
spellings or a worksheet will
also be sent home for learning.
Please ensure your child
brings their homework diary
and book bag every day.
Maths
We will be learning to:
 Read, write and convert time between analogue
and digital 12 and 24 hour clocks
 Solve time problems e.g. converting hours to
minutes, minutes to seconds
 Solve mental division and written multiplication
questions
 Measure length including perimeter
 Understand how to read and analyse statistics
PE
We will be improving our tactics and skills for
invasion games on Mondays and Wednesdays.
Please ensure long hair is tied back and earrings
removed on PE days and full kit is in school.
Diary Dates:
9 November 1.30 (Infants) 2.20 (Juniors) 'The Power of One' –
anti-bullying show
10 November 6pm Church – "Children of East Lancashire Sing"
12 November – Parents' Evening 4 – 7.30pm
13 November – Non uniform Day – for chocolate
14 November – Family Mass 5.45pm
16 November – Anti bullying week
18 November – Open Afternoon including prospective parents
30 November – Enterprise Week
1 December 6.30pm Joint Advent service with other Rishton
schools
4 December 2.30pm – Mass and Enterprise Awards in Church
4 December 6.30pm Rishton Lights switch on
5 December 11am – 1pm – Christmas Fair with Carols
10 December 2pm and 6.30pm – Infant Production for parents
12 December – Family Mass 5.45pm
14 December – PTFA Discos: 6.00pm (Infants) 7.15pm (Juniors)
15 December 2pm – Carol Service in school
16 December – Christmas Lunch
17 December 9.15am – Whole School Mass then class parties in
the afternoon
18 December – School Closes. Children may be collected at
2pm.