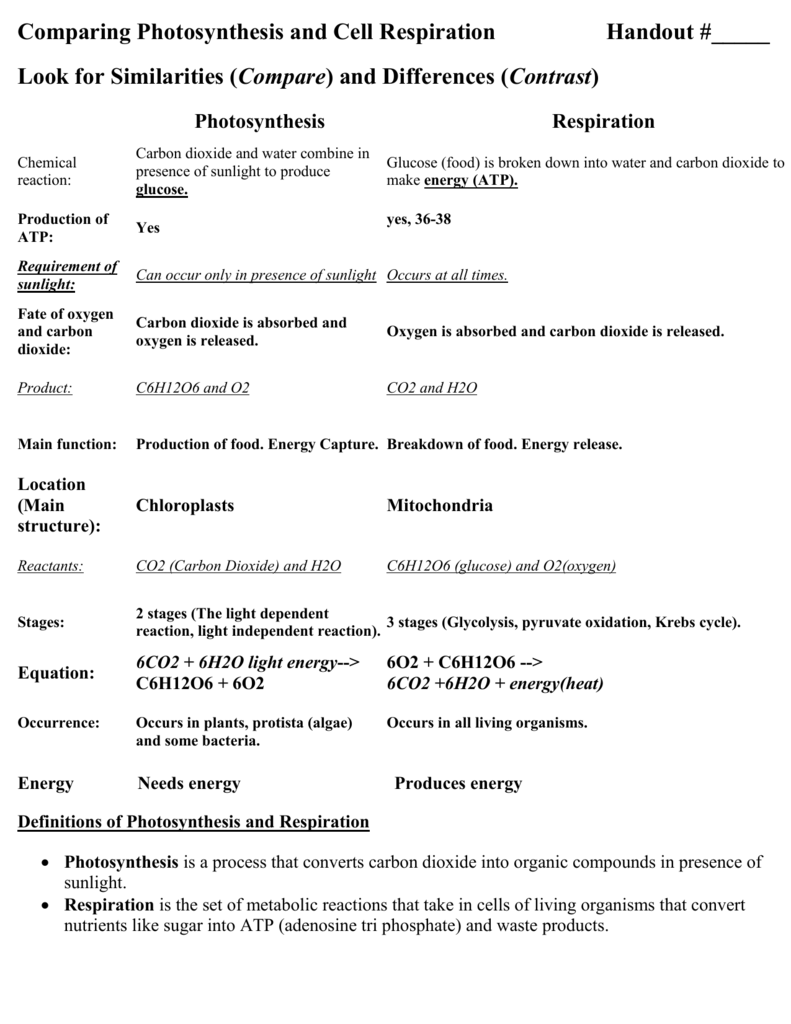 Comparing Photosynthesis and Cell Respiration
Handout #_____
Look for Similarities (Compare) and Differences (Contrast)
Photosynthesis
Respiration
Chemical
reaction:
Carbon dioxide and water combine in
presence of sunlight to produce
glucose.
Production of
ATP:
Yes
Requirement of
sunlight:
Can occur only in presence of sunlight Occurs at all times.
Fate of oxygen
and carbon
dioxide:
Carbon dioxide is absorbed and
oxygen is released.
Oxygen is absorbed and carbon dioxide is released.
Product:
C6H12O6 and O2
CO2 and H2O
Main function:
Production of food. Energy Capture. Breakdown of food. Energy release.
Location
(Main
structure):
Chloroplasts
Mitochondria
Reactants:
CO2 (Carbon Dioxide) and H2O
C6H12O6 (glucose) and O2(oxygen)
Stages:
2 stages (The light dependent
3 stages (Glycolysis, pyruvate oxidation, Krebs cycle).
reaction, light independent reaction).
Equation:
6CO2 + 6H2O light energy-->
C6H12O6 + 6O2
6O2 + C6H12O6 -->
6CO2 +6H2O + energy(heat)
Occurrence:
Occurs in plants, protista (algae)
and some bacteria.
Occurs in all living organisms.
Energy
Needs energy
Glucose (food) is broken down into water and carbon dioxide to
make energy (ATP).
yes, 36-38
Produces energy
Definitions of Photosynthesis and Respiration
 Photosynthesis is a process that converts carbon dioxide into organic compounds in presence of
sunlight.
 Respiration is the set of metabolic reactions that take in cells of living organisms that convert
nutrients like sugar into ATP (adenosine tri phosphate) and waste products.