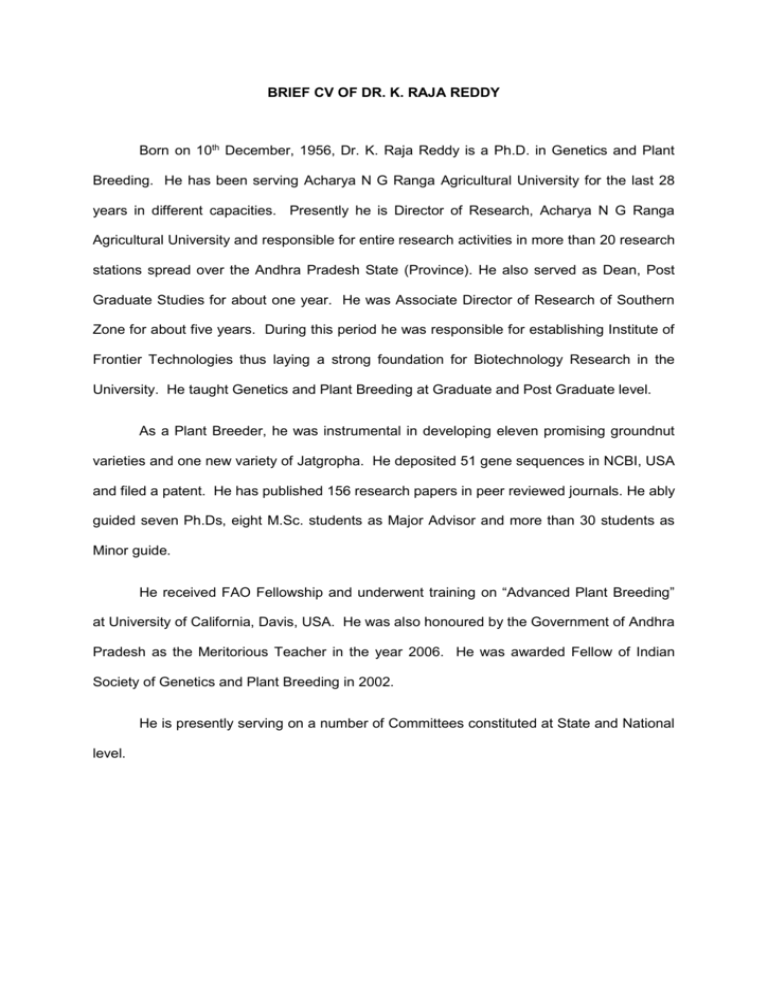 BRIEF CV OF DR. K. RAJA REDDY
Born on 10th December, 1956, Dr. K. Raja Reddy is a Ph.D. in Genetics and Plant
Breeding. He has been serving Acharya N G Ranga Agricultural University for the last 28
years in different capacities. Presently he is Director of Research, Acharya N G Ranga
Agricultural University and responsible for entire research activities in more than 20 research
stations spread over the Andhra Pradesh State (Province). He also served as Dean, Post
Graduate Studies for about one year. He was Associate Director of Research of Southern
Zone for about five years. During this period he was responsible for establishing Institute of
Frontier Technologies thus laying a strong foundation for Biotechnology Research in the
University. He taught Genetics and Plant Breeding at Graduate and Post Graduate level.
As a Plant Breeder, he was instrumental in developing eleven promising groundnut
varieties and one new variety of Jatgropha. He deposited 51 gene sequences in NCBI, USA
and filed a patent. He has published 156 research papers in peer reviewed journals. He ably
guided seven Ph.Ds, eight M.Sc. students as Major Advisor and more than 30 students as
Minor guide.
He received FAO Fellowship and underwent training on "Advanced Plant Breeding"
at University of California, Davis, USA. He was also honoured by the Government of Andhra
Pradesh as the Meritorious Teacher in the year 2006. He was awarded Fellow of Indian
Society of Genetics and Plant Breeding in 2002.
He is presently serving on a number of Committees constituted at State and National
level.