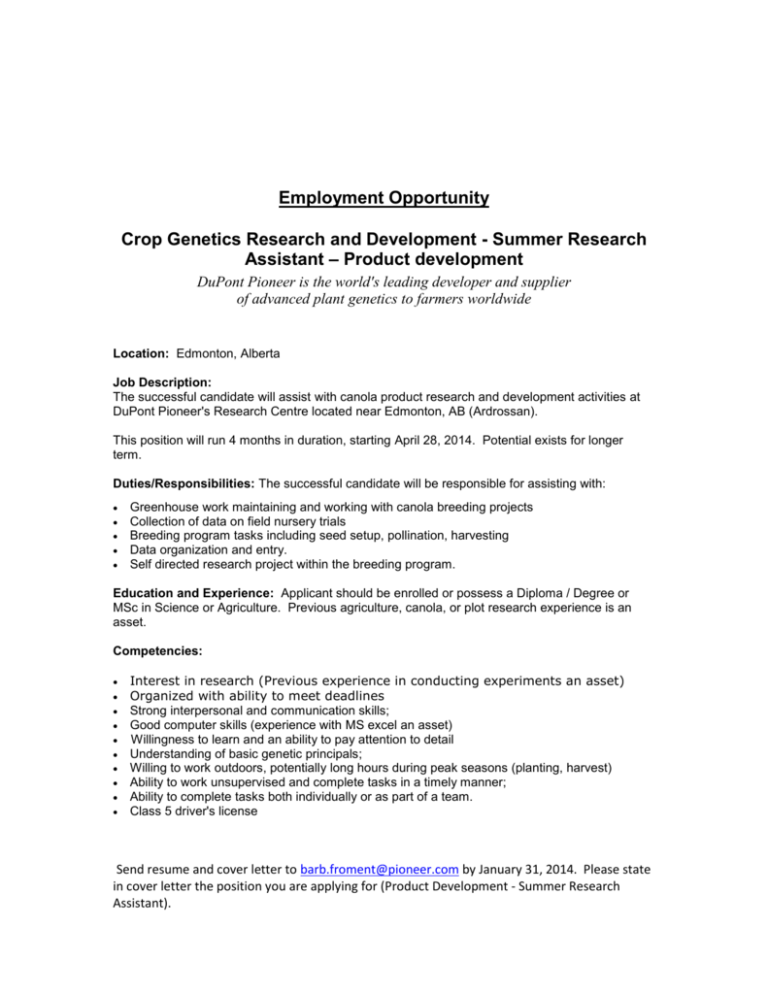 Employment Opportunity
Crop Genetics Research and Development - Summer Research
Assistant – Product development
DuPont Pioneer is the world's leading developer and supplier
of advanced plant genetics to farmers worldwide
Location: Edmonton, Alberta
Job Description:
The successful candidate will assist with canola product research and development activities at
DuPont Pioneer's Research Centre located near Edmonton, AB (Ardrossan).
This position will run 4 months in duration, starting April 28, 2014. Potential exists for longer
term.
Duties/Responsibilities: The successful candidate will be responsible for assisting with:





Greenhouse work maintaining and working with canola breeding projects
Collection of data on field nursery trials
Breeding program tasks including seed setup, pollination, harvesting
Data organization and entry.
Self directed research project within the breeding program.
Education and Experience: Applicant should be enrolled or possess a Diploma / Degree or
MSc in Science or Agriculture. Previous agriculture, canola, or plot research experience is an
asset.
Competencies:










Interest in research (Previous experience in conducting experiments an asset)
Organized with ability to meet deadlines
Strong interpersonal and communication skills;
Good computer skills (experience with MS excel an asset)
Willingness to learn and an ability to pay attention to detail
Understanding of basic genetic principals;
Willing to work outdoors, potentially long hours during peak seasons (planting, harvest)
Ability to work unsupervised and complete tasks in a timely manner;
Ability to complete tasks both individually or as part of a team.
Class 5 driver's license
Send resume and cover letter to barb.froment@pioneer.com by January 31, 2014. Please state
in cover letter the position you are applying for (Product Development - Summer Research
Assistant).