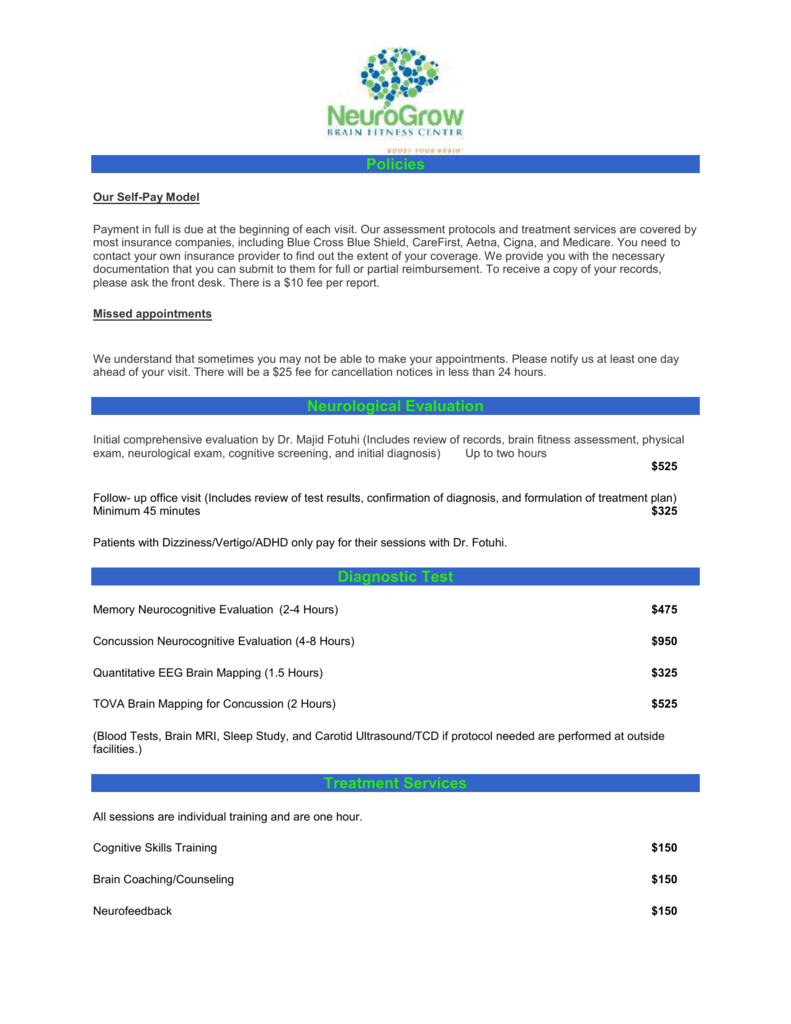 Policies
Our Self-Pay Model
Payment in full is due at the beginning of each visit. Our assessment protocols and treatment services are covered by
most insurance companies, including Blue Cross Blue Shield, CareFirst, Aetna, Cigna, and Medicare. You need to
contact your own insurance provider to find out the extent of your coverage. We provide you with the necessary
documentation that you can submit to them for full or partial reimbursement. To receive a copy of your records,
please ask the front desk. There is a $10 fee per report.
Missed appointments
We understand that sometimes you may not be able to make your appointments. Please notify us at least one day
ahead of your visit. There will be a $25 fee for cancellation notices in less than 24 hours.
Neurological Evaluation
Initial comprehensive evaluation by Dr. Majid Fotuhi (Includes review of records, brain fitness assessment, physical
exam, neurological exam, cognitive screening, and initial diagnosis)
Up to two hours
$525
Follow- up office visit (Includes review of test results, confirmation of diagnosis, and formulation of treatment plan)
Minimum 45 minutes
$325
Patients with Dizziness/Vertigo/ADHD only pay for their sessions with Dr. Fotuhi.
Diagnostic Test
Memory Neurocognitive Evaluation (2-4 Hours)
$475
Concussion Neurocognitive Evaluation (4-8 Hours)
$950
Quantitative EEG Brain Mapping (1.5 Hours)
$325
TOVA Brain Mapping for Concussion (2 Hours)
$525
(Blood Tests, Brain MRI, Sleep Study, and Carotid Ultrasound/TCD if protocol needed are performed at outside
facilities.)
Treatment Services
All sessions are individual training and are one hour.
Cognitive Skills Training
$150
Brain Coaching/Counseling
$150
Neurofeedback
$150
Packages
The cost for a comprehensive Memory Brain Fitness work-up which includes initial comprehensive evaluation,
neurocognitive evaluation, brain mapping, and follow up.
$1650
The cost for a comprehensive concussion work-up which includes initial comprehensive evaluation, concussion
neurocognitive evaluation, TOVA brain mapping, and follow up.
$2325
The treatment sessions with multi-disciplinary "Brain Fitness Program" or "Concussion Recovery Program" can
range from $600 (four brain coaching sessions) to $9000 (for 60 hours of cognitive rehabilitation over a 12 week
period).
We offer a 10% discount when the total amount of the work-up or treatment plan is paid in advance. More than
80% of our patients who complete our full Brain Fitness Program, Concussion Recovery Program, or Executive
Fitness Program gain significant improvements in their cognitive function. We guarantee we can help you
enhance your brain performance as well. You have the option to stop your diagnostic work-up or your treatment
at any time you are not satisfied. If you paid in advance, we will refund you for sessions not yet completed.