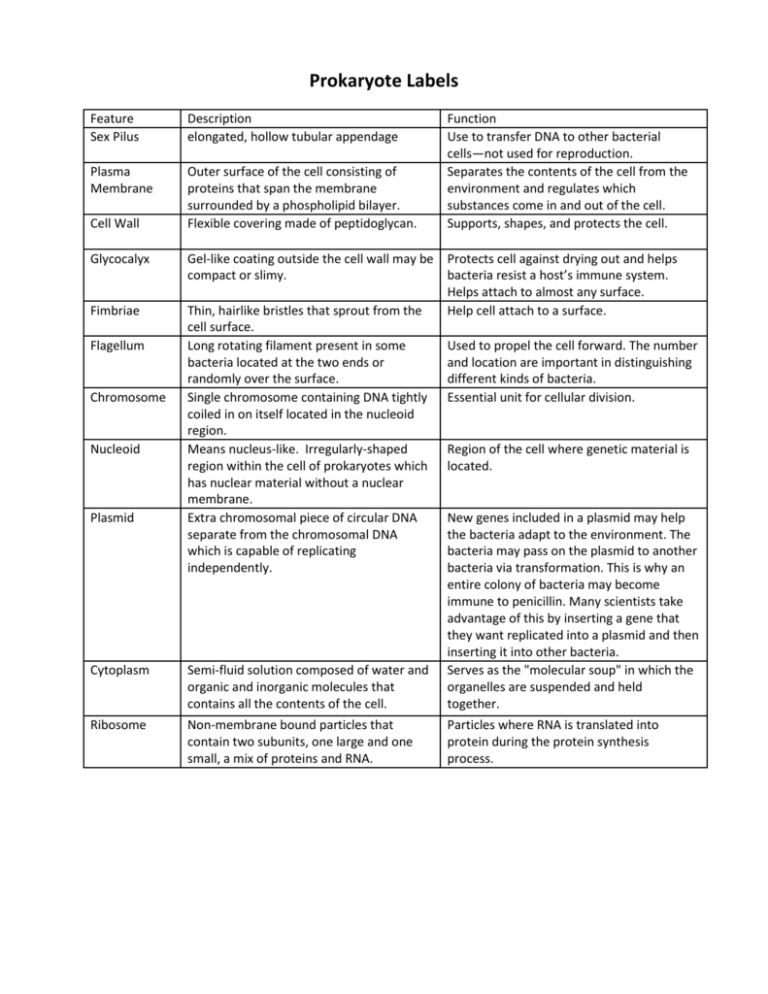 Prokaryote Labels
Feature
Sex Pilus
Description
elongated, hollow tubular appendage
Plasma
Membrane
Outer surface of the cell consisting of
proteins that span the membrane
surrounded by a phospholipid bilayer.
Flexible covering made of peptidoglycan.
Cell Wall
Glycocalyx
Fimbriae
Flagellum
Chromosome
Nucleoid
Plasmid
Cytoplasm
Ribosome
Function
Use to transfer DNA to other bacterial
cells—not used for reproduction.
Separates the contents of the cell from the
environment and regulates which
substances come in and out of the cell.
Supports, shapes, and protects the cell.
Gel-like coating outside the cell wall may be Protects cell against drying out and helps
compact or slimy.
bacteria resist a host's immune system.
Helps attach to almost any surface.
Thin, hairlike bristles that sprout from the
Help cell attach to a surface.
cell surface.
Long rotating filament present in some
Used to propel the cell forward. The number
bacteria located at the two ends or
and location are important in distinguishing
randomly over the surface.
different kinds of bacteria.
Single chromosome containing DNA tightly Essential unit for cellular division.
coiled in on itself located in the nucleoid
region.
Means nucleus-like. Irregularly-shaped
Region of the cell where genetic material is
region within the cell of prokaryotes which located.
has nuclear material without a nuclear
membrane.
Extra chromosomal piece of circular DNA
New genes included in a plasmid may help
separate from the chromosomal DNA
the bacteria adapt to the environment. The
which is capable of replicating
bacteria may pass on the plasmid to another
independently.
bacteria via transformation. This is why an
entire colony of bacteria may become
immune to penicillin. Many scientists take
advantage of this by inserting a gene that
they want replicated into a plasmid and then
inserting it into other bacteria.
Semi-fluid solution composed of water and Serves as the "molecular soup" in which the
organic and inorganic molecules that
organelles are suspended and held
contains all the contents of the cell.
together.
Non-membrane bound particles that
contain two subunits, one large and one
small, a mix of proteins and RNA.
Particles where RNA is translated into
protein during the protein synthesis
process.