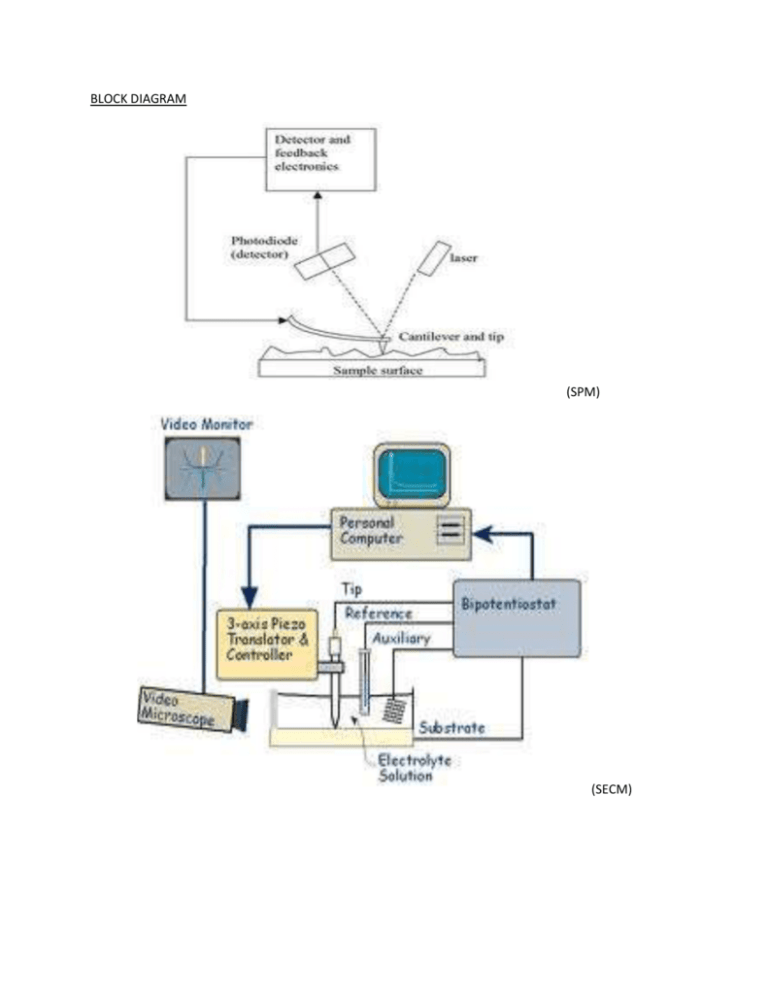 BLOCK DIAGRAM
(SPM)
(SECM)
VENDORS
1.
2.
3.
4.
5.
6.
7.
8.
9.
10.
Danish Micro Egineering
L.O.T Oriel UK
Minus K. Technology
Agilent Techonologies
Nanosurf AG
NT-MDT Company
Ambios Techonolgy
RHK Techonlogy
Soniz, Inc.
SIS Surface Imaging Systems
RESEARCH ARTICLES
Wan-Hsien Lin, Hikaru Saito, Takashi Nemoto, Hiroki Kurata, Mitch M.C. Chou, Seiji Isoda, and Jih-Jen
Wu. Photo-Assisted Scanning Tunneling Microscopy Investigation on the ZnO(0001)-Zn
Surface Treated by Alkaline Solution. The Journal of Physical Chemistry. 2012. Just Accepted
Manuscript.
Article 1 (SPM)
Jinsung Park, Jaemoon Yang, G, et al. Single-Molecule Recognition of Biomolecular Interaction via
Kelvin Probe Force Microscopy. ACS Nano.2011. 5 (9), pp. 6981-6990.
Article 2 (SPM)
Jessica F. Frisz, Ji Sun Choi, Robert L. Wilson, Brendan A. C. Harley, and Mary L. Kraft. Identifying
Differentiation Stage of Individual Primary Hematopoietic Cells from Mouse Bone Marrow
by Multivariate Analysis of TOF-Secondary Ion Mass Spectrometry Data. Journal of Analytical
Chemistry. Article ASAP.
Article 3 (SPM)
COMMON USE
The SPM is used to taken images and capture topographical information about the surface of the
molecules.