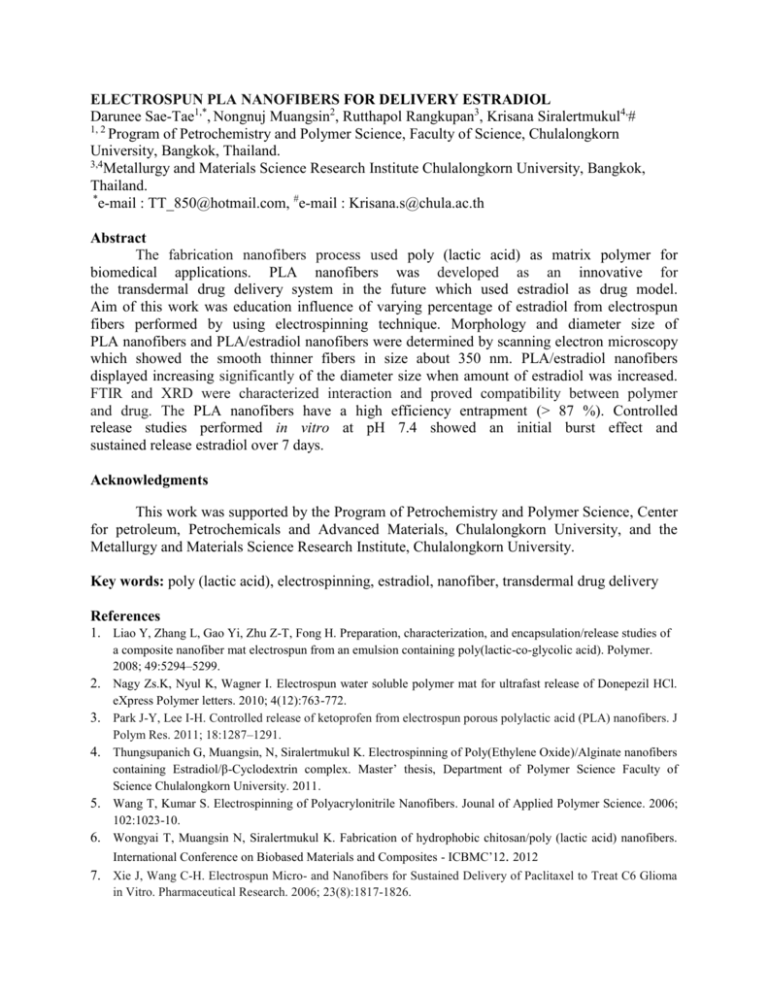 ELECTROSPUN PLA NANOFIBERS FOR DELIVERY ESTRADIOL
Darunee Sae-Tae1,*, Nongnuj Muangsin2, Rutthapol Rangkupan3, Krisana Siralertmukul4,#
1, 2
Program of Petrochemistry and Polymer Science, Faculty of Science, Chulalongkorn
University, Bangkok, Thailand.
3,4
Metallurgy and Materials Science Research Institute Chulalongkorn University, Bangkok,
Thailand.
*
e-mail : TT_850@hotmail.com, #e-mail : Krisana.s@chula.ac.th
Abstract
The fabrication nanofibers process used poly (lactic acid) as matrix polymer for
biomedical applications. PLA nanofibers was developed as an innovative for
the transdermal drug delivery system in the future which used estradiol as drug model.
Aim of this work was education influence of varying percentage of estradiol from electrospun
fibers performed by using electrospinning technique. Morphology and diameter size of
PLA nanofibers and PLA/estradiol nanofibers were determined by scanning electron microscopy
which showed the smooth thinner fibers in size about 350 nm. PLA/estradiol nanofibers
displayed increasing significantly of the diameter size when amount of estradiol was increased.
FTIR and XRD were characterized interaction and proved compatibility between polymer
and drug. The PLA nanofibers have a high efficiency entrapment (> 87 %). Controlled
release studies performed in vitro at pH 7.4 showed an initial burst effect and
sustained release estradiol over 7 days.
Acknowledgments
This work was supported by the Program of Petrochemistry and Polymer Science, Center
for petroleum, Petrochemicals and Advanced Materials, Chulalongkorn University, and the
Metallurgy and Materials Science Research Institute, Chulalongkorn University.
Key words: poly (lactic acid), electrospinning, estradiol, nanofiber, transdermal drug delivery
References
1. Liao Y, Zhang L, Gao Yi, Zhu Z-T, Fong H. Preparation, characterization, and encapsulation/release studies of
2.
3.
4.
5.
6.
a composite nanofiber mat electrospun from an emulsion containing poly(lactic-co-glycolic acid). Polymer.
2008; 49:5294–5299.
Nagy Zs.K, Nyul K, Wagner I. Electrospun water soluble polymer mat for ultrafast release of Donepezil HCl.
eXpress Polymer letters. 2010; 4(12):763-772.
Park J-Y, Lee I-H. Controlled release of ketoprofen from electrospun porous polylactic acid (PLA) nanofibers. J
Polym Res. 2011; 18:1287–1291.
Thungsupanich G, Muangsin, N, Siralertmukul K. Electrospinning of Poly(Ethylene Oxide)/Alginate nanofibers
containing Estradiol/β-Cyclodextrin complex. Master' thesis, Department of Polymer Science Faculty of
Science Chulalongkorn University. 2011.
Wang T, Kumar S. Electrospinning of Polyacrylonitrile Nanofibers. Jounal of Applied Polymer Science. 2006;
102:1023-10.
Wongyai T, Muangsin N, Siralertmukul K. Fabrication of hydrophobic chitosan/poly (lactic acid) nanofibers.
International Conference on Biobased Materials and Composites - ICBMC'12. 2012
7. Xie J, Wang C-H. Electrospun Micro- and Nanofibers for Sustained Delivery of Paclitaxel to Treat C6 Glioma
in Vitro. Pharmaceutical Research. 2006; 23(8):1817-1826.