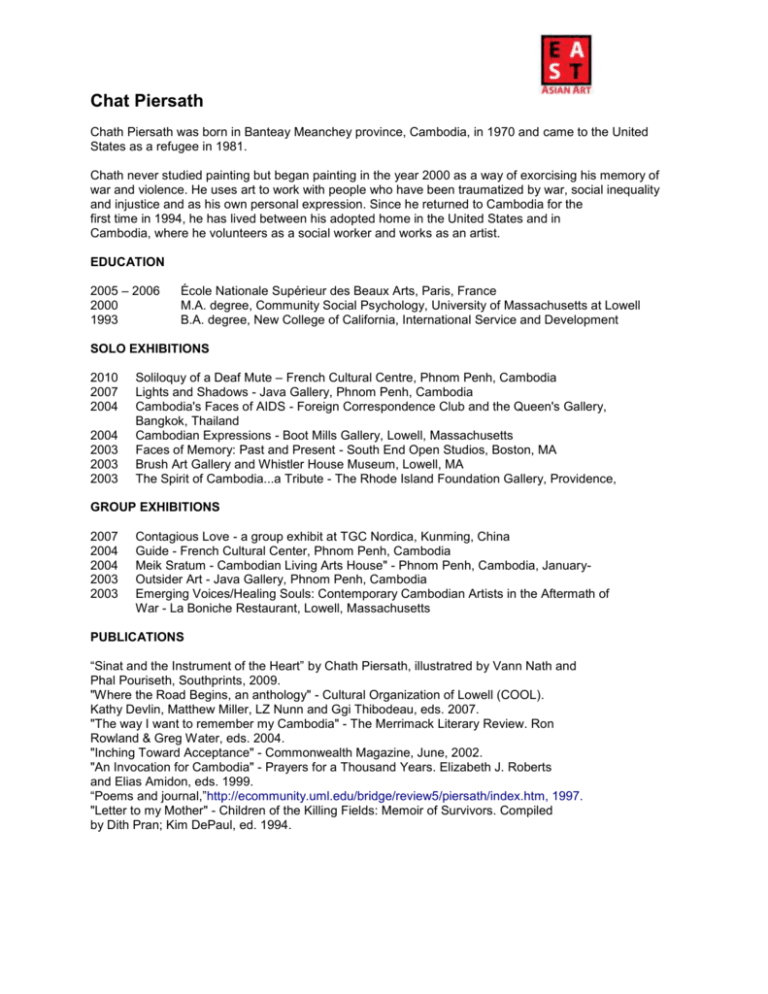 Chat Piersath
Chath Piersath was born in Banteay Meanchey province, Cambodia, in 1970 and came to the United
States as a refugee in 1981.
Chath never studied painting but began painting in the year 2000 as a way of exorcising his memory of
war and violence. He uses art to work with people who have been traumatized by war, social inequality
and injustice and as his own personal expression. Since he returned to Cambodia for the
first time in 1994, he has lived between his adopted home in the United States and in
Cambodia, where he volunteers as a social worker and works as an artist.
EDUCATION
2005 – 2006
2000
1993
École Nationale Supérieur des Beaux Arts, Paris, France
M.A. degree, Community Social Psychology, University of Massachusetts at Lowell
B.A. degree, New College of California, International Service and Development
SOLO EXHIBITIONS
2010
2007
2004
2004
2003
2003
2003
Soliloquy of a Deaf Mute – French Cultural Centre, Phnom Penh, Cambodia
Lights and Shadows - Java Gallery, Phnom Penh, Cambodia
Cambodia's Faces of AIDS - Foreign Correspondence Club and the Queen's Gallery,
Bangkok, Thailand
Cambodian Expressions - Boot Mills Gallery, Lowell, Massachusetts
Faces of Memory: Past and Present - South End Open Studios, Boston, MA
Brush Art Gallery and Whistler House Museum, Lowell, MA
The Spirit of Cambodia...a Tribute - The Rhode Island Foundation Gallery, Providence,
GROUP EXHIBITIONS
2007
2004
2004
2003
2003
Contagious Love - a group exhibit at TGC Nordica, Kunming, China
Guide - French Cultural Center, Phnom Penh, Cambodia
Meik Sratum - Cambodian Living Arts House" - Phnom Penh, Cambodia, JanuaryOutsider Art - Java Gallery, Phnom Penh, Cambodia
Emerging Voices/Healing Souls: Contemporary Cambodian Artists in the Aftermath of
War - La Boniche Restaurant, Lowell, Massachusetts
PUBLICATIONS
"Sinat and the Instrument of the Heart" by Chath Piersath, illustratred by Vann Nath and
Phal Pouriseth, Southprints, 2009.
"Where the Road Begins, an anthology" - Cultural Organization of Lowell (COOL).
Kathy Devlin, Matthew Miller, LZ Nunn and Ggi Thibodeau, eds. 2007.
"The way I want to remember my Cambodia" - The Merrimack Literary Review. Ron
Rowland & Greg Water, eds. 2004.
"Inching Toward Acceptance" - Commonwealth Magazine, June, 2002.
"An Invocation for Cambodia" - Prayers for a Thousand Years. Elizabeth J. Roberts
and Elias Amidon, eds. 1999.
"Poems and journal,"http://ecommunity.uml.edu/bridge/review5/piersath/index.htm, 1997.
"Letter to my Mother" - Children of the Killing Fields: Memoir of Survivors. Compiled
by Dith Pran; Kim DePaul, ed. 1994.